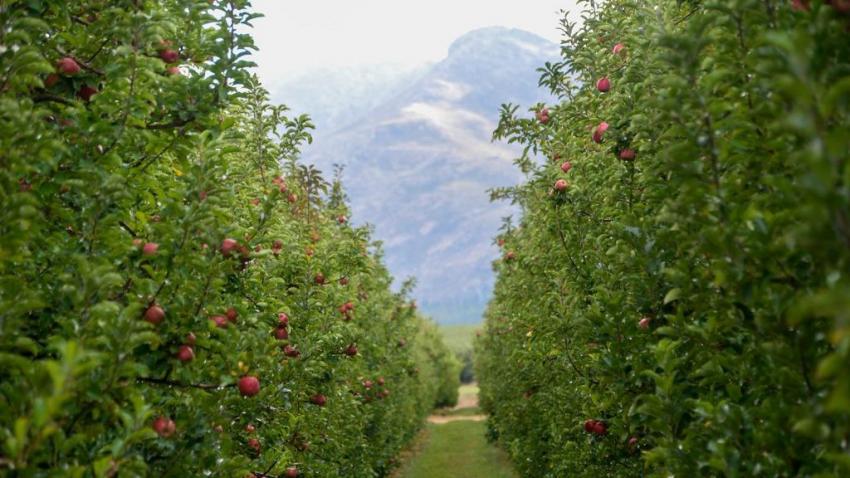 Editor's Note: Join a WeChat lecture with Jacques du Preez, general manager for trade and markets at Hortgro, the South African deciduous fruit producers association, on the topic of South Africa's Apple Exports to China and the World. For more information on how to join the lecture, email info@mzmc.com.cn [3]
Imported counter-seasonal apples [4] from South Africa [5] are on their way to China and expected to hit the market over the next few weeks. Growers in South Africa are reporting exceptional eating quality for this season's apple crop. The country's global apple exports are poised to grow by an estimated 4% compared to 2020, according to Hortgro Pome [6], the industry association for South African apple and pear growers.
Apples from South Africa have been permitted to enter China since 2015 [7] and have steadily gained popularity in the last six years. During the 2019 and 2020 seasons, China imported 9,631 tons and 5,895 tons of South African apples, respectively. Although the export season to China is just getting underway, it appears to be off to a strong start judging from the initial shipment schedules and volumes. Furthermore, starting this season, Hortgro Pome is embarking on a promotional campaign that aims to bring even greater success for South African apples in the China market.
Despite cool temperatures delaying the harvest by 7–10 days compared with typical years, the weather conditions in South Africa this season have overall been favorable for apple quality, especially for color development, according to Jacques du Preez, Hortgro's general manager for trade and markets. In addition to good weather, the anticipated rise in total global exports of apples from South Africa is also attributable to young orchards coming into production.
For importers, distributors and retailers in China, one feature to pay attention to this South African apple season will be the greater volumes and availability of the Bigbucks apple variety, a mutation of Royal Gala discovered by a South African grower in 2011 that is marketed under the commercial name Flash Gala. Bigbucks/Flash Gala apples feature full red coloring without striation in addition to possessing a high sweetness level that will appeal to the palates of Chinese consumers. Only about 20 tons of Bigbucks were imported into China last year, the first season in which the variety was available here. However, this volume is expected to rise this season and beyond. Bigbucks plantings are among the fastest growing of all apple varieties in South Africa.
Of course, Fuji apples still account for the largest portion of the South African apple export volume to China. Fuji apples originating from South Africa have proven popular in China despite the ubiquity of this variety within the domestic Chinese apple crop. Du Preez believes that South African Fuji apples will continue to be popular among consumers in China because they are strongly differentiated from other Fuji apples produced domestically and elsewhere.
"Apples are only grown in a few regions of South Africa, near the southern tip of the country in the Western Cape and Eastern Cape provinces," says du Preez. "These unique microclimates give a distinctive aromatic profile to South African apples. While this uniqueness applies to all the apples we produce, if you take the example of Fuji, even though it may be the same variety, the Fuji from South Africa is going to present itself completely differently to the consumer."
Fortunately, more consumers may have the opportunity to judge for themselves in this and coming years, as Hortgro Pome is from this season beginning to actively promote South African apples in the China market. Activities will include trade-focused events at wholesale markets and consumer-facing promotions in key retail channels.
"The South African industry is very excited to further showcase our apples, and hopefully also pears once the export protocol between the countries has been finalized, in the China market and reach out to new consumers and distribution partners," says du Preez.
Images: Hortgro