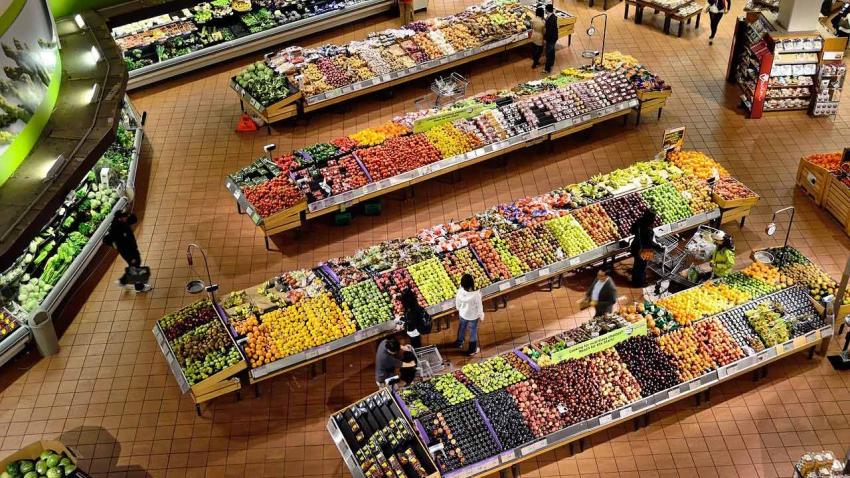 2020 has been a challenging year for many e-commerce merchants and retailers in the fresh produce industry, resulting in several exiting the Chinese market altogether. For some brands, however, 2020 was brimming with opportunities.
At one end of the spectrum lie companies such as Hema Fresh and 7Fresh, two e-commerce merchants that are racing to open stores. At the other end, a handful of well-known brands have quietly disappeared from the market, including a few international retail giants and fresh produce industry heavyweights. Today, Produce Report will take you back through 2020 to review some of the top players in the Chinese fresh produce e-commerce and retail market.
DAILUOBO APPLIES FOR BANKRUPTCY REORGANIZATION
On March 11, the Hefei Intermediate People's Court announced that it had accepted Dailuobo's bankruptcy and reorganization case. Within the following 30 days, Dailuobo's creditors were required to report all debts and financial holdings to the authorities.
Founded in October 2015 in Hefei, the capital of Anhui province, Dailuobo was one of the strongest players in the fresh produce e-commerce sector. The company made a name for itself by implementing a new business model integrating physical retail stores and a proprietary mobile app. Dailuobo supplied a wide range of products to its customers, including rice, grain, meat, poultry, fruits, vegetables, beverages, common household goods and more. By August 2018, Dailuobo was operating over 100 physical retail locations and receiving over 1 million orders from customers each month. By the start of 2019, the company had over 1,000 stores, operating in Hefei, Nanjing, Wuhu and Ma'anshan, and monthly orders in April 2019 exceeded 10 million.
At the end of November 2019, however, Dailuobo announced that it was in a cash crunch. In the first 10 months of the year, Dailuobo had reported revenues of approximately 900 million Chinese yuan ($139 million). With an additional injection of 630 million yuan ($97 million) of financing in July 2019, it was believed that Dailuobo's accounts would have plenty of cash. However, Dailuobo had already incurred debts of 200 million yuan ($31 million) by the end of November. According to Li Yang, the founder of Dailuobo, "We underestimated the rate at which we spent cash in the fresh produce market." This ultimately led to the company's bankruptcy.
SHANGHAI YIGUO E-COMMERCE FILES FOR VOLUNTARY BANKRUPTCY
On Oct. 13, 2020, it became public knowledge that Shanghai Yiguo E-commerce, Shanghai Win-Chain Supply Chain Management and ExFresh had filed for voluntary bankruptcy and reorganization [3] on July 30. Yiguo Fresh, Shanghai Win-Chain Supply Chain and ExFresh all previously operated out of the same premises — Win-Chain Supply Chain was Yiguo Fresh's upstream procurement company, while ExFresh was a cold chain logistics company also under the banner of Yiguo Fresh.
Certain Capital, Yiguo's sole investor, announced in November 2020 that it would begin appointing affiliates to start the process of bankruptcy reorganization under court guidance. This is a marked difference from the bankruptcy reorganization of Dailuobo.
Yiguo Fresh, one of the earliest pioneers of the "fresh produce plus e-commerce" model in China, weathered plenty of competition and change in China's domestic fresh produce industry. The company underwent seven rounds of financing between 2013 and 2017, although there had been no news of additional financing since 2017. On Dec. 24, 2018, Alibaba announced that it was handing over the operation of Tmall Supermarket Fresh from Yiguo to Hema Fresh. In July 2019, ExFresh announced that it would no longer be providing fresh produce supply chain services to Cainiao and Tmall. In December 2019, most of the products on Yiguo Fresh's Wochu ("My Kitchen") app were displaying as unavailable or out of stock, and the customer service phone number was going unanswered. Additionally, the Shanghai Changning District Court listed Yiguo E-commerce as having failed to fulfill court orders. By January 2020, Yiguo's equity shares and other investments had been frozen, to the sum of approximately 10.3 million yuan ($1.6 million).
SHANGHAI SHANGSHU-YONGHUI FRESH FOOD CO. FILES FOR BANKRUPTCY
On Dec. 8, Yonghui Superstores released a statement announcing that the Shanghai No. 3 Intermediate People's Court had accepted an application from Shanghai Shangshu-Yonghui Fresh Food Co., a partial subsidiary of Yonghui Superstores, to initiate bankruptcy and liquidation [4] proceedings. As of Oct. 31, 2020, Shangshu-Yonghui had assets totaling 733 million yuan ($113 million) and debt totaling 859 million yuan ($132 million).
Shanghai Shangshu-Yonghui Fresh Food Co. was established in 2013 as a fresh food retail enterprise predominantly specializing in fresh agricultural produce, processed foods and other foodstuffs. In 2018, the company announced that it intended to open 100 stores within three years, although only 28 branches had been opened by September 2018. At the time of the company's bankruptcy, Shangshu-Yonghui had approximately 34 stores throughout Shanghai, with the company's website giving details of 23 stores, including 22 Fmart stores, a neighborhood fresh food brand, and one LAFIE store, a mid-to-high-end premium brand.
BRITISH RETAIL GIANT TESCO COMPLETES EXIT FROM CHINESE MARKET
In February 2020, British retail giant Tesco announced that it would be selling its 20% stake in the joint venture Gain Land to China Resources (Holdings) Co. Ltd. (CRH), Tesco's original partner. CRH now manages 100% of Tesco's China operations, marking Tesco's complete withdrawal [5] from the Chinese market.
Previously, the joint venture established between CRH and Tesco unified Tesco's 131 Chinese outlets with CRH's approximately 3,000 stores. By 2014, implementation of the joint venture was complete, with CRH holding 80% of the shares.
Tesco exited the Japanese and U.S. markets in the early 2010s and subsequently sold its Korean operations in 2015. By the beginning of 2020, it had also completely exited the Chinese market. In March of the same year, Tesco announced the sale of its operations in both Thailand and Malaysia, representing the company's complete withdrawal from all Asian markets.
AFTER 22 YEARS, FRENCH RETAILER AUCHAN LEAVES CHINA
On Oct. 19, French media outlets began reporting that the retail conglomerate Auchan had announced its decision to leave China. In 2017, Alibaba held $2.88 billion dollars in stocks of Sun Art Retail Group, Auchan's subsidiary company in China, corresponding to 36.16% of the group's shares. Auchan has since sold Sun Art Retail Group, including 484 Auchan and RT-Mart retail stores, to Alibaba in a deal worth 3 billion euros ($3.6 billion).
Auchan Retail, established in the northern French city of Lille in 1961, is France's second-largest retail conglomerate and one of the top ten retailers globally. On July 18, 1999, Auchan opened its first retail location in Shanghai. However, after 22 years of operating in China, Auchan was unable to adapt to the market trend of digitized sales. The head of Auchan's French headquarters stated that selling these 3 billion euros worth of Chinese assets would help the conglomerate to eliminate its debts and that Auchan Retail would continue to seize new opportunities and expand into new countries.
Over the past few years, foreign retail brands have repeatedly attempted to enter the Chinese market. Despite this, various foreign companies have left China since 2019. These include the French multinational Carrefour Group, which sold an 80% equity interest in its Chinese stores to Suning.com, and the German supermarket chain Metro, which sold its Chinese operations to Wumart Stores Inc. At present, Walmart and AEON are the only international retailers continuing to operate within China.
Image: Pixabay
This article was translated from Chinese. Read the original article [6].