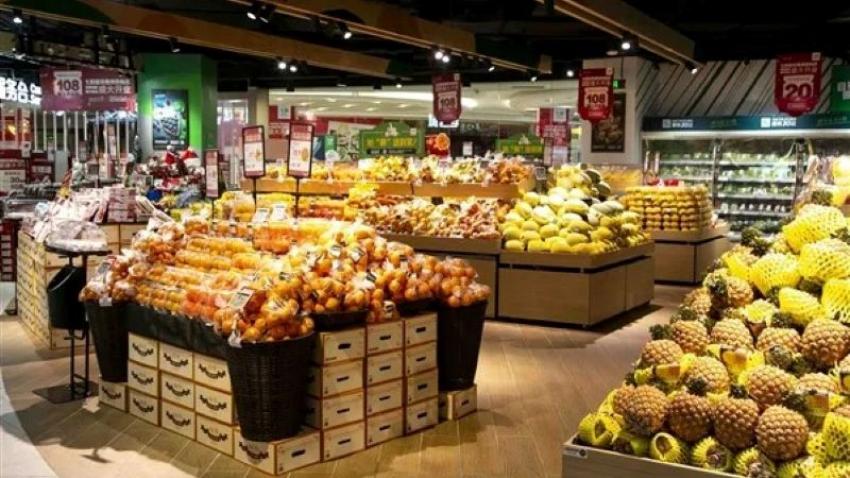 A Wave of Year-End Openings
On Jan. 1, JD.com [3] officially opened a 7Fresh supermarket in Fangzhuang, located in Beijing's Fengtai district, on the site of what was formerly an Ella Supermarket (小象生鲜). The Ella Supermarket closed last February and the property was subsequently purchased and remodeled by JD.com to make way for the new 7Fresh store.
7Fresh [4] is a subsidiary of JD.com and makes up part of the latter's supply chain. The company's procurement teams personally go to the origin of the fresh produce items sold in the stores to ensure that best quality practices are being adhered to all the way from the source to the consumer's table. The supermarket's products include live seafood, meat, dairy and fresh fruits and vegetables. Consumers can also order fresh foods through the 7Fresh app for delivery straight to their door from a local 7Fresh branch within a three-mile radius in as little as 30 minutes.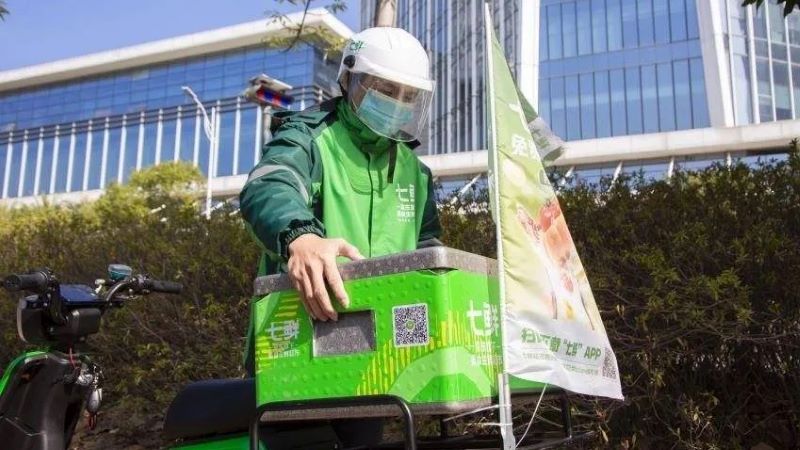 In mid-December 2020, JD.com announced its plan to open six new 7Fresh branches within two weeks. 7Fresh stated on its official website that at the time of its announcement, it already had 12 branches operating in Beijing, Langfang, Tianjin, Xi'an, Guangzhou, Foshan and Chengdu.
7Fresh's New Model: 7Life
According to information from Blue Whale's TMT channel, JD.com launched its new business model in late 2020, namely, the "7Life Gourmet Community Supermarket," the first of which is located in Beijing's Huilongguan community.
In recent years, JD.com has launched several new models, including 7Fun, 7Life and 7Fresh. Of these, 7Life offers 24-hour service, as well as 24-hour online ordering with daily deliveries between 7:30 a.m. and 10:00 p.m. within a 1.5 km radius. Stores typically range from 300 to 400 m2 in size but vary depending on the size of the surrounding community. Compared with traditional supermarkets, 7Life sales volumes are three times larger on average, 70% of which are in store and 30% online.
7Life plans to make the following three developments to its model:
Independent establishment and operation: Complete management by 7Life.
Self-established membership: Use of a single membership model.
Operational field consulting (OFC) regional brand licensing: Brand licensing through regional retailers and real estate developers to manage the entire regional branch opening process.
Meituan's Failed Attempt at New Retail
In 2017, Meituan opened its first brick-and-mortar "Zhangyu" (掌鱼生鲜) store in Beijing's Wangjing district in the company's first attempt at new retail. In May 2018, Zhangyu formally changed its name to "Ella Supermarket" and began operations in Beijing's Fangzhuang neighborhood, which is now the site of the aforementioned 7Fresh store.
Meituan later opened two stores in Wuxi and three in Changzhou for a total of seven stores. Currently, only the store in Wangjing remains operational, as the Fangzhuang store has been replaced with a 7Fresh branch and the remaining five stores were closed in 2018. On Oct. 22, 2019, Meituan's Ella Supermarket app announced that its services would be moved to the "Meituan Grocery Life Supermarket" (美团买菜生活超市) platform and that the original Ella Supermarket app would be discontinued.
Images: 7Fresh
This article was translated from Chinese. Read the original article [5].