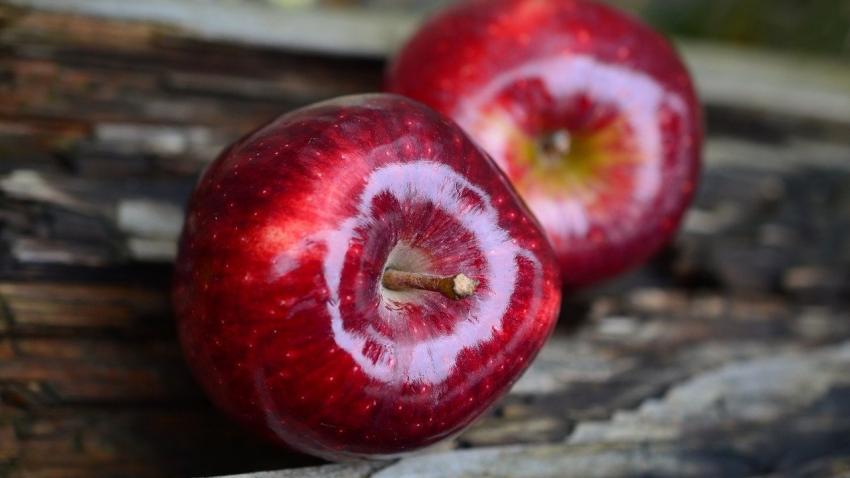 On Sept. 13, eight trucks carrying a total of 78 tons of Huaniu apples departed Tianshui Huaniu Apple Group in Gansu province's Maiji District headed for various cities across China. This marks the peak of Gansu's apple-harvesting season.
According to statistics from the local department of agriculture, Gansu produced 6.5 million tons of apples in 2019, with a total value of 40 billion Chinese yuan ($5.9 billion) and a growing area of 6.57 million mu (1.08 million acres). In 2020, the growing area has slightly increased to 6.62 million mu (1.09 million acres), while the production volume and total value are forecast to remain stable at approximately 6.5 million tons and 40.8 billion yuan ($6.04 billion), respectively. Gansu's apple sector has been growing in prominence over the last several years, and the province has now become China's second-largest apple-producing region in terms of volume. Apple production is concentrated in the southeast portion of the province in the vicinity of cities such as Pingliang, Qingyang, Tianshui and Longnan.
Furthermore, 100,000 mu (16,500 acres) have been established as certified GAP demonstration grounds, over 1 million mu (165,000 acres) as national standardized green food production areas (similar to organic certification), nearly 200,000 mu (33,000 acres) as registered growing areas for exporting, and over 800,000 mu (132,000 acres) as green-certified fruit production areas. In addition, 56,000 storage units have been set up, as well as over 1,600 refrigerated storage facilities with a total capacity of 2.6 million tons. More than 120 post-production processing lines have also been established, and this season's post-harvest processing is now 60% complete. Gansu province is working to establish itself as a core production area in China and aims to reach a total growing area of 6.8 million mu (1.1 million acres) by 2023, with a projected production volume of 7.56 million tons and total value of 53 billion yuan ($7.8 billion).
Apple prices have been trending upward since last year's lows. The recent continuous rainfall has resulted in two different categories of apples in terms of price. The first type is apples that have grown well to reach a diameter of 75 millimeters or more, which average 3.5 yuan per jin ($1.03 per kilogram), while the second is apples that have developed black spots due to the rain and have a diameter of less than 65 millimeters, which average 2.5 yuan per jin (roughly $0.74 per kilogram).
Owing to frosts in April and May in conjunction with late-season hailstorms, China's total apple production has fallen this year and is currently projected to reach approximately 41 million tons. Domestically grown Fuji and Huaniu apples with diameters of 75 mm or more are expected to fetch considerably higher prices than they did last year, with Fuji apples at 3 yuan per jin ($0.89 per kilogram) and Huaniu apples at 2 yuan per jin ($0.59 per kilogram). Gansu has exported 26,000 tons of fresh apples this year with a total value of 190 million yuan ($28.1 million), and the province's apples have also reached new export destinations, including Mexico [3], Uzbekistan and Australia.
Huaniu apples, a specialty of Gansu province, have shown promising development in recent years. At this year's China Fruit Industry Brand Conference [4] held in Foshan in Guangdong province, Huaniu apples from Tianshui city were valued at 4.307 billion yuan ($636 million), placing them in the top 15 most valuable regional fruit varieties in China. At present, the growing area for Huaniu apples in Tianshui stands at 1.4 million mu (231,000 acres), and this year's production volume is projected to reach 2.1 million tons with a value of over 5 billion yuan ($740 million).
With the current high season preceding the fall holidays, higher grade apples with diameters of 75 mm or more are selling for 2.2–4.5 yuan per jin ($0.65–1.33 per kilogram), average fruits at 1.4–2.6 yuan per jin ($0.41–0.77 per kilogram) and lower grade apples at 0.8–1.4 yuan per jin ($0.24–0.41 per kilogram), representing overall increases relative to last year. The local government has also strengthened its financial assistance to the sector, distributing loans worth 100 million yuan ($14.8 million) to local fruit enterprises, as well as 30 million yuan ($4.43 million) to key agricultural enterprise associations and 25 million yuan ($3.70 million) to poverty alleviation companies for harvest and storage funding.
Image: Pixabay
This article was translated from Chinese. Read the original article [5].