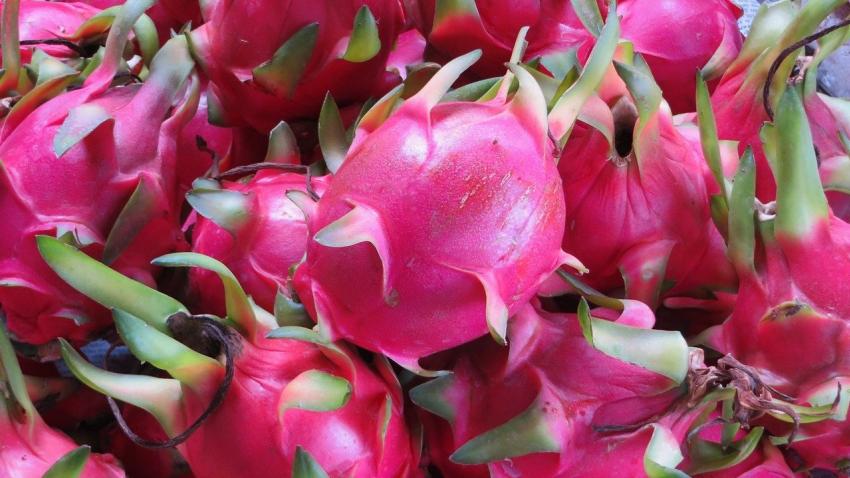 On July 6, China's General Administration of Customs released its most recent list [3] of fresh fruits as well as exporter countries and regions with phytosanitary approval for import into China. In addition to the items on the previous list [4] from May 15, the new list includes several species of Indonesian dragon fruit, namely, purple-fleshed (Hylocereus costaricensis), red-fleshed (Hylocereus polyrhizus) and white-fleshed (Hylocereus undatus). Cambodian mangos were also approved for import as of July 16.
1. Indonesian Dragon Fruit
On May 23, it was announced that Indonesian dragon fruit [5] meeting the relevant requirements and restrictions would be permissible for import into China.
Three varieties of Indonesian dragon fruit were approved: purple-fleshed dragon fruit (Hylocereus costaricensis), red-fleshed dragon fruit (Hylocereus polyrhizus) and white-fleshed dragon fruit (Hylocereus undatus).
Dragon fruit production has become increasingly popular in Indonesia since it began in 2000. At present, the majority of Indonesia's dragon fruit cultivation is concentrated in East Java in the regions of Jember, Pasuruan, Malang, Lumajang and Banyuwangi. The most common variety grown in Indonesia is red-fleshed dragon fruit, and growers are able to supply dragon fruit throughout most of the year. Most Indonesian dragon fruit is consumed by the domestic market, with only a small portion being exported.
Over 90% of the dragon fruit imported into China originates from Vietnam, given the country's advantages in terms of transportation distance and production cost. However, many shipments of Vietnamese dragon fruit have been rejected at ports of entry recently since China increased its testing standards for agricultural products earlier this year. Consequently, prices and export volume have fallen dramatically.
China's domestic dragon fruit production has also been growing rapidly in recent years, with the production area increasing several dozen times over. For example, the growing area in Guangxi province is projected to reach 300,000 mu (49,400 acres) this year, while the production volume is expected to exceed 500,000 tons. Chinese dragon fruit production is focused around the red-fleshed variety, which is typically on the market between July and November and is priced higher than Vietnamese dragon fruit.
2. Cambodian Mangos
On July 16, Chinese customs formally announced that Cambodian mangos [6] would be permitted to enter China.
Cambodian mangos have huge export potential, with the country's total production area currently standing at 125,000 hectares (309,000 acres) and the yearly output reaching 1.44 million tons. In the first five months of 2020, Cambodia exported 44,099 tons of mangos, corresponding to a 50.95% increase relative to the same period of last year. In 2019, the total export volume was approximately 60,000 tons.
Cambodia currently produces almost 20 different varieties of mangos, and mangos are the only produce item that receives governmental assistance in terms of research and development.
Vietnam has always been the biggest exporter of mangos to China. In 2018, 84.6% of Vietnamese mango exports went to China. However, Vietnamese fruit exports to China began to fall in 2019, with statistics indicating a decrease of 13.2% in the first eleven months of the year compared to 2018.
The full list of fresh fruits permissible for import into China can be found here [3] (updated July 31, 2020).
More information can be found on the website [7] of the General Administration of Customs (in Chinese).
Image: Pixabay
This article was translated from Chinese. Read the original article [8].