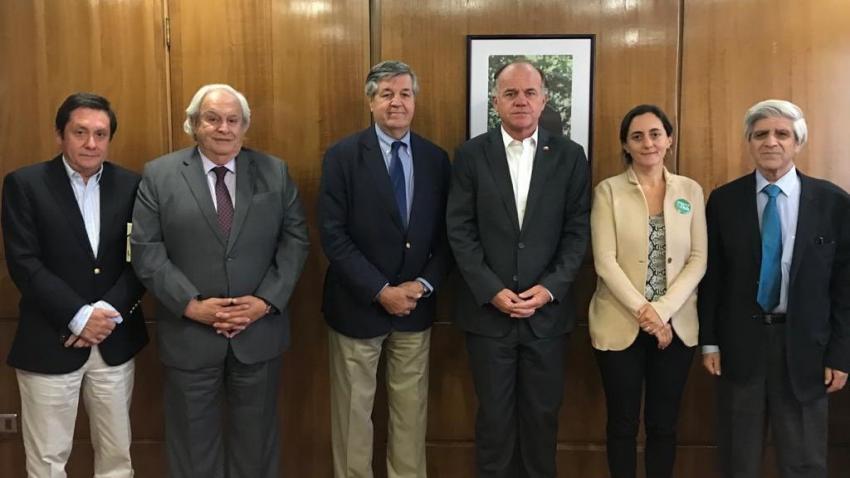 Key representatives of the Chilean fruit industry are reported to have met with relevant Chilean authorities recently to analyze the ongoing COVID-19 epidemic and develop solutions to guarantee a continued supply of healthy fresh produce during this challenging time.
According to a press release, the meeting was attended by Ronald Bown, chairman of the Chilean Fruit Exporters Association [3] (ASOEX); Miguel Canala-Echeverría, general manager of ASOEX; Ricardo Adonis, executive secretary of ASOEX's Safety Committee and development manager of the Chilean Fruit Development Foundation; Antonio Walker, Chile's minister of agriculture; Horacio Bórquez, national director of the Chilean Agriculture and Livestock Service (SAG); and María Emilia Undurraga, national director of the Chilean Ministry of Agriculture's Office of Agricultural Studies and Planning (ODEPA).
The meeting covered several pressing topics, including the current COVID-19 situation and its expected impact on the operation of the country's produce sector, the SAG's contingency plans, methods to safely keep ports in operation and other aspects relating to the fruit distribution chain. Chile is a major supplier [4] of fresh fruit to China and remains committed [5] to supplying its produce to Chinese importers and consumers despite the current situation.
During the meeting, ASOEX's representatives reportedly presented the minister of agriculture with a proposal entitled "Good practices for the prevention of coronavirus in fruit facilities," which was developed in coordination with the Fruit Development Foundation and is aimed at tackling the spread of COVID-19 at the level of packing houses.
In addition to explaining COVID-19 and its symptoms and modes of transmission, the proposal provides recommendations for its prevention at both the personal and facility level, such as the cleaning and sanitization of work surfaces, tools, materials, office spaces and common areas. The proposal is now scheduled to be reviewed by the authorities prior to its implementation in packing houses.
These measures are intended to ensure that the supply of Chilean fruit will remain stable throughout the epidemic until it is brought under control.
Image: Antonio Walker/Chilean Ministry of Agriculture via Twitter [6]