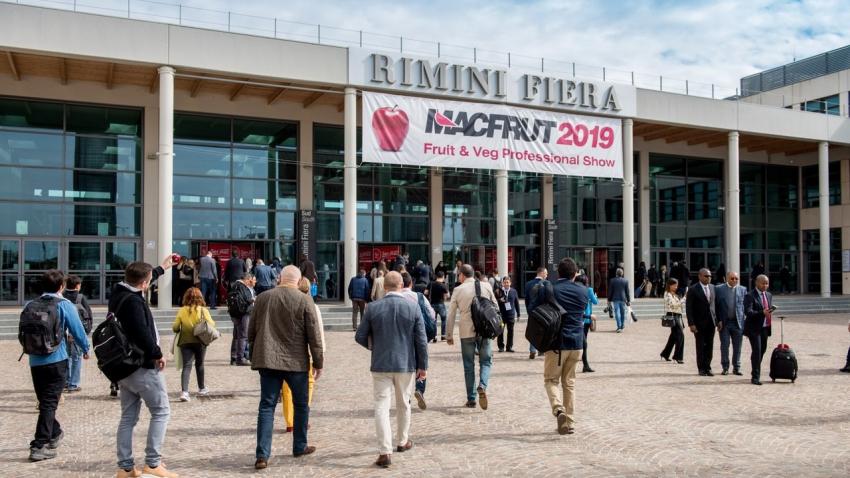 It has recently been announced that Macfrut [3], the international trade fair for the fruit and vegetable sector held in Rimini, Italy, will now take place on Sept. 8–10, 2020. The decision to reschedule the event, originally planned for May 5–7, was made by the board of directors of Cesena Fiera in response to the continued spread of COVID-19 in Europe to ensure the safety of all visitors and exhibitors.
Macfrut 2020 has several exciting new features in store this year. First, this year's Tropical Fruit Congress [4], which will be held alongside Macfrut again this year as the only event in Europe focusing on exotic fruit, will be dedicated to avocados. The two-day event will now be held on Sept. 9–10 at the Rimini Expo Center, with more than ten international speakers united around this single main theme.
Avocados have been selected as the star of the show owing to the exponential increase in the consumption of this fruit seen globally over the last few years, especially within the EU. According to data from Eurostat [5] and industry sources processed by the French agricultural research organization CIRAD [6], in the 2018–19 season European avocado consumption increased by 19% relative to the previous season and by 111% relative to 2013–14, with an estimated total volume of 636,119 metric tons.
With respect to sales volumes, the European countries accounting for the highest consumption in the 2018–19 season were France (145,000 tons), the U.K. (105,633 tons), Germany (82,327 tons) and Spain (72,122 tons). Italy itself ranked in sixth place with 22,340 tons, representing increases of 29% relative to 2017–18 and 248% relative to 2013–14. In terms of per capita consumption, the top countries in Europe were Denmark (2.69 kg), Norway (2.53 kg), the Netherlands (2.32 kg), France (2.16 kg) and Sweden (2.07 kg).
The first day of the event, Sept. 9, is scheduled to focus on the marketing and trade of avocados in Europe with a session coordinated by Roberto Della Casa of Agroter and the University of Bologna. This session will feature presentations covering several topics, including current trends in consumption patterns in Europe (Daria Lodi, CSO Italy), traditional supplier countries (Said Bannany, Total Exotics) and new countries able to supply avocados to Europe, such as Colombia, Guatemala and Peru, for year-round availability in this growing market (Thomas Padilla, Mission Produce). After these presentations, a round-table discussion involving buyers and retailers will explore how to sell avocados in Europe.
The second day of the event, Sept. 10, is due to be hosted by Pierre Escodo of Eurofresh Distribution, focusing on production, post-harvest technologies and new developments in the sector. The speakers in this session will analyze the current situation in several key countries, including Peru (Michael Horney, Peruvian Agritrade), Colombia (Jorge Restrepo, Corpohass) and Italy (Andrea Passanisi, Sicilia Avocado). Furthermore, attendees will be able to learn about the various avocado cultivars (Therese Bruwer, Westphalia) and improving avocado quality in the post-harvest period (Eelke Westra, Wageningen University). These presentations will be followed by a technical workshop discussing post-harvest innovations.
In addition to the Tropical Fruit Congress, it was recently announced [7] that this year's edition of Macfrut will feature the first ever Spices & Herbs Global Expo [8], which will now be held at the Rimini Expo Center on Sept. 8–10 for the duration of the show. This event will be dedicated entirely to spices and officinal and aromatic herbs, of which the former sector alone has an annual value exceeding $6 billion. The exposition is expected to attract producers, processors, traders and researchers from around the world, with exhibitors coming from Africa, Asia and South America.
Image: Macfrut