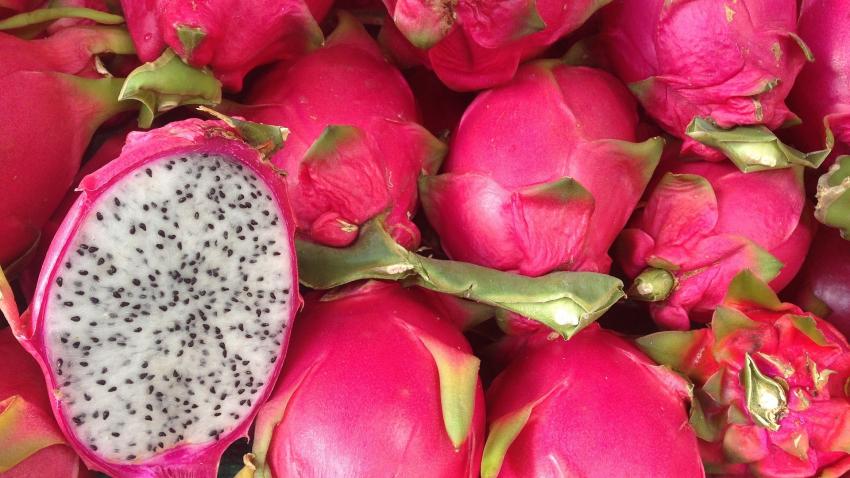 The past few days marked the inaugural journey of China's new dedicated train service, line 24502, transporting fruit directly from the city of Dong Dang in Vietnam to Pingxiang, across the border in China's Guangxi province. The opening of the new train line will allow for faster transit of fruit imported into China from ASEAN countries, particularly Vietnam [3]. The first train to officially run the new route transported six refrigerated containers carrying 156 tons of dragon fruit.
After passing inspection and quarantine procedures conducted by the General Administration of Customs at the State Rail's Pingxiang Border Trade Logistics Center, the fruit was rapidly distributed onward to various cities including Beijing, Zhengzhou, Chongqing and Xi'an. Henceforth, two or three trains are expected to run this route each week, and the range of fruit varieties will soon expand to include other tropical Vietnamese fruits, such as longans and lychees. The yearly import total is expected to reach 60,000 tons.
Two initial cross-border fruit trains trialed the new route on Feb. 12 and Feb. 20, both carrying dragon fruit. The first official train 24502 from Dong Dang station in Vietnam arrived at the Pingxiang Border Trade Logistics Center on the evening of Feb. 24. Owing to this new route, the time to clear customs has now been greatly reduced from one day to approximately one hour. These developments indicate that rail transit is quickly becoming standard for fruit imports. This also marks the first time that Vietnamese fruit has entered the border by rail at Pingxiang, following the official approval of Pingxiang as a port of entry for imported fruit by the General Administration of Customs.
Formerly, all fruit crossing the border at Pingxiang arrived via road. Rail transit brings the advantages of more timely transport and larger capacity. According to a spokesperson for the Nanning Railway Department, "with rail transit, the entire process can be completed in around two days. Plus, factoring in the cost of escorting the trains from the Vietnamese side, the cost of clearing customs via rail is favorable compared to road transport. In addition, Vietnam has been extensively developing their domestic rail system, so the overall cost of getting the fruit from orchard to border is also lower than for road transport."
Amid current prevention and control efforts for the novel coronavirus strain, the benefits of rail transport have become even more apparent. First, rail transport can minimize contact between personnel while still guaranteeing rapid customs clearance. Second, despite many Vietnamese road border crossings temporarily suspending any passage of goods or personnel between Vietnam and China, the Pingxiang rail customs center has been able to continue functioning as normal, with no impact on shipment volumes.
To spur growth in the fruit trade between China and ASEAN countries and promote the development of new international sea and land transport routes, the Pingxiang customs authorities have been actively overseeing operations at the site, working closely with the local government to establish the inspection facility for imported fruit. In February 2020, the Pingxiang Rail Border Trade Center was approved by the General Administration of Customs as an official fruit import inspection site. As a result of the establishment of this new and superior facility, Pingxiang has been able to rapidly increase its cross-border fruit trade. In 2019, 73,000 tons of fruit products were imported via Pingxiang, which has been the largest land-based border crossing in the Sino–ASEAN fruit trade for several consecutive years. Currently, Pingxiang is the entry point for nearly half of all fruit imported into China and close to 75% of all tropical fruit imported from Southeast Asia.
The opening of this dedicated fruit import route has also provided a new avenue for faster fruit exports from Vietnam. Last year, the Vietnamese fruit sector lost a significant portion [4] of its Chinese market access owing to products not reaching the requisite quality standards. Earlier this year, Vietnam's fruit sales once again met with difficulty due to self-imposed restrictions, and several shipments of Vietnamese dragon fruit did not successfully clear customs. The new dedicated rail service represents a renewed opportunity for Vietnam to make the most of its favorable location, supplying faster shipments of multiple fruit varieties to the Chinese market.
Image: Pixabay