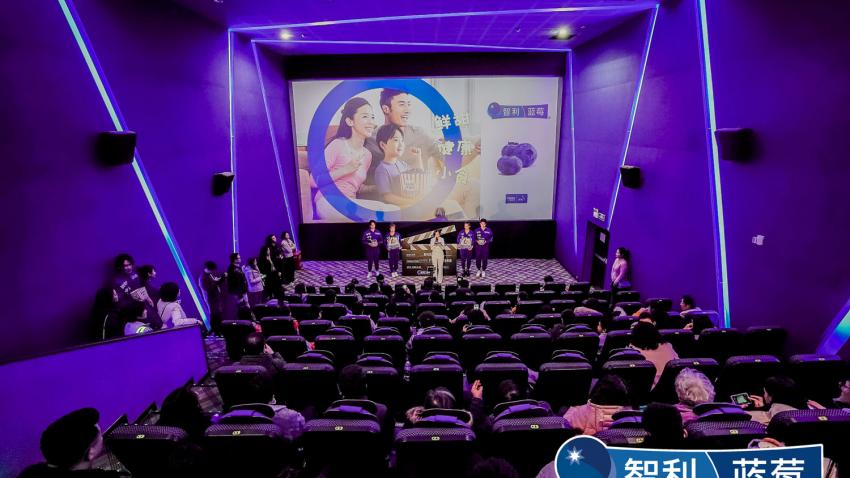 On Sunday, the Chilean Blueberry Committee of the Chilean Fruit Exporters Association [3] (ASOEX) celebrated the launch of the 2020 Chilean Blueberry Sweet and Healthy Snack Cinema Series at the Xuhui branch of Westa Cinemas in Shanghai. Serving as a sequel to a highly successful debut last year [4], Sunday afternoon's "Blue Pop" film screening encouraged moviegoers to eat blueberries as a tasty and healthy snack both in and out of the home.
The event, which highlighted the health benefits of blueberries, was organized by the Chilean Blueberry Committee of ASOEX. The committee is responsible for the global promotion of the Blueberries from Chile brand. The event featured remarks from Juan José Vidal Wood, trade commissioner at the Shanghai office of ProChile, and Charif Christian Carvajal, ASOEX's marketing director for Europe and Asia. During the event, audience members snacked on the current season's exports of fresh Chilean blueberries, which feature uniformly large, sweet and crunchy fruit.
"Chile is far from China," said Juan José Vidal Wood. "It takes almost 24 hours to fly there by plane. Nevertheless, Chilean blueberries can now be enjoyed every day in China."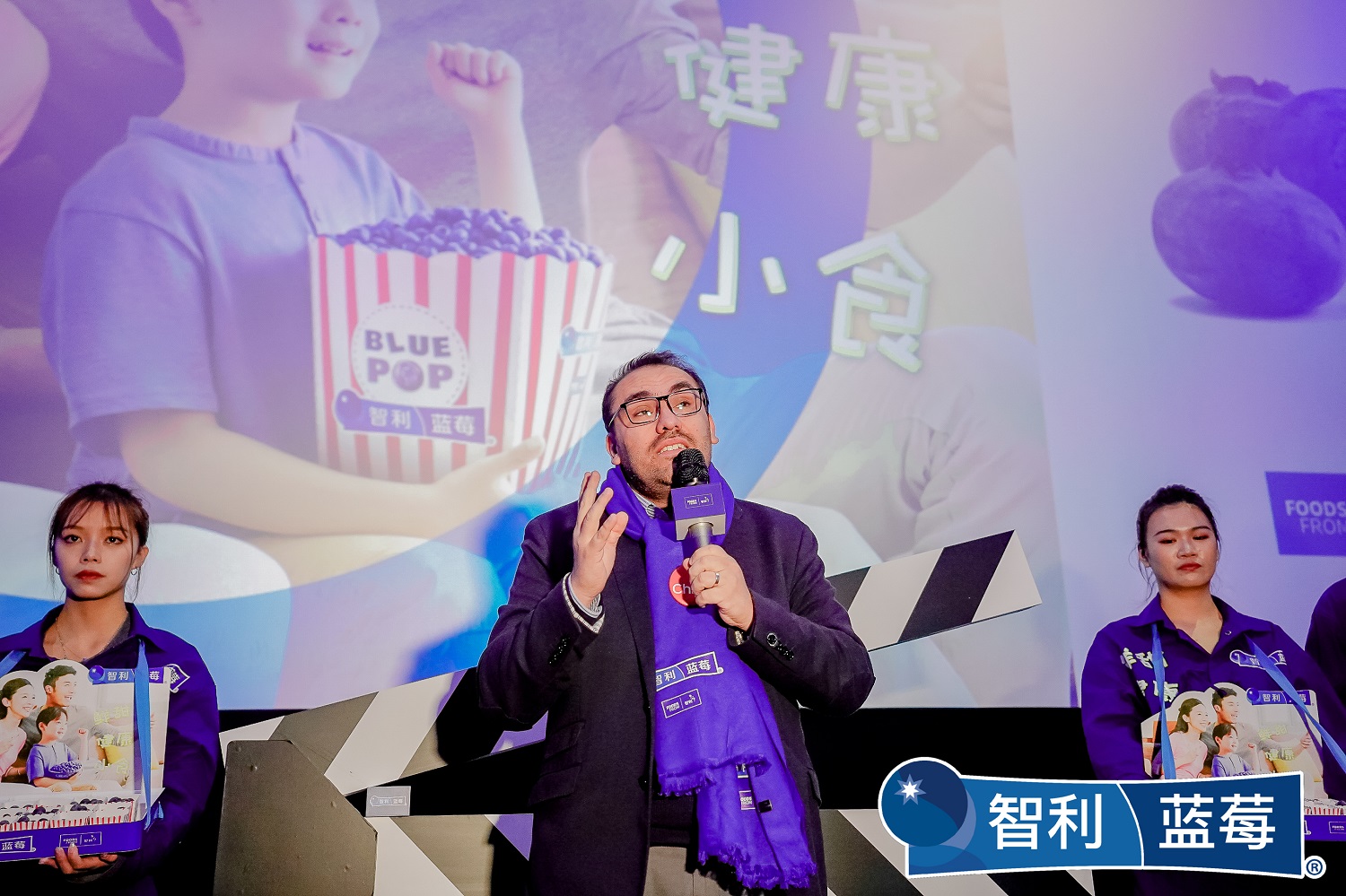 "Today's event demonstrates that people can enjoy fresh blueberries from Chile any place and any time," said Charif Christian Carvajal. "They're not just limited to the home."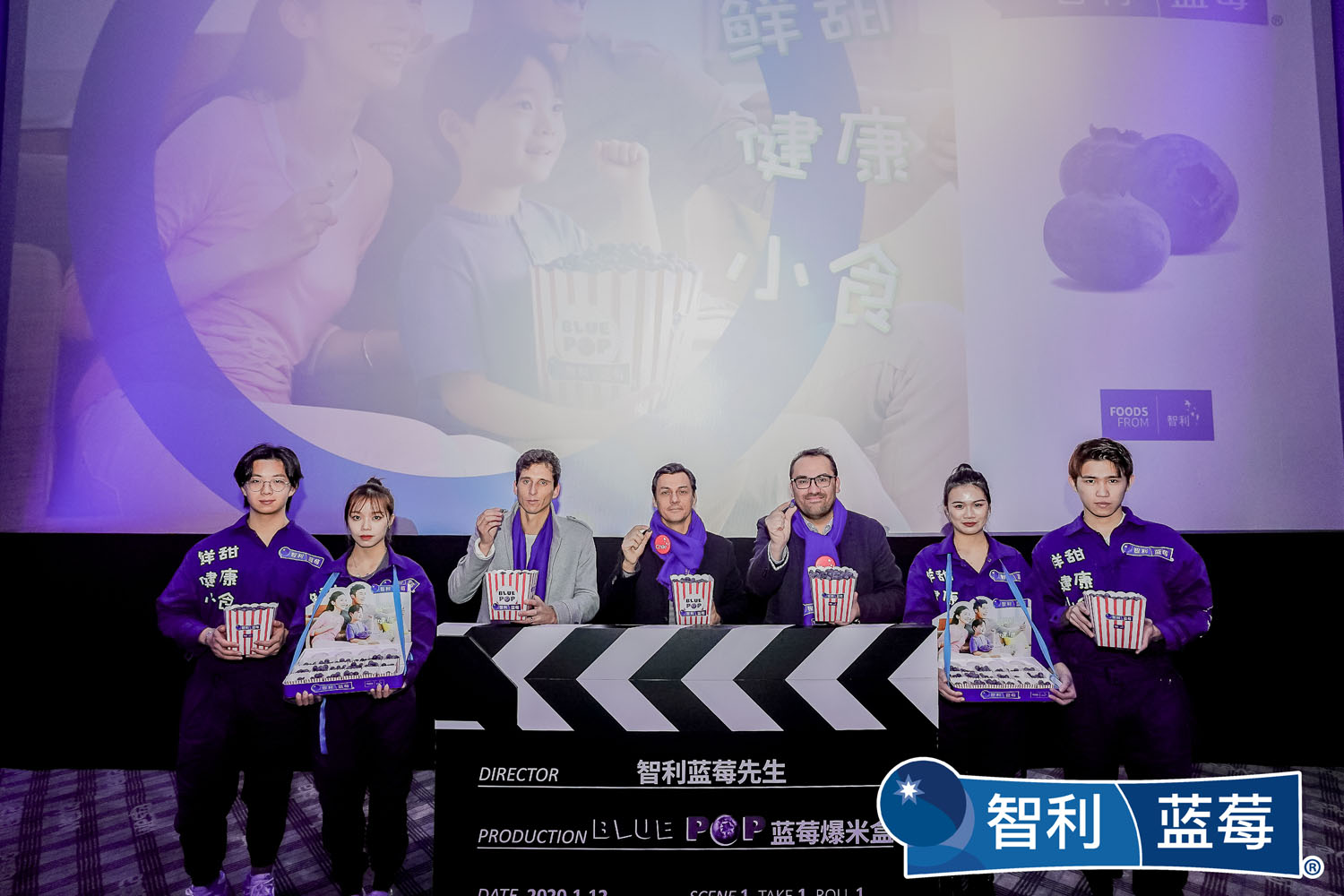 According to Cesar Cortes, export manager at Chilean blueberry exporter Agricultural Land Corporation, the quality of this season's Chilean blueberry crop is excellent. Each fruit is large, with deep color and high sweetness. The company exports 50% of its blueberry production to China, which demonstrates the importance of the China market to Chile's blueberry industry. Agricultural Land Corporation is confident about the large market potential for blueberries in China and plans to continue increasing the volume of its exports to China during coming years.
Chile's exports of blueberries set a new record in the 2017/18 season, exceeding 145,000 tons (comprising 110,400 tons of fresh blueberries and 35,000 tons of frozen blueberries) and establishing Chile as the world's leading blueberry exporting nation. It is expected that by the end of the current season, Chile will have exported 115,000 tons of fresh blueberries, of which 10% will have been sent to China.
Fresh blueberries from Chile have been a consumer favorite in China for years and serve as a perfect gift for friends and relatives during the Spring Festival holiday celebrating the Lunar New Year. In contrast, Sunday's Blue Pop cinema promotional event was designed to remind consumers that blueberries are not only a great gift or holiday treat but also a daily fixture of a healthy and abundant life.
The Chilean blueberry season lasts from October to March, running counter to the Northern Hemisphere fruit growing season. This means that consumers in China can enjoy fresh blueberries just in time for the Spring Festival holiday, as well as using frozen Chilean blueberries throughout the year. Aside from running promotions in both online and offline retail channels, Blueberries from Chile is also promoting Chilean blueberries at fruit-specialist retail chains and among traders through a series of events at fruit wholesale markets.
Chilean citrus fruits have recently been granted access to be imported into China, with mandarins and lemons expected to be on the market in July. Additionally, Chilean salmon, lamb, beef, dairy, olive oil and other products are available or will soon be available on the Chinese market. Altogether, Chile hopes to soon export more than 1,500 different types of food products covering 20 product categories to China. This means that Chinese consumers will continue to have more and more high-quality Chilean products to enjoy during this and coming New Year celebrations.
Images: ASOEX