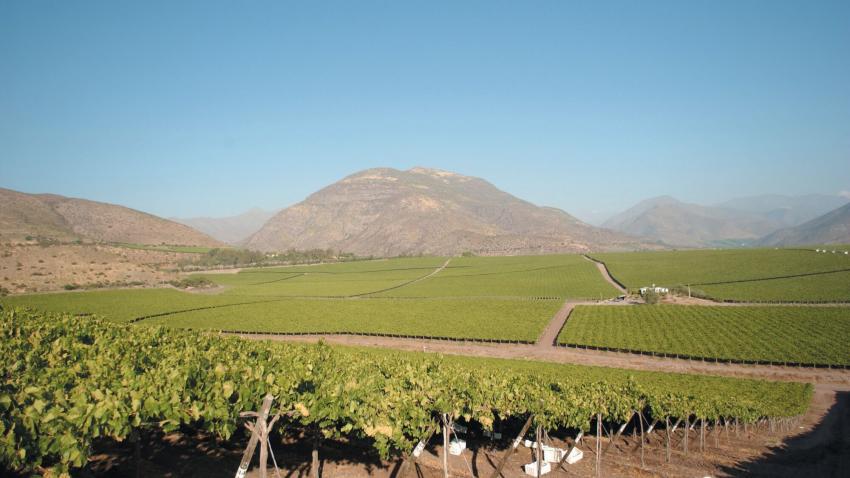 Vineyards in Chile. Image: ASOEX
The Organization for Economic Cooperation and Development (OECD) and the Food and Agriculture Organization of the United Nations (FAO) earlier this month released the OECD-FAO Agricultural Outlook 2019-2028 [3]. The 326-page report features a special focus section on Latin American and the Caribbean (LAC), noting that the over the next decade there will be, "strong growth opportunities in high value fruit and vegetable crops provide opportunities for smallholders" in the region, amidst rising demand from export markets and shifting consumption within the region away from staples and toward meat, fruits and vegetables.
The report notes that many LAC countries have already had strong success as suppliers of fruits and vegetables to the US market: "In 2017, Mexico, Peru, Guatemala and Costa Rica accounted for 75.4% of US total fresh vegetable imports. In the case of fresh fruits, nine LA countries accounted for 92.3% of total US imports, with Mexico, Chile, Guatemala and Costa Rica the main suppliers."
Chile is singled out as a success story in boosting its high-value agricultural exports. "Research conducted by Chile's INIA has contributed to boosting Chilean agricultural exports; by introducing new nut varieties, farmers estimate that nut exports increased 1000% in the decade from 2001 to 2011. INIA also introduced blueberries in various regions of Chile and, from being practically an unknown fruit to farmers only two decades ago, today Chile is an important blueberry producer and exporter in the Southern hemisphere." Trade statistics show that Chile's berry exports to the US (excluding strawberries) rose from $19 million in 2000 to $465 million in 2018.
Demand from the US and Canada have been the primary drivers of a sharp rise in fruit and vegetable production in LAC countries over the past few decades—with free trade agreements (FTAs) between the United States and Chile and several Latin American countries playing an important role in this trade. These FTAs include NAFTA (USMCA), CAFTA-DR and bilateral agreements with countries like Chile, Colombia, Panama and Peru.
Mexico has traditionally been the primary foreign supplier of fruits and vegetables to the US. From 2000 to 2018, US imports of fruits and vegetables from Mexico rose from $2 billion to $12.1 billion. But over the past few years, Chile and Central American countries have played an increasingly important role in US imports. According to USDA statistics, US imports of fruits and vegetables from Central America more than tripled from 2000 through 2018, rising from $920 million to $2.9 billion. During the same period, US imports of fruits and vegetables from South America rose from $1.3 billion to $4.4 billion.
Due to favorable climate conditions and a strong labor supply, the outlook for production of fruits and vegetables in LAC countries is bright. Rising global population and income levels are expected to contribute to increasing exports by LAC countries of fruits and vegetables. The outlook is particularly favorable for exports of tropical fruit from LAC countries, which are, " endowed with tropical land that features highly favorable agro-climatic conditions for the cultivation of tropical products." The report projects that, " banana and tropical fruit exports from LAC are projected to grow at 1.7% p.a. between 2019 and 2028, to reach 23 Mt by 2028," maintaining the regions 80% share in global trade of these products.