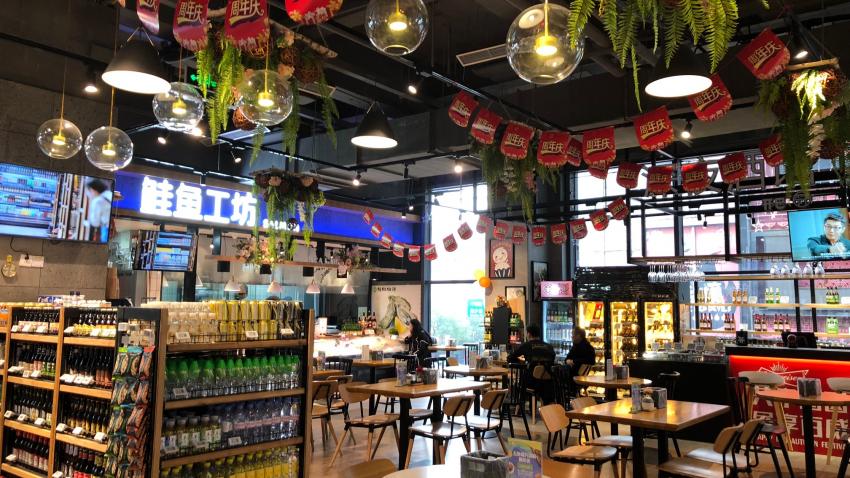 The YH Super Species supermarket is often cited as one of several brands on the vanguard of the "new retail" revolution in China [3]—a wave of tech-powered shopping experiences emphasizing convenience and diverse options for purchasing, paying for and receiving daily groceries and prepared food.
Since the brand was launched by its parent company Yonghui Superstores in early 2017, Super Species has opened dozens of new stores and pushed out into new geographical areas. Super Species has also received investment from ecommerce giant Tencent, another prominent company in the race to win new retail.  But Super Species has reportedly run up considerable losses during this period of growth. On July 4, Super Species marked an inevitable but inglorious new milestone: the first closing of one of its stores.
The Super Species Shanghai Wujiaochang store had originally opened in November of 2017, before it closed last Thursday due to poor sales. The two-level outlet covered 700m2 of floor space, operated 24 hours a day, and offered a wide range of prepared foods. Like other Super Species stores, it offered online ordering and fast delivery to customers living within a 3km radius.
Based on observations during previous in-person visit by Produce Report to the Wujiaochang store, location was a major challenge for this branch. It was in an area with many shopping malls and few nearby residential units. Therefore, the demand for its fresh produce and groceries was low, and its prepared food offerings faced stiff competition from restaurants in the same area.
Super Species had previously announced last month that it was reducing the floor space and cutting staff at many of its stores in Beijing.
Nevertheless, the chain is pushing ahead with new store openings at the same time it has shut down the Wujiaochang store in Shanghai and scaled back in Beijing.
Super Species is owned by Yonghui Yunchuang Technology Company Ltd. The company, which is 15% owned by Tencent, was formerly a subsidiary of Yonghui Superstores. But last year, it was spun off into a standalone company as part of a restructuring within the Yonghui group.
Image: Produce Report