The following Produce Report analysis of trends and statistics in China's fresh fruit import and export markets are based on China Customs data released recently by the China Chamber of Commerce of Foodstuff and Native Produce.
China's fresh fruit imports rose in 2017, with Thailand leading fresh fruit exports to China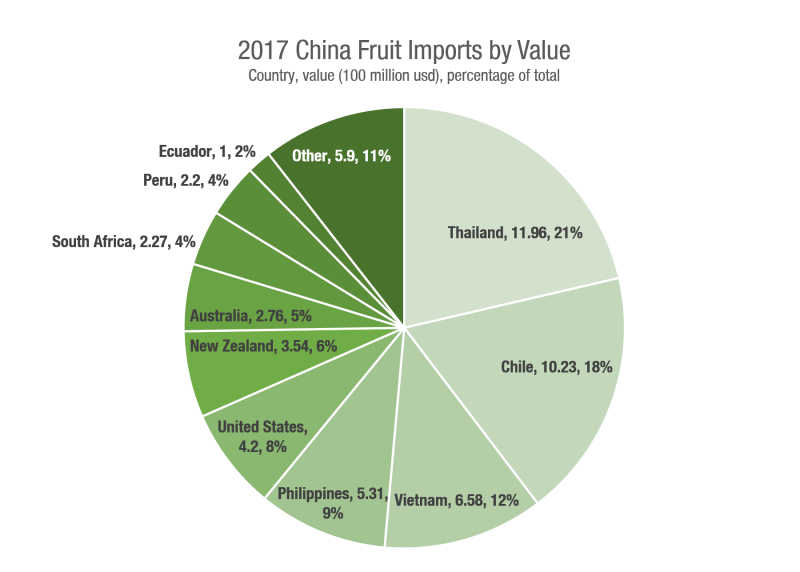 In 2017, China imported 4.4 million tons of fresh fruit, with a value of USD 5.59 billion, increasing year-on-year 12% and 5% respectively. It was a reversal from 2016, when fresh fruit imports had slid by 2.5% compared to the previous year.
Overall, the composition of the list of top ten fresh fruit exporters to China remained similar to that of 2016. Thailand reclaimed its position as top exporter by value of fresh fruit to China, after losing the number one spot to Chile in 2016 amid a general slowdown of fresh fruit imports into China from Southeast Asia. Thai fresh fruit exports rebounded strongly in 2016, with total exports to all countries rising 41% year-on-year, with particularly strong growth in exports of longan, durian and mangosteen. Imports of Thai fresh fruit to China came in at USD 1.2 billion, 21% of the total import value.
Imports of Chilean fruit to China fell modestly from USD 1.18 billion (24% of total) in 2016 to just over USD 1 billion in 2017, landing Chile in the number two position for value of fresh fruit imported into China. Rounding out the top ten were Vietnam (USD 658 million), the Philippines (USD 531 million), the United States (USD 420 million), New Zealand (USD 354 million), Australia (USD 276 million), South Africa (227 million), Peru (USD 220 million), and Ecuador (USD 100 million).
Together, these top ten countries accounted for 89% of China's total fresh fruit imports in 2017.
Longan and oranges hot—cherries, table grapes and durian not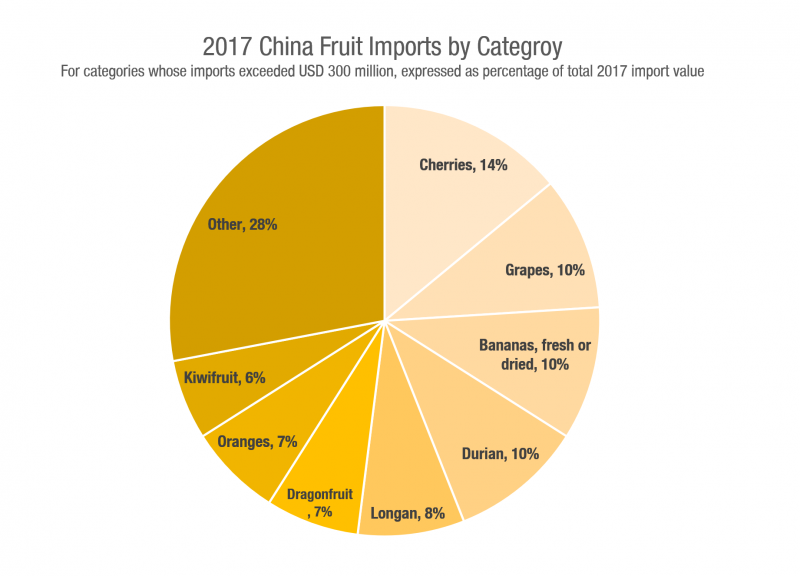 Cherries remained China's top fresh fruit import by value in 2017, capturing 14% of total value, but this was a slight dip compared to last year when the figure was about 15%. Coming in at number two by share of total import value, table grapes also saw their percentage slice of total import value shrink by 8% compared to last year. Likewise, durian's percentage share shrank by 23% year-on-year.
Top performers included oranges, longan and bananas, with respective year-on-year increases in their individual ratio of total import volumes of 61%, 52% and 17% respectively.
China's fresh fruit exports fell slightly in 2017
China's 2017 fresh fruit exports came in at a volume of 3.5 million tons and a value of USD 4.89 billion, declining year-on-year by 2% and 4% respectively.
Vietnam and Thailand remained China's most important markets for exported fruit, though the export value to Thailand slipped by 17% year-on-year. Also of note for those interested in fresh fruit trading dynamics within the ASEAN FTA: Vietnam exceeded China in 2017 as the top customer for Thai fresh fruit.
Amid the slight overall slowdown, China's exports of fresh fruit to Indonesia shot up by 57% year-on-year, making Indonesia into the number three market for China's fresh fruit exports. Russia, with its long shared border with China, was in the number four spot.
Exports to Malaysia were down 35%, while those to Kazakhstan rose 37%, perhaps signaling latent potential for Chinese fresh fruit in Central Asia—increased trade with that area being a major goal of China's "One Belt, One Road" initiative.
Exports to the following eight markets accounted for 74% of China's total fresh fruit exports by value in 2017: Thailand, Vietnam, Indonesia, Russia, Hong Kong, the Philippines, Malaysia, Kazakhstan.
China's top performing export fruit categories in 2016 largely followed the country's traditional fruit cultivations strengths and included apples, table grapes, citrus and pears. China currently exports 14 categories of fruit, including stonefruit, which were granted market access to Australia in February of this year.
Register today for PMA Fresh Connections: China on March 21 in Shenzhen
If you are an international supplier of fresh fruit, book your ticket now for Fresh Connections: China hosted by PMA in Shenzhen, China on 21 March, and prepare to meet key Chinese from more than a dozen leading Chinese importers, retailers, wholesalers and e-commerce companies. After one action-packed day, you'll leave this event knowing the people and the strategies necessary to secure your future in the China market.
Learn more at the PMA Fresh Connections: China webpage [3].
To register for PMA Fresh Connections: China, contact Ms Rita Wu: +86-21-65216751 ext. 102, rita@mzmc.com.cn [4]
To learn about the remaining sponsorship slots available for PMA Fresh Connections: China, contact Ms Leeann Lin: +86-21-65213459, leeann@mzmc.com.cn [5]
Import export data: China Customs via CCCFN, Charts: Produce Report, Image: Wikimedia