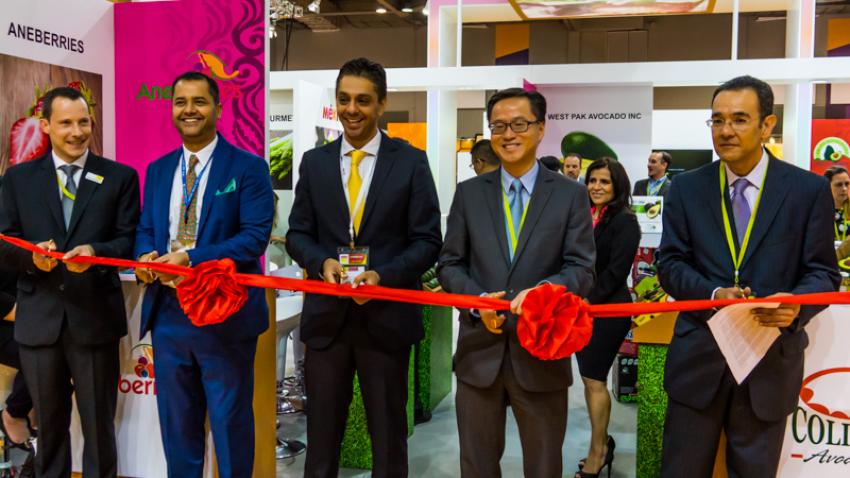 As you plan the remainder of your 2018 business travel and exhibiting plans, don't overlook any important events. Following, Produce Report brings you its list of key produce industry expos and conferences in greater China for 2018.
21 March, 2018
Fresh Connections: China
Held this year in Shenzhen, Fresh Connections: China [3] helps global suppliers to cut through the noise of the expo circuit and, "meet directly with key Chinese buyers like Alibaba/Tmall Fresh, Hema Supermarket, CR Vanguard, Lantao, Joy Wing Mau, Pagoda, Walmart China, JD.com and more. Over a dozen Chinese importers, retailers, wholesalers and e-commerce companies are already committed for this 6th annual event." Registration is mandatory and can be completed at the event webpage. [3]
14 to 16 May, 2018
China Fruit Logistica
In case you needed further proof of mainland China's rising importance in fresh produce trade: Global Produce Events, the company behind Fruit Logistica in Berlin and Asia Fruit Logistica in Hong Kong, will this year in Shanghai stage the inaugural China Fruit Logistica Show [4].  The show will be held concurrently with Fresh Produce Forum China [5]. The venue is the Shanghai Convention & Exhibition Center of International Sourcing [6] on the western side of Shanghai.
16 to 18 May, 2018
Fresh Logistics Asia + Fresh Food Asia
This will be the fifth time Fresh Logistics Asia and Fresh Food Asia have been held side by side. Together, the events in Shanghai (which also include the Transport Logistics China, Air Cargo China and Asia Food Tech exhibitions) promise to, "connect the entire food and logistics product chain". Organizers say that the 2018 edition will place more emphasis on networking and information sharing events. The venue is the Shanghai New International Expo Center [7] (SNIEC), in eastern Shanghai's Pudong district. SIAL China, a food expo more focused on packaged, frozen products and technology, will be held at SNEIC during the same dates.
27 to 29 June, 2018
Interpoma China
China's international apple cultivation, technology and marketing show is back for a second year in the city of Weihai in Shandong province, nearby one of China's most important apple producing regions. An important aim of Interpoma China is to join Chinese growers with international suppliers and introduce the industry in China to new methods and technologies. It is an outgrowth of the Interpoma show held each year in Bolzano, Italy. The venue is the Weihai International Exhibition Center (WIEC).
5 to 7 September, 2018
Asia Fruit Logistica
Held annually in Hong Kong, AFL is the big event for the international produce trade in Asia. Suppliers from across the region and around the world meet to showcase their produce and technology. The Asiafruit Congress, an industry conference, will be held on September 4, the day before the expo opens. Keep an eye on the AFL website [8] as more information about events and exhibitors is updated over the course of the year. The venue for this event is AsiaWorld-Expo [9], located adjacent to the Hong Kong airport.  
5 to 10 October
China International Import Expo (CIIE)
Jointly staged by China's Ministry of Commerce and the Shanghai Municipal Government, the China International Import Expo [10] is being billed as the first ever national-level expo focused entirely on imports. The "outcome-oriented" event will feature a range of supporting activities, such as workshops, supplier-buyer conferences, assistance in customs and quarantine clearance for exhibitors. " The CIIE will invite Chinese purchasers from across the country to the Expo for purchasing. Purchasers from third countries will also be invited to the Expo. It's estimated that 150,000 domestic and foreign professional purchasers will participate in the Expo."  30,000m2 out of a total 240,000m2 of expo space will be dedicated to food and agricultural products.
13 to 15 November, 2018
iFresh Asia Fruit and Vegetable Industry Expo
iFresh is more focused on China's domestic industry compared to some of the other expos. The 21st edition being held this year at the Shanghai New International Expo Center [7] (SNIEC) will be held concurrently with the Food & Hotel China (FHC) [11] expo.
16 to 18 November, 2018
China Fruit
&

Vegetable Fair

China FVF [12] is another major domestic-focused expo, held annually in Beijing. It also features concurrent, forums, presentations and other events on issues such as import/export, marketing and new products. The venue is the National Agricultural Exhibition Center.

 

20 to 24 November
China Green Week / Horti China / Mac Fruit / TFresh
A major annual event with cooperative partners from China and Europe which has a strong floriculture and greenhouse technology component, China Green Week [13] also covers fresh fruits and vegetables with the concurrent Horti China, Mac Fruit Attraction China and TFresh Fruit and Vegetable expos.  The venue is the National Exhibition and Convention Center (Shanghai) [14].
22 to 24 November, 2018
Taiwan Agriculture Week
Four events rolled into one, Taiwan Agriculture Week [15] consists of the Taiwan International Fruit and Vegetable Expo, the Taiwan International Agriculture Technology Expo, the Taiwan International Flower Expo and the Taiwan Cold China Expo. The venue is Kaohsiung Exhibition Center [16] in Kaohsiung City in the southern part of Taiwan.