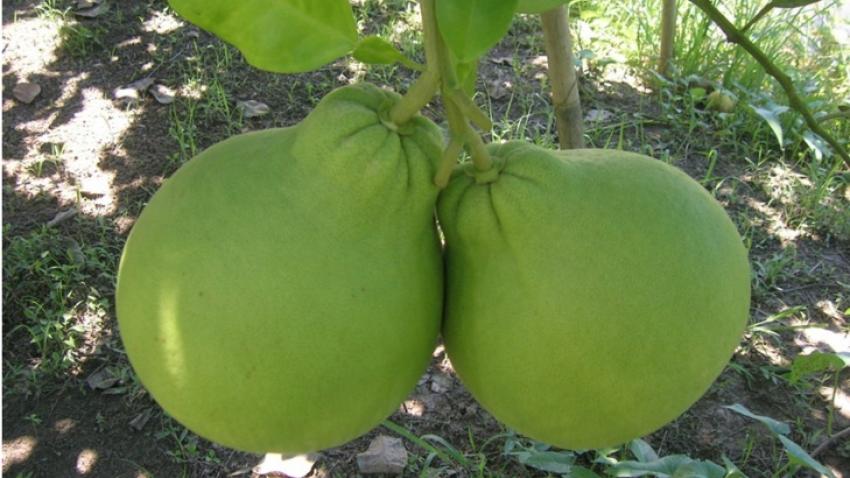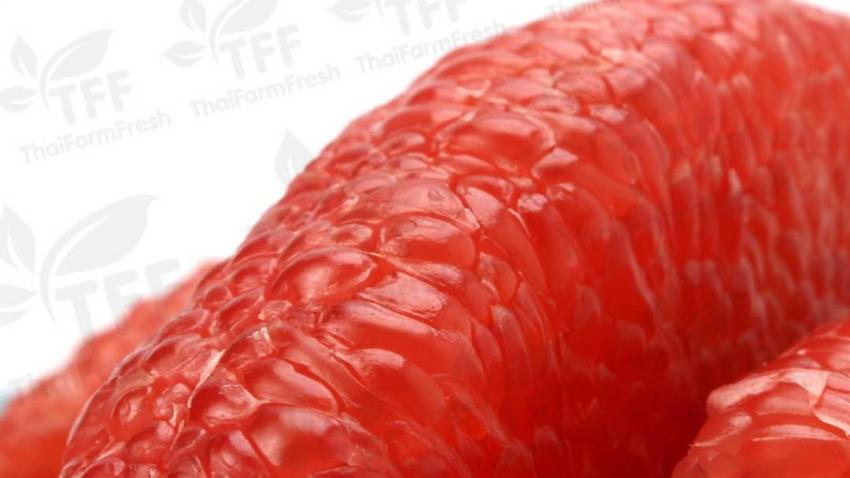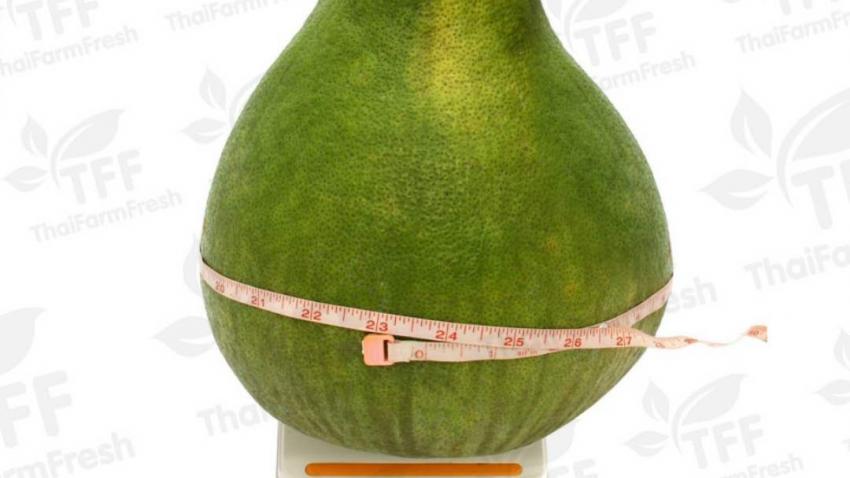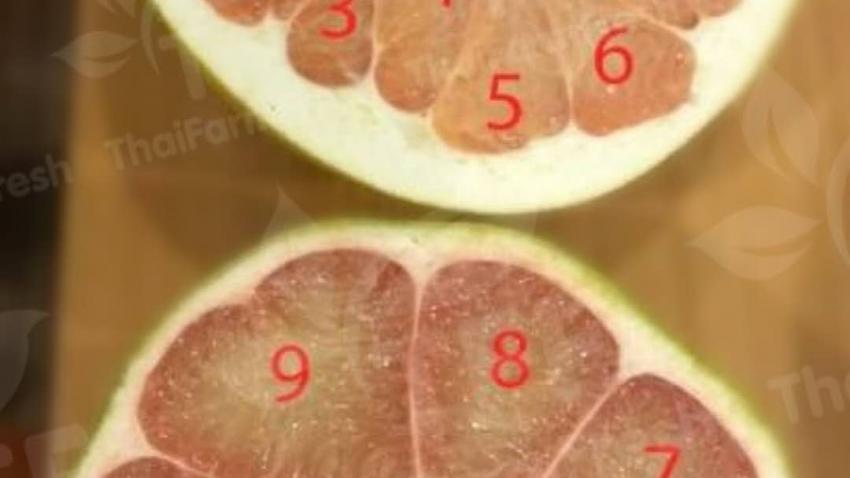 Tubtim Siam Pomelo is a geographical indication (GI) fruit, meaning that its qualities or characteristics are essentially attributable to its geographic origin. It is grown only in a specific area of Southern Thailand, and in small quantities, so eating this deliciously sweet fruit is a rare taste treat. Thai people often pay premium prices for Tubtim Siam Pomelo as gifts to others because they believe that this fruit brings luck and wealth.
Since Tubtim Siam Pomelo is now available in China, there is a need to clear confusion and differentiate between the premium fruit grown in Thailand and other high-quality pomelo – often called "Red Pomelo" – grown in China and Taiwan.
The full name of "Red Pomelo" grown in China is Red Honey Pomelo. This follows the color of the pulp. It originated as a bud mutation from the Honey Pomelo, and it has retained some of the characteristics of its parent. The current annual output of Chinese Red Honey Pomelo is about 1.2 million tons, and the growing area is expanding.
The Taiwanese Red Wandan Pomelo is grown in Southern Taiwan and exported in large quantities to Hong Kong and Mainland China, particularly before the annual mid-Autumn festival. Taiwan also exports a popular grapefruit variety that can be confused with pomelo.
Tubtim Siam Pomelo is grown only in parts of southern Thailand, and in very small quantities. Each orchard may produce only 1000 to 2000 pieces of fruit, so it is very precious and hotly sought-after.
In selecting one premium pomelo from the rest, there are six issues that stand them apart:
1. Taste
Chinese Red Pomelo tastes a little sweet at first, then it leaves a bitter aftertaste.
Taiwanese Taiwan Red Wandan  Pomelo is said to have an enormous subtlety of flavor: they are less intensely sour than grapefruit and have a delicate citrus aroma.
Tubtim Siam Pomelo is sweet and very soft. Sweetness is the overwhelming flavor, followed by a hint of sourness on the tongue.
2. Characteristics of the pulp
The succulent interior pulp of each Tubtim Siam Pomelo is divided into only 9 to 12 segments. The soft pulp clings together and is finely detailed (see picture). The interior pulp of Chinese Red Honey Pomelo is divided into 14 to 18 segments, even the smaller fruit, which makes development of true succulence more difficult. As a result the pulp of Chinese Red Honey Pomelo is rough and scattered.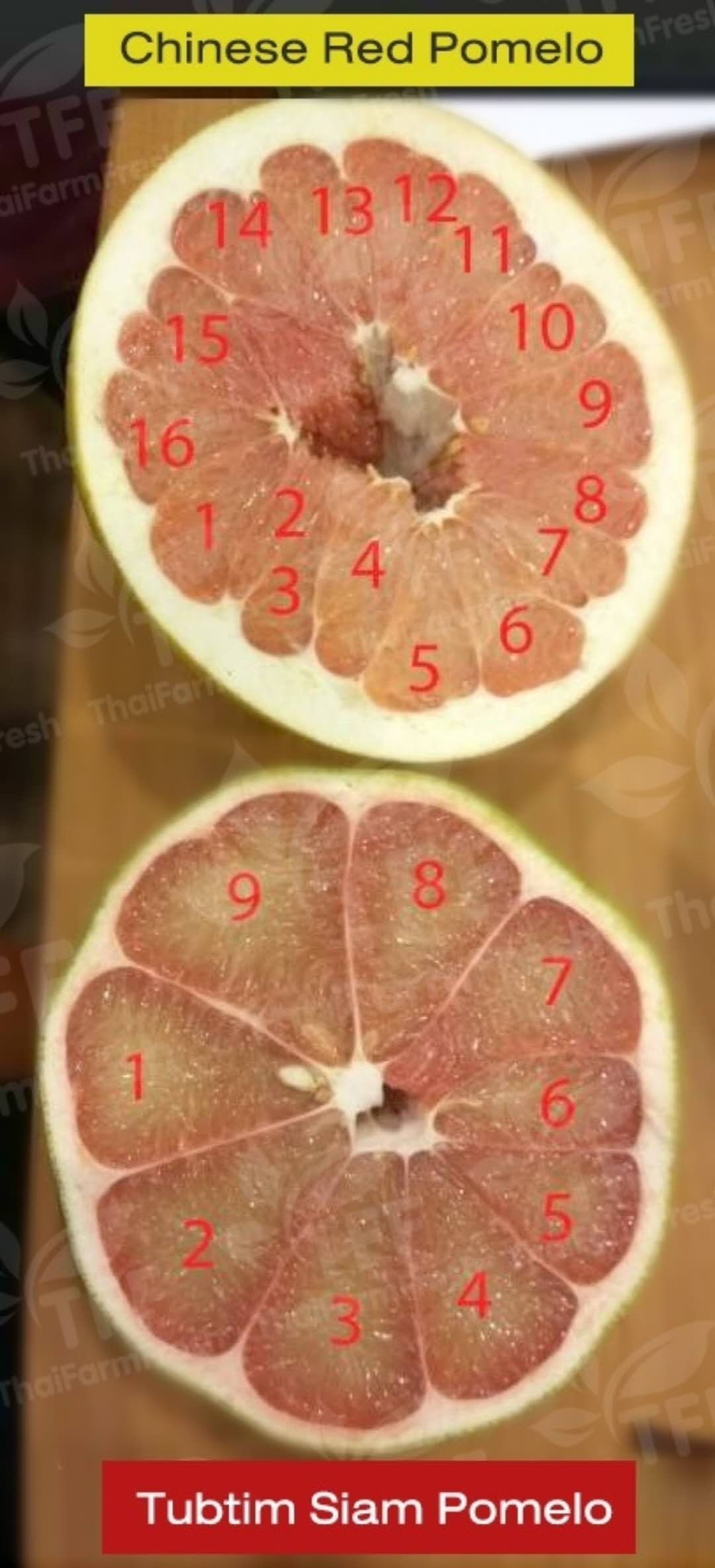 3. Inside (pulp) Color
It is not easy to tell the different kinds of pomelo from the color of the pulp. But if a Tubtim Siam Pomelo is sliced horizontally, the pulp is not evenly red. At the outside of each segment the pulp is red, but in the centre of each segment it is yellow.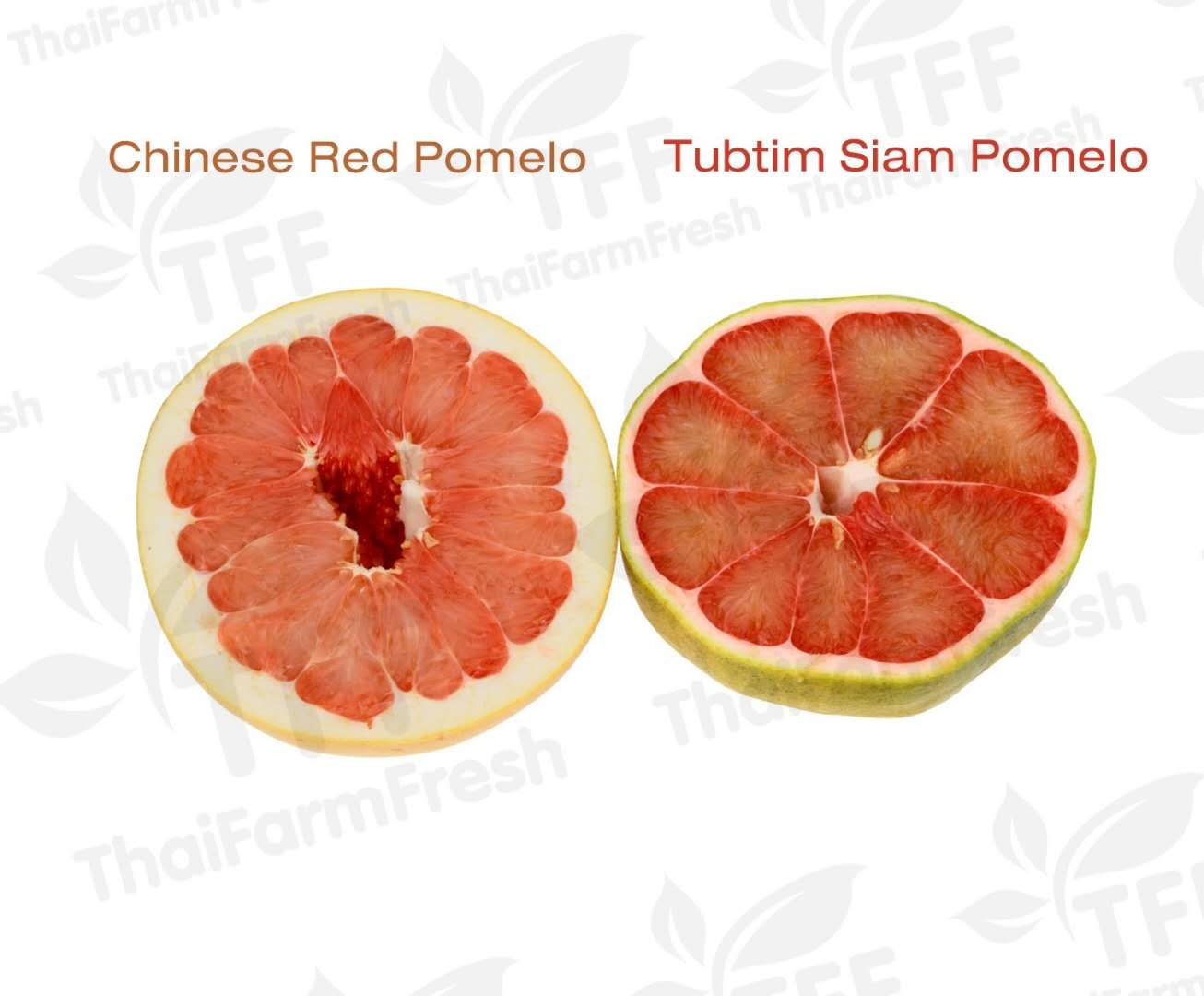 4. Thickness of pith
Lesser varieties of pomelo are known for the thickness of pith, the spongy white lining beneath the skin. Tubtim Siam Pomelo is unusual in that the pith is quite thin. In fact, it is a lot thinner than the pith of Chinese Red Honey Pomelo.
5. Size, Shape and Skin Color
Tubtim Siam Pomelo are the biggest of the fruit in premium grade, with one piece weighing as much as 2 kg (for a Jumbo size). They are pear-shaped, green to yellowish-green and the stomata on the skin are noticeable.
The Red Wandan Pomelo from Taiwan is smaller, pear-shaped, and green to yellow. The Red Honey Pomelo from China is also pear-shaped, light yellow in color, and the skin is smooth, without deep stomata.
At the stem end of the fruit, both Chinese Red Honey Pomelo and Taiwanese Red Wandan Pomelo have a rounded shape, whereas Tubtim Siam Pomelo have a concave shape where the fruit attaches to its stem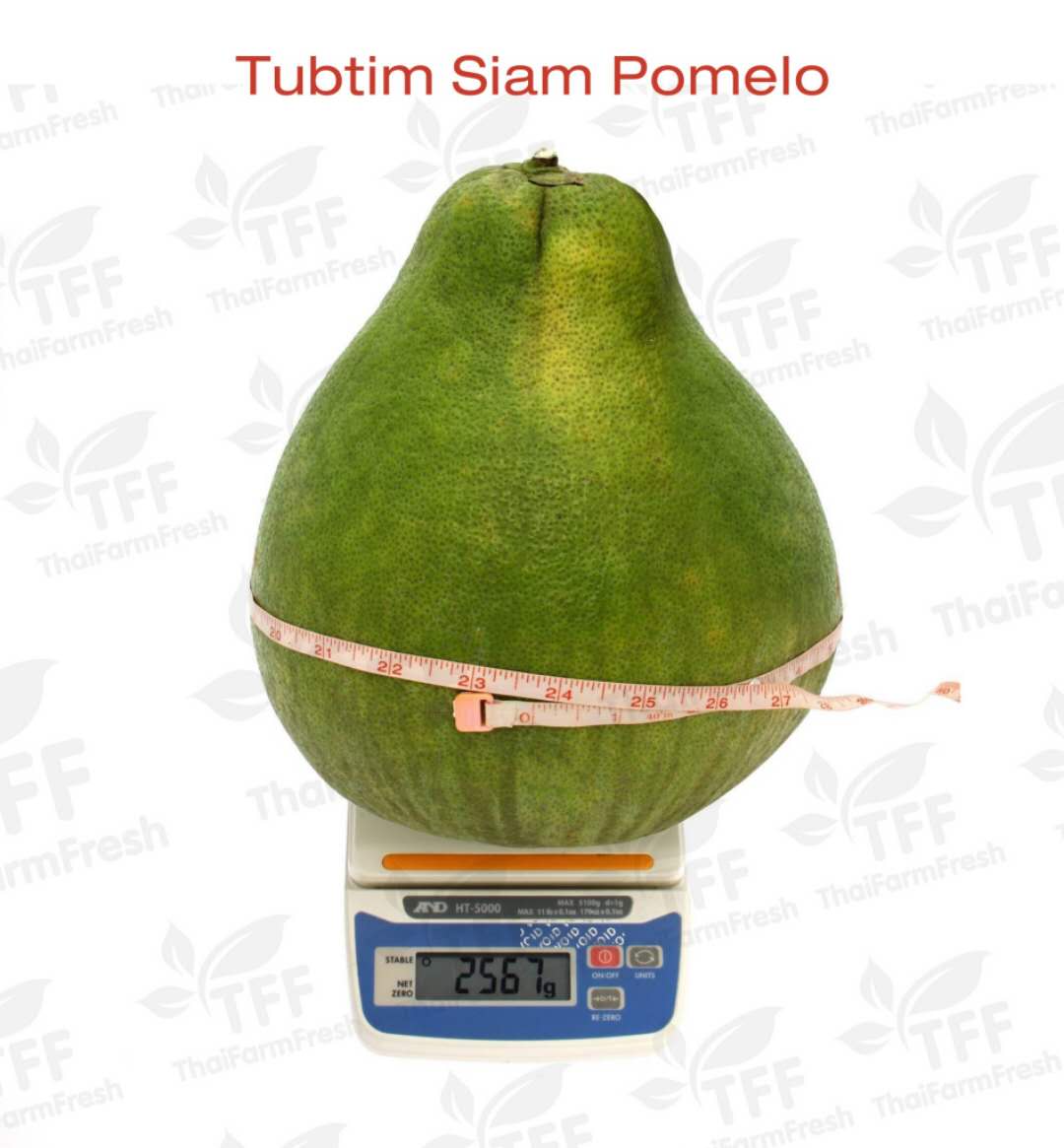 6. Prices
The retail price of Tubtim Siam Pomelo from Thailand is about 60  to 100 RMB per 500g, depending on the size of the fruit.
The retail price of Red Honey Pomelo grown in China is about 4 to 10RMB per 500g
The retail price of Taiwan Red Wandan Pomelo is about 4 to 13RMB per 500g
 If you are interested in buying Tubtim Siam Pomelo from TFF, directly from the orchard, please contact Ms.Thongthai in person (email: Natheethong@ThaiFarmFresh.com [3] ;  Wechat ID: LenyaTFF2014; Whatsapp: +66844274008  )
 Also please visit TFF's website. www.ThaiFarmFresh.com [4] 
The ultimate mission of ThaiFarmFresh (TFF) is the share with the rest of the world the delights of eating tropical fruit from Thailand.  TFF hopes that after reading our descriptions above you will be able to select Tubtim Siam Pomelo and makes it your favourite taste treat!
Image Source: TFF