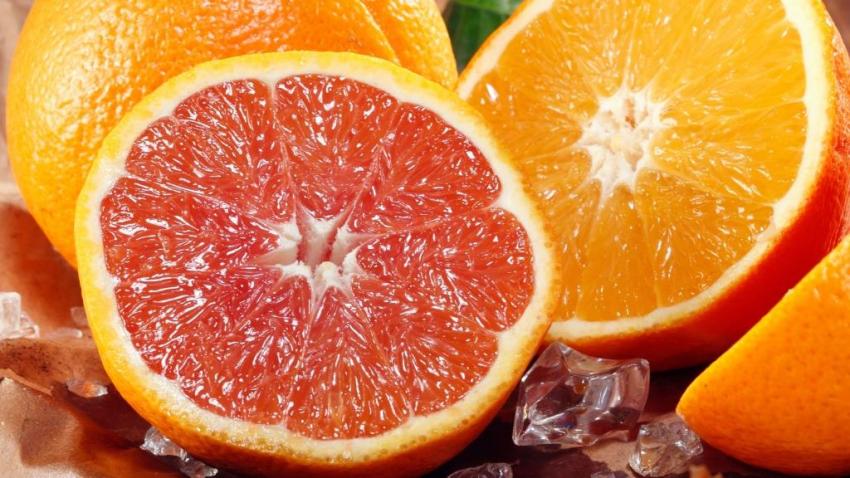 The citrus industry is one of Australia's foremost fresh produce industries. Despite being a relatively small player on the global scale and one that accounts for less than 1% of global citrus production, Australia is considered to be the premium citrus exporter in the Southern Hemisphere. Citrus trees thrive in a consistently sunny climate with fertile soil, as found in inland Southern Australia where the majority of the country's 650,000 annual tonnes of citrus fruit is grown.
Australia's citrus varieties and growing regions
As covered in a previous Produce Report lecture [3] with Citrus Australia [4], the main citrus fruits produced in Australia are navel oranges (280,000 tonnes, May–October), Valencia oranges (200,000 tonnes, November–February), and mandarins (140,000 tonnes, April–October), in addition to lower quantities of lemons (40,000 tonnes), limes (10,000 tonnes), and grapefruit (9,000 tonnes). The main growing regions for oranges are Victoria (75,803 tonnes), South Australia (61,076 tonnes), and New South Wales (24,107 tonnes), while mandarins are predominantly grown in Queensland (29,666 tonnes), South Australia (9,652 tonnes), and Victoria (7,448 tonnes).
Australia's overall citrus export/import trends
Australia is a net exporter of citrus fruit. According to the 2016 data recently published by Citrus Australia, citrus exports from Australia reached 219,953 tonnes with a total value of 328.4 million AUD, surpassing the previous records established in 2015 by 7.4% and 17.2%, respectively. The unit value also grew to 1.49 AUD/kg, representing a 9.1% increase over the previous year. Meanwhile, Australia imported only 26,227 tonnes (−9.6%) of fresh citrus worth 57 million AUD, mostly from the US, alongside 15,597 tonnes (−25%) of orange juice products, mostly from Brazil.
In 2016, the main export season for Australian citrus started in May and reached its peak in August at a monthly export volume of 57,000 tonnes, before tailing off by December. Moreover, every month until September showed year-on-year increases relative to 2015. Oranges accounted for the bulk of citrus exports in terms of both volume (76%) and value (68%), with mandarins in second place (22% volume, 29% value) followed by far smaller quantities of lemons, limes, and grapefruit.
China as a top destination for Australian citrus
Overall, China was the top destination for Australian citrus, accounting for a volume of 39,591 tonnes and a value of 72 million AUD, followed by Japan (36,771 tonnes), Hong Kong (29,654 tonnes), and UAE (13,678 tonnes). These four destinations represented 18%, 17%, 13%, and 6% of Australia's total citrus exports, respectively.
China in particular has become a key destination for Australian citrus in recent years and this market has exhibited continuous growth since 2010. Until 2011, annual citrus exports from Australia to China remained relatively small at under 2,000 tonnes but they have since skyrocketed, with staggering year-on-year increases of 33–621%. This led to China's current position as the #1 importer of Australian citrus for the first time in 2016. Australian citrus is therefore clearly proving very popular among Chinese consumers, with Australian growers and exporters working hard to meet the high demand [3]. Indeed, China is one of the highest-returning markets for Australian citrus growers, so there is a clear incentive for growers. Furthermore, Australia's geographical proximity, as well as its similar time zone and counter-seasonal advantage, are additional benefits for citrus exports to China.
Orange and mandarin exports
When considering the citrus categories separately, Japan and Thailand have remained the main markets by volume for oranges and mandarins, respectively. Japan imported 33,371 tonnes of Australian oranges in 2016, closely followed by China (32,049 tonnes) and Hong Kong (26,149 tonnes). In terms of export value, China was again at the top of the list, accounting for 55.9 million AUD compared to Japan's 47 million AUD. Other markets that exhibited strong growth included Indonesia, Canada, and the Philippines, while the US market continued to decrease. In total, Australia exported 165,864 tonnes of oranges in 2016 with a value of 223 million AUD.
In terms of Australian mandarins, Thailand imported the highest volume in 2016 (7,774 tonnes), followed by China (7,541 tonnes), Indonesia (4,870 tonnes), and the UAE (4,586 tonnes), out of a total of 49,342 tonnes. Again, China took the first place in terms of export value (16.4 million AUD), ahead of Thailand (14.9 million AUD) and Indonesia (9.6 million AUD). In total, Australia exported 49,342 tonnes of mandarins with a value of 94.5 million AUD.
China's growing demand for citrus
China imported approximately 220,000 tonnes of oranges from around the world in 2016, a 50% increase over the volume imported in 2015. The main sources of these imports remained South Africa, the US, Australia, and Egypt. However, Australia is playing an increasingly prominent role in this and its market share of the orange exports from the Southern Hemisphere was 30% in 2016 compared to 27% in 2015, while the Northern Hemisphere countries also increased their supply to match China's increasing demand.
Image sources: Citrus Australia Ltd. (main image), MZMC (body image)