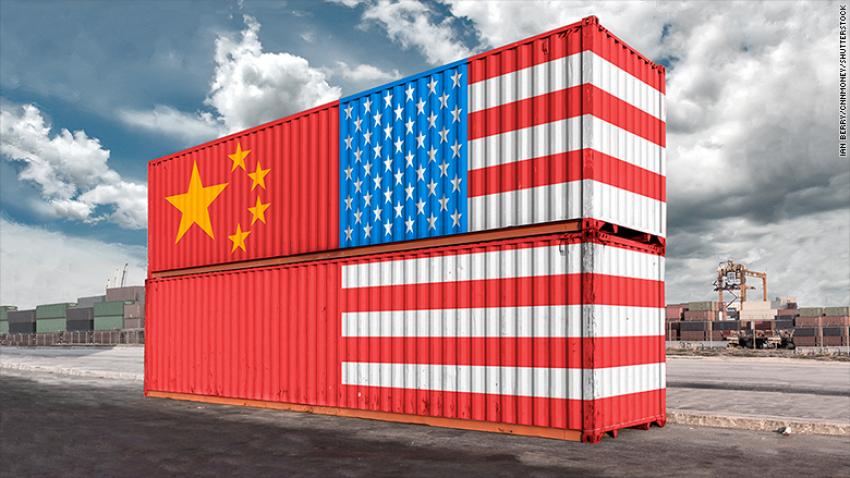 Image Source: CNN Money
A Nielsen report delivered at PMA Fresh Summit: Orlando (October 2016) on online food shopping in the United States has produced some revealing information as to the state of fresh produce e-commerce in America. Produce Report compared the findings of this report with similar sources on China's fresh produce e-commerce, shedding some light as to the key similarities and differences between the two countries in fresh e-commerce.
According to the Nielsen report, which is based on a June 2016 online survey of roughly 2,000 adults in the United States, e-commerce in America was predicted to be worth $342 billion in 2015, with an annual growth rate of 15-20%. Retail e-commerce sales growth is also expected to triple that of brick-and-mortar retail sales. Despite these impressive figures, China remains the global e-commerce leader, as online sales surpassed $670 billion in 2015, or nearly double those in the United States.
China's position as leader in e-commerce is due in large part to China's massive online population, which totalled 688 million users (and growing) in 2015, as well as the significant percentage of those users who engage in online shopping (57%, or 390 million users). According to the team of researchers and analysts at Internet Live Stats, Internet penetration in China increased 4.6% in 2015 to 51.3%, as compared to a 1.7% increase to 88.2% in the United States. The lower rate of Internet penetration in China indicates that there is greater space and opportunities for growth in new Internet users in China as compared to the U.S., where growth will have to be fuelled by converting existing Internet users into online shoppers.
American and Chinese online consumers of fresh produce share some key characteristics. Nielsen described the average online consumer in the U.S. as young (18-34), married with children, and an urbanite, which is quite similar to an October 2015 Nielsen white paper [3] which depicts the average online shopper of fresh produce in China as female, 33 years old, married, educated, and a white-collar worker living in the city. An interesting divergence between the two countries is gender. Although in America women tend to do more online shopping than men (73% vs. 63% of all households), men were more likely to purchase food products online: 50% of male online shoppers bought food, compared to 40% of female shoppers. This contrasts with China where women account for more than 60% of all online purchases [4], including fresh produce, and have a high total purchasing value of goods purchased online, despite constituting only 44% of the Chinese online population.
Method of online sale is another area of clear distinction between the two countries, and the convenience and affordability offered by mobile e-commerce has led to massive growth rates in mobile e-commerce in China. In 2015, mobile online shopping overtook online shopping via computer for the first time in China, a trend which is expected to increase over the next several years. In contrast, mobile sales in the United States accounted for only 16% [5] of total e-commerce spending in 2015, with PC sales still dominating the e-commerce market.
31% of respondents in the Nielsen report indicated that they bought food online in the past 6 months, with half of those (or 16% of respondents) having used the Internet to buy fresh produce. However, nearly 70% of surveyed Americans have not shopped online for food, with 35% of respondents stating that they plan on shopping online for food it in the next 12 months and only 14% indicating that they would replace some or all of their routine shopping with online e-commerce.
Reasons for shopping online, including for fresh produce, highlights another area of divergence between Chinese and American online consumers. Online food shoppers in the U.S. largely sought out products which had a long shelf life, were difficult to find in stores, and which were easy to ship. Not surprisingly, dry packaged foods (57%), snacks (51%), and canned goods (48%) were viewed more suitable for online purchase, with only 7% of respondents considering fresh fruit and vegetables a "good fit" for online shopping. Chinese consumers possess a different set of priorities in doing their shopping online and are drawn to fresh produce e-commerce due namely to increased product freshness, convenience, value for money, and greater choice regarding product origins.
In addressing the challenges faced by fresh produce e-commerce in the United States, Nielsen made several recommendations applicable to not only fresh produce e-commerce in the U.S. but in China as well. Consumer education, such as informing consumers as to product usages, preparation, health benefits, recipes, and other cooking tips, is underlined as an important area of focus for the produce industry in both countries. Furthermore, an emphasis on transportation, such as highlighting the specific steps taken to preserve product quality and freshness, can build consumer trust in a company's ability to ensure proper cold chain management. Other recommendations include personification of the shopping experience through live interaction with online representatives, personalized ads and recommendations based on shopping habits, and advertising targeted at shoppers looking for hard-to-find or niche fruits and vegetables.