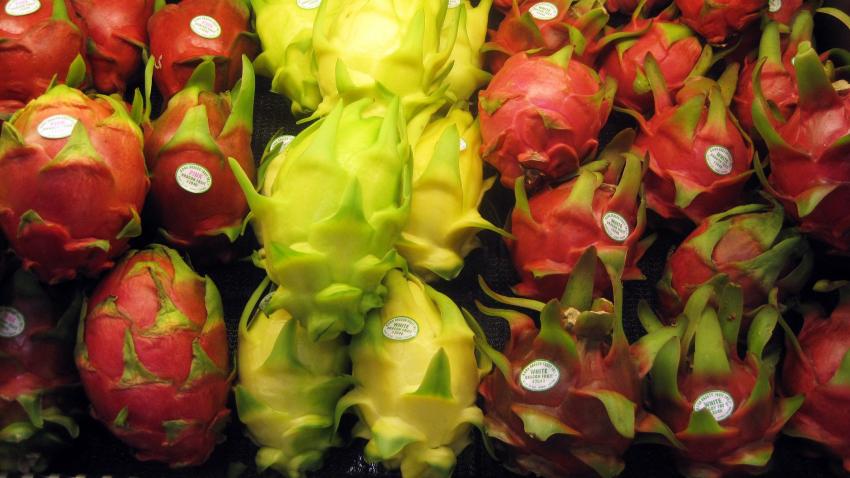 On July 27, the General Administration of Customs of China formally granted market access to fresh dragon fruit from Ecuador under the terms of the bilateral phytosanitary protocols signed between the two countries [3] earlier this year. In addition to red dragon fruit, yellow dragon fruit, also known as kirin fruit, were also explicitly permitted to be imported into China. Yellow dragon fruit are expected to comprise the bulk of Ecuador's fresh dragon fruit exports to China.
The protocols list five pests of concern for the Chinese side: the Mediterranean fruit fly, the South American fruit fly, the armored scale, the gray pineapple mealybug and the cotton mealybug.
Also stipulated in the protocols are a series of measures that growers and packers must undertake to reduce the chances of these pests of concern catching a ride to China on dragon fruit and reproducing domestically. Ecuador's Agriculture Quality Assurance Agency (Agrocalidad) is also required to collect samples from each outbound shipment to inspect for the pests of concern, including dissections to check for larvae.
Yellow dragon fruit are native to Ecuador and surrounding countries. They have been growing in popularity among consumers in China in recent years owing to their striking appearance and higher sweetness compared with red dragon fruit. As there has historically been little domestic cultivation in China, yellow dragon fruit have been fetching premium prices as demand has grown.
However, the domestic cultivation of yellow dragon fruit [4] is now picking up in China. Large-scale plantings started to be made in Hainan in 2021 and the current area under cultivation in China is now estimated to exceed 1,300 hectares, with output set to rise in coming years as the orchards mature.
According to Agrocalidad, Ecuador exported 17,895 tons of yellow dragon fruit to 27 different countries in 2021, an increase of 60% from the 11,260 tons exported in 2020. At present, the United States is the largest market for yellow dragon fruit, accounting for 84% of the total export volume. Nonetheless, Ecuadorian producers have high expectations for the Chinese market, with some hopeful that China can eventually import triple the volume of the United States.
Image: apasciuto [5] on Flickr, distributed under a CC BY 2.0 [6] license
This article was translated from Chinese. Read the original article [7].