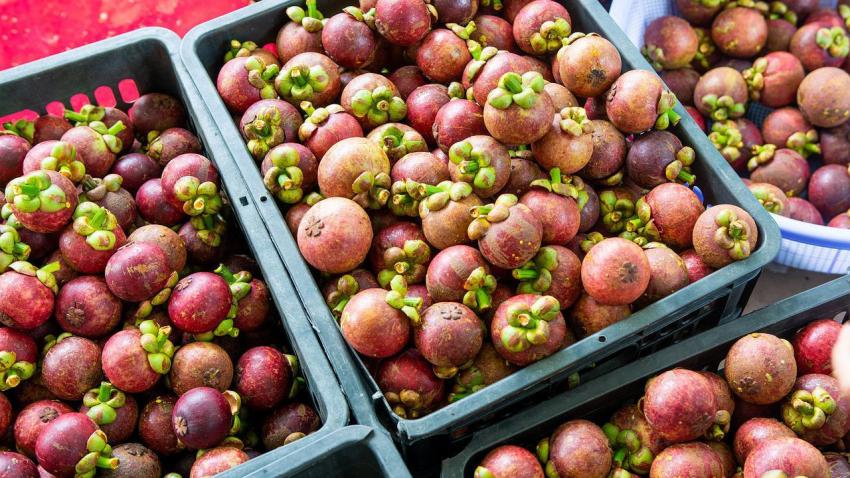 According to a forecast from Thailand's Ministry of Agriculture and Cooperatives, the country's mangosteen output is set to reach 378,400 metric tons in 2022, an increase of 38% over last year.
Situated on the east coast of the Gulf of Thailand, the provinces of Chanthaburi, Rayong and Trat form part of the key fruit-producing region of Eastern Thailand and include the country's primary mangosteen-growing areas. Each of these three provinces is expected to witness a large increase in mangosteen output this year.
The production of other fruits in the region is also up. Eastern Thailand's total production of durians [3], mangosteens, rambutans and longans [4] is projected to reach 1.14 million tons, up 27% from last year's 900,000 tons.
Given the status of Thailand as China's largest supplier of imported fresh fruit, many Thai fruit producers are somewhat dependent on the Chinese market [5]. Despite the substantial increase in fruit production, numerous shipments of Thai fruits have been stranded at Chinese ports of entry owing to the country's strict COVID-19 prevention measures.
Possible avenues of relief for this bottleneck may be found in Thailand diversifying its export markets and the opening of new logistics channels into China.
Earlier this month, Japan's Minister of Agriculture, Forestry and Fisheries traveled to Thailand to meet with his Thai counterpart and pledged to smooth import procedures [6] to make it easier for Thai mangosteens to reach Japanese consumers.
Furthermore, in another piece of good news for Thai fruit exporters, Nanning's Wuxu International Airport in South China's Guangxi Zhuang Autonomous Region started handling inbound fresh fruit shipments on May 13. This has opened up a new Bangkok–Nanning air route [7] through which Thai fruit can enter China, with the first shipment of 20 tons of Thai mangosteens arriving in Nanning on May 14. The new route is expected to have daily round-trip service, with a weekly cargo capacity of approximately 260 tons.
Image: Pixabay
This article was translated from Chinese. Read the original article [8].