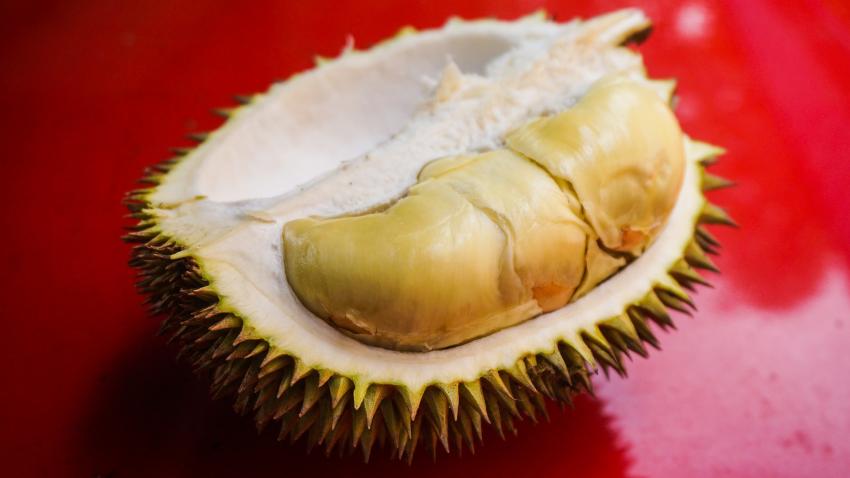 The Phnom Penh Post has reported that Cambodia's Ministry of Agriculture, Forestry and Fisheries intends to export durians to China and will soon begin assessing the necessary phytosanitary requirements.
On Jan. 29, the Cambodian Minister of Agriculture, Forestry and Fisheries, Veng Sakhon, visited Sok Leng-Phanny durian orchard in Tbong Khmum province. Veng was quoted as saying that he would connect with Chinese customs authorities to start evaluating the technical, regulatory, procedural and phytosanitary requirements for exporting Cambodian durians to China. According to the orchard's owner, in 2021, Sok Leng-Phanny's 13 hectares of land produced a total of 100 metric tons of the spiky fruit, which sold domestically for 20,000 riel ($4.91) per kilogram. Production is expected to further increase this year.
Tbong Khmum province's agricultural department reported that the main durian-producing districts of Memot, Ponhea Kraek, Dambae and Ou Reang Ov have a combined planting area of 610 hectares, of which 300 hectares are currently in production, with an average annual yield of 4,548 tons.
Cambodia exported a total of 377,000 tons of bananas to China in 2021, accounting for 89% of the country's total export volume of this fruit. Cambodia's mango exports have also more than doubled since its mangos were granted access to China [3] last year. In addition, Cambodian longans are expected to be granted market access by the end of this year, and import permission for fruits such as durians, dragon fruit and coconuts is also in the works. Cambodia's banana exports to China are also expected to continue their upward trend in the wake of the official implementation of the China–Cambodia Free Trade Agreement [4] on Jan. 1 of this year.
China's fresh durian imports [5] increased significantly in 2021, reaching a value of $4.21 billion and a volume of 822,000 tons, corresponding to year-on-year increases of 82.4% and 42.7%, respectively. China currently only allows durian imports from Thailand and Malaysia, while negotiations with Vietnam and the Philippines are underway.
Image: Pixabay
This article was translated from Chinese. Read the original article [6].