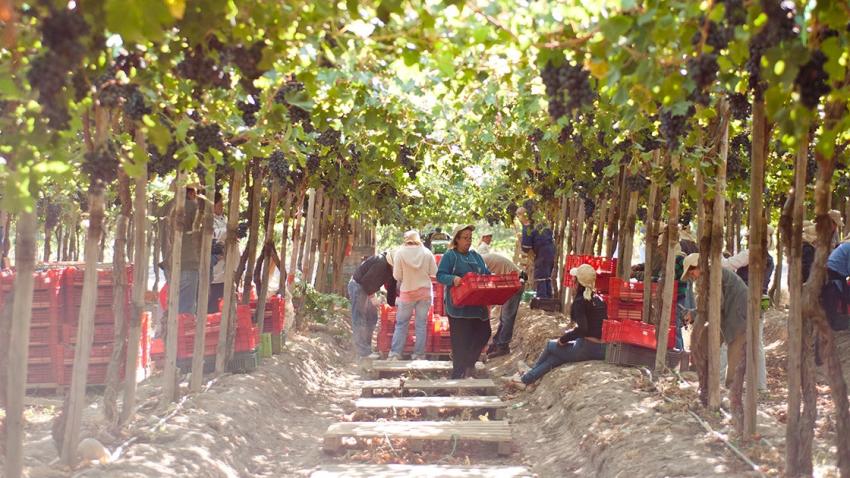 The Chilean Fruit Exporters Association [3] (ASOEX) remains optimistic about the long-term prospects for exports of Chilean fresh fruit to China and expects to continue significant annual investments to develop the China market and solidify Chile's position as a top supplier of fruit to China, according to recent remarks by an ASOEX representative during the Chile Week in China event series held in Beijing and Shanghai from Nov. 25 to Dec. 3 and organized by Chile's export promotion bureau, ProChile.
On Dec. 2, Patrick Xiao, ASOEX's marketing manager for China, took to the stage in Shanghai as part of the Chile Week in China Innovation and Food Safety Seminar to discuss "Opportunities and Challenges for Exporting to the Chinese Market." In 2020, China imported over 6.3 million tons of fresh fruit from around the world with a total value in excess of $10 billion [4].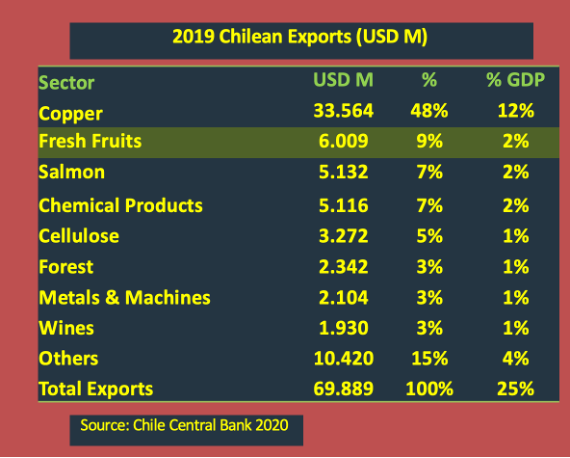 Xiao pointed out that although the value of Chile's fresh fruit exports is small relative to the country's commodity exports, fresh fruits have been a star in terms of growth rate. Overall, during the 38 years from 1980 to 2018, Chile's fresh fruit exports increased by a factor of 32, corresponding to a compound annual growth rate of 9.6%, according to statistics from the Central Bank of Chile and ASOEX.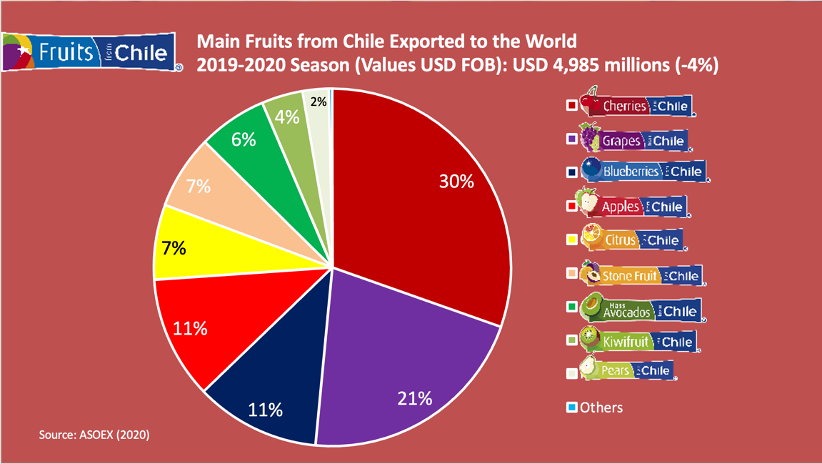 Over the past decade, China has become an increasingly important part of this growth in Chilean fruit exports — especially in the case of fresh cherries, for which 87% of Chile's 2021/22 season exports are expected to go to China [5]. But despite Chile growing into a leading supplier of imported fresh fruit to China, ASOEX representatives still see considerable room for further development.
"We still see much growth potential here thanks to the continued upgrading of domestic consumption patterns," said Xiao. "We have already confidently invested millions of dollars in the China market. And we will continue doing so to communicate with the end consumer here." Xiao cited the "solid bilateral relationships" between Chile and China as another reason for ASOEX's optimism about future growth in fruit exports from Chile to China, noting that "Chile was the first country in South America to recognize the new China and the first to establish a free trade agreement with China, which leaves Chilean fruits quite well positioned in terms of market access, tariffs and other issues."
To deliver on this potential growth, ASOEX will continue to rely on its successful formula for enhancing geo-branding and stimulating consumption of Chilean fruits in China through active annual promotional campaigns. "ASOEX has developed a comprehensive promotional model, which takes the consumer on a journey from awareness building to consideration, and then from 'ever purchased' through to normal consumption," said Xiao.
Xiao introduced the 2021/22 Cherries from Chile campaign as an example of the comprehensive nature of ASOEX promotions in the China market. The campaign will span all major supermarket and fruit shop chains as well as all of China's main e-commerce platforms. It will also feature advertisements in a variety of media and "lots of eye-catching, engaging and easy-to-share social media content such as lucky draws, fun characters and more," said Xiao. "In short: cherries everywhere."
With the large-volume ocean freight shipments of Chilean fresh cherries [6] expected to arrive in China on Dec. 12, Xiao expressed confidence in ASOEX's approach to the major short-term challenge facing Chile's fruit exporters and, indeed, industries around the world: the global COVID-19 pandemic. Less than two years into the pandemic, ASOEX has already issued the fourth version of its "Good Practice Guide for the Prevention of Coronavirus SARS CoV-2 in Fields, Farm Packing and Fruit Packing Plants" and accompanying checklist. "Our industry has taken a very strict approach to food safety in the face of COVID," said Xiao. "The strict operational protocols executed by Chilean growers and exporters include testing of all workers, mask and glove requirements and enclosed management of orchards and packing houses, strictly restricting access to ensure the safety and health of production and export supply chains."
Images: ASOEX