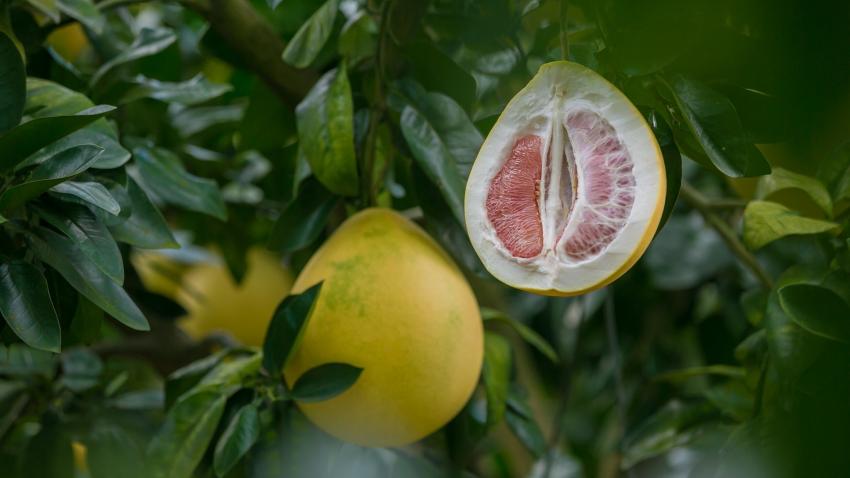 Meizhou Daily (梅州日报) reports that on Aug. 17, after successfully passing quarantine and inspection protocols through Meizhou Customs, a subdivision of Shantou Customs, 20.27 metric tons of honey pomelos [3] from the city of Meizhou in Guangdong province were ready for shipment, destined for the shelves of major supermarkets in Los Angeles.
In April 2020, China's General Administration of Customs issued Announcement No. 59, decreeing that qualifying Chinese pomelos may be exported to the United States. The director of the animal and plant department of Shantou Customs explained that in order to qualify for export to the United States [4], Chinese pomelo orchards and packing plants must be reviewed and approved by the General Administration of Customs and be managed in strict accordance with the quarantine and inspection requirements of both China and the United States. At present, six orchards and eight packing plants in China have received approval to export pomelos to U.S. companies, including two orchards and two packing plants in Meizhou.
This first shipment of Meizhou honey pomelos to the United States is reportedly sourced from Guangdong Shunxing Cultivation and Breeding Co. Ltd., one of six leading enterprises in the Dabu County Provincial-Level Honey Pomelo Modern Agricultural Industrial Park. The company reportedly possesses 159 hectares of self-operated honey pomelo farms and a 15,000 square meter pomelo processing plant equipped with advanced, domestically manufactured processing equipment and automated production lines that allow for a daily pomelo processing capacity of 300 tons. The company has so far received orders for 1,000 tons of pomelos from U.S. customers and reportedly plans to utilize this opportunity to expand the scope and quantity of its shipments to overseas markets.
The most famous honey pomelo in Meizhou is the Dabu honey pomelo, which was recognized as a National Protected Geographical Indication product in 2015 and included in China's first list of 100 Chinese Geographical Indications protected by the European Union in 2020. Dabu honey pomelos reportedly weigh between one and seven kilograms with a thin peel, a large amount of juice and a balance of sweet and sour flavors. They come seedless or with few seeds.
Dabu has become the largest honey pomelo growing county in Guangdong province and the largest red-fleshed honey pomelo growing region in China. The county has a honey pomelo planted area of 14,600 hectares, including 9,000 hectares of red-fleshed honey pomelos, with a yield surpassing 300,000 tons. To date, Dabu honey pomelos have been exported to Europe, the Americas, Southeast Asia, the Middle East and other markets.
Image: Pixabay
This article was translated from Chinese. Read the original article [5].