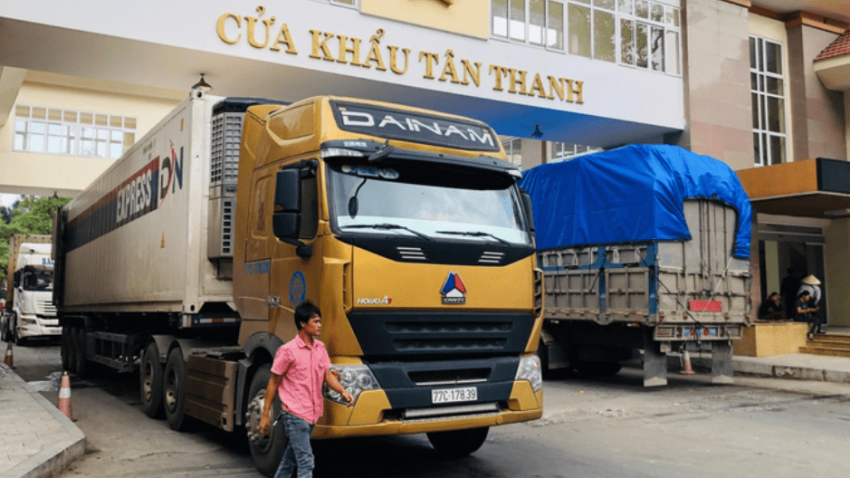 According to a news report by VnExpress [3], China reopened its side of the Puzhai–Tan Thanh border crossing between Pingxing County in Guangxi province and the northern Vietnamese province of Lang Son on Aug. 25. Tightened COVID-19 safety measures at the crossing, however, stipulate that Vietnamese truck drivers must hand off their vehicles to Chinese drivers instead of crossing into Guangxi themselves.
On Aug. 16, COVID-19 cases linked to drivers passing through the Puzhai–Tan Thanh border crossing prompted Guangxi customs officials to temporarily suspend the flow of goods [4]. Officials on both sides of the border immediately entered into discussions regarding COVID-19 prevention measures, and customs clearance procedures were resumed on Wednesday, Aug. 25.
Under the newly agreed upon regulations, Vietnamese truck drivers who arrive at the border are required to hand off their vehicles to Chinese drivers waiting in Guangxi. The Chinese drivers then deliver the cargo and return the trucks to the border. The new pilot scheme will be trialed until the end of August.
However, Vietnamese authorities indicated that the new regulations may increase costs and delay exports. Many trucks carrying produce from Vietnam lack a specific destination, making it difficult for Vietnamese drivers to precisely determine the value, quantity and quality of their cargo prior to handing off their vehicles. To minimize these risks, officials have encouraged Vietnamese businesses to sign contracts with Chinese buyers before shipping their cargo.
Customs clearance procedures are experiencing widespread delays due to tightened Chinese border controls over fruit originating from Vietnam. Nong Hai Thang, director of border crossing management in Lang Son, indicated that over 1,000 trucks are trapped waiting at the Tan Thanh and Huu Nghi border crossings, further claiming that "Trucks need to wait two days to pass the gate."
Vietnam exported $2.06 billion of produce in the first half of 2021 for a year-on-year increase of 17.7%, with China accounting for $1.25 billion (61%) of these exports, corresponding to a year-on-year increase of 16.2%. However, the COVID-19 situation in Vietnam has deteriorated recently, with the country's daily tally of newly confirmed cases hovering around 10,000 throughout August and almost 450,000 total confirmed cases since the beginning of the pandemic. As a result, Vietnam's agricultural exports are expected to decline substantially in the second half of this year, with produce exports forecast to fall by approximately 30% [5].
Image: VnExpress
This article was translated from Chinese. Read the original article [6].