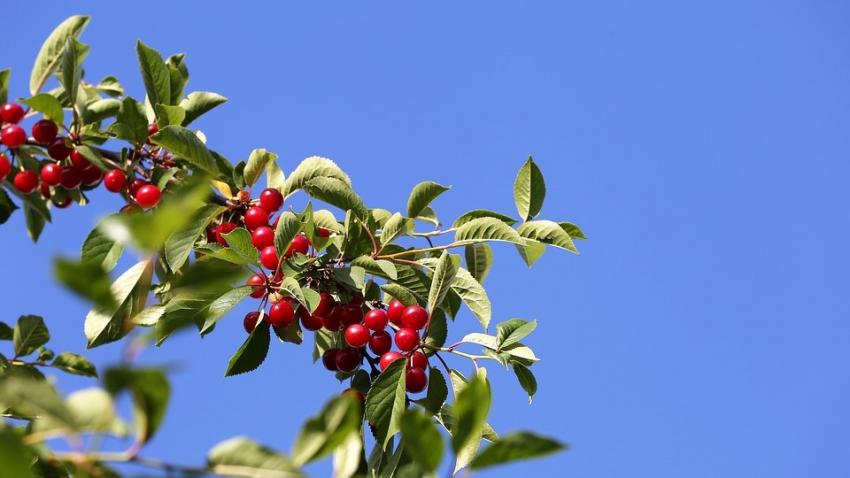 Owing to strong market demand from China, Chile's cherry crop has been setting new historical records with each passing season and the upcoming marketing year 2021/22 (from November to October) appears likely to be no exception.
According to a recent report [3] by the U.S. Department of Agriculture's Foreign Agricultural Service, the planted area for cherries in Chile is forecast to increase by 11.5% in MY 2021/22, reaching a total of 44,000 hectares. However, an increase in the planted area does not always translate to proportional growth in the production volume. In this regard, Chile is expected to produce approximately 395,000 metric tons of cherries in MY 2021/22, corresponding to a year-on-year increase of 2.9%. Adverse weather conditions such as a continuing drought and the risk of frost damage have motivated cherry producers to employ new crop management practices in terms of pruning trees and thinning flowers to afford superior fruit size and quality, albeit at the expense of lower yields per hectare.
In MY 2020/21, Chile's cherry production rocketed to 384,000 metric tons, a year-on-year increase of 50.6%. This massive increase in volume imposed considerable pressures on fruit harvesting, processing and packaging. Although the country had already achieved a high level of automation in its agricultural industry, strict disinfection and quarantine measures implemented in response to the COVID-19 pandemic still left many cherry orchards unable to find a sufficient labor force to handle the fruit, driving up the production cost to some extent. According to the report, these challenges are likely to persist during MY 2021/22.
The main cherry cultivars grown in Chile include Santina, Regina and Lapins. As an early variety that starts to be ready for picking in mid-November, Santina cherries always fetch high prices at the beginning of the season. Regina is a mid-maturing variety with firm flesh that is suitable for storage and long-distance transportation. Lapins is known for generating a stable crop year after year. Meanwhile, Chilean cherry producers have been working to develop new cultivars that are less dependent on climatic conditions. For example, these varieties could be more resistant to rainstorms and frosts or require fewer chill hours in the winter.
The report estimates that Chile's cherry exports in MY 2021/22 will increase slightly by 3.0% to 364,000 metric tons. In MY 2020/21, the country exported 353,231 metric tons of cherries worth $1.87 billion, corresponding to year-on-year increases of 54.3% and 57.8%, respectively. China accounted for 321,868 metric tons (91.1%) of these exports, representing an increase of 55.1% over the same period of the previous year.
In late January 2021, as Chilean cherries were reaching their peak export period, news emerged on Chinese social media that SARS-CoV-2 genetic material had been detected on the packaging of imported cherries at a market in the city of Wuxi. Although there was no official announcement from Chinese authorities regarding the detection of the virus on Chilean cherries, the rumor [4] still rapidly went viral online, causing Chilean cherry exports to China to immediately slow down and prices to fall by 59%. Later, a third-party laboratory found that there had been no evidence of SARS-CoV-2 contamination on cherry shipments from Chile. Following this clarification, this episode soon faded away with almost no lasting impact on the popularity of Chilean cherries on the Chinese market [5]. In the upcoming MY 2021/22 season, Chilean cherry exporters reportedly intend to send only premium cherries to China to bolster the good reputation of Chilean fruit and secure higher sales.
Image: Pixabay
This article was translated from Chinese. Read the original article [6].