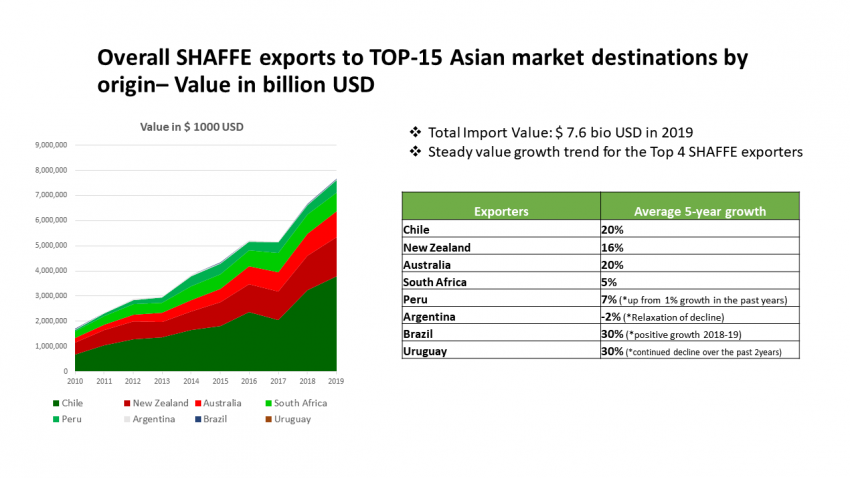 This content has been modified from its original version. It has been edited for content and style, as well as to follow Produce Report editorial guidelines and for necessary website formatting.
The Southern Hemisphere Association of Fresh Fruit Exporters [3] (SHAFFE) on this coming Thursday, March 25, will host the first edition of the Southern Hemisphere Fresh Fruit Trade Congress [4], for which Produce Report is a media partner. The congress presents an ideal opportunity for participants from China to get in-depth statistics and analysis to understand the overall picture of fresh fruit trade flows from the major Southern Hemisphere exporting countries to the greater Asia region in general and China in particular.
Readers in China can scan the QR code at the end of this article to register for free to attend the congress this Thursday, March 25, from 6 p.m. to 8 p.m. China Standard Time.
SHAFFE was founded in 1991 as a platform for exchange between the key exporting countries of the Southern Hemisphere on matters of common concern: SPS, food safety, market access and other arising trade barriers. At present, the organization represents 25% of the global temperate fruit trade (11 million tons, $14 billion) from the eight leading Southern Hemisphere fruit-exporting nations: Australia, Argentina, Brazil, Chile, New Zealand, Peru, South Africa and Uruguay.
China is the largest destination in terms of value for exports from SHAFFE member countries, accounting for approximately $5.2 billion worth of exports. In reflection of the importance of the China market, Thursday's congress is being held in partnership with the China Chamber of Commerce for Import and Export of Foodstuffs, Native Produce and Animal By-Products (CFNA).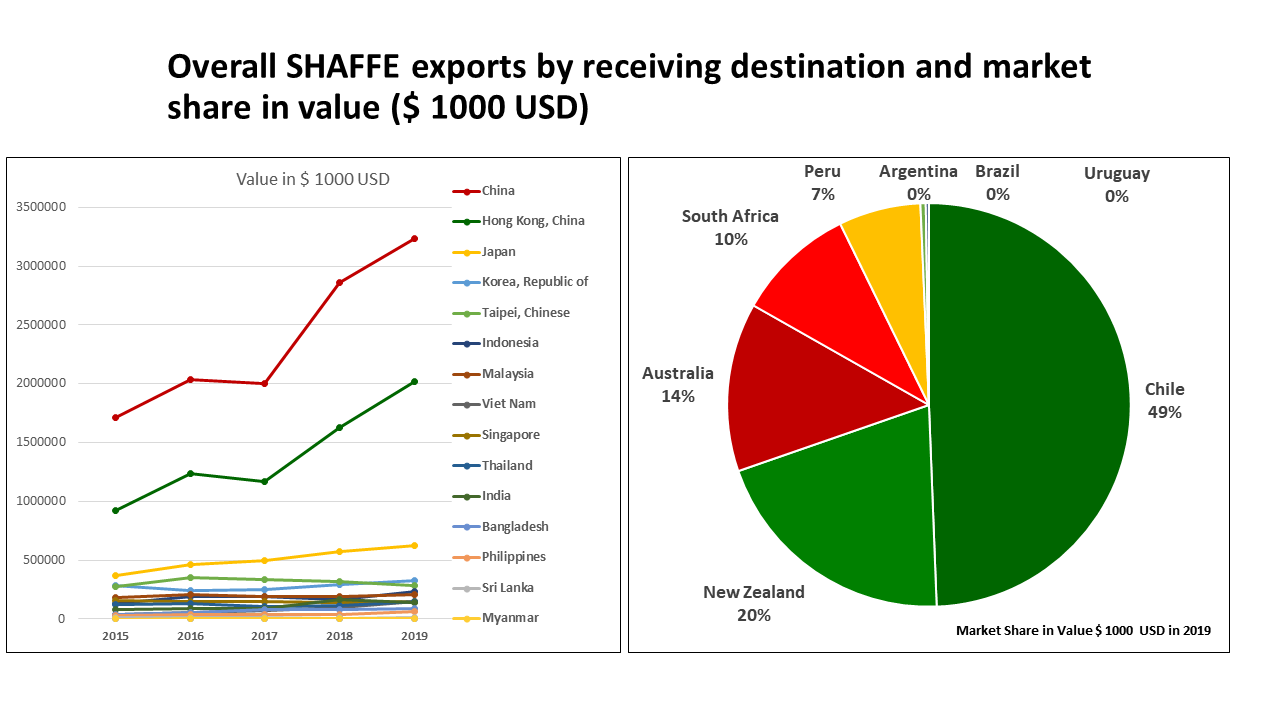 SHAFFE has been monitoring the market developments in Asia and specifically in China with great care. As with any other region in the world, Asian markets have been vulnerable to external socioeconomic influences as well as climate change and trade disputes. Nonetheless, Asian countries also have shown great resilience for the fruit trade market and great recovery rates based on growing private consumption and the expansion of the middle class. Despite COVID-19, Asian countries and China in particular still show good GDP development and will continue to do so. Also, throughout the COVID-19 crisis, Asian markets including China have remained a stable and steady pillar for Southern Hemisphere fruit trade exports.
Southern Hemisphere countries export fruit worth $7.6 billion to Asian markets (see the chart at the top of this article), which accounts for roughly 40% of all Asian fruit imports. Southern Hemisphere imports have become the second supply pillar next to intra-Asian trade, which amounts to approximately $7.9 billion.
China remains in that context the most important trading partner, with roughly 1.8 million tons worth $5.2 billion — which represents nearly 70% of all SHAFFE exports to Asian countries. Next to cherries, which account for 42% of all Chinese imports from Southern Hemisphere countries, grapes (30%) and kiwifruit (9%) have been showing strong development in recent years. There is strong appreciation for good, healthy and nutritious products from the Southern Hemisphere in China, and SHAFFE aims to maintain this good reputation by delivering a steady and high-quality supply.
During the COVID-19 crisis, Southern Hemisphere partners have demonstrated their resilience and despite all odds have continued to supply on a continuous and regular basis. A good dialogue between China and the Southern Hemisphere is therefore a key element for securing this relationship in the future. While being aware that the general slowdown of economic growth will cause backlogs in the fresh produce sector, SHAFFE members are still incredibly positive about the growth in Asian countries. Next to the intra-Asian supply of fresh fruits, SHAFFE members represent 40% of all fruit supplies to the top destinations in Asia. Everybody is working extremely hard to continue this trend.
The current SHAFFE presidency and vice presidency are held by Charif Christian Carvajal from the Chilean Fruit Exporters Association [5] (ASOEX) and Marta Bentancur from Upefruy Uruguay, respectively. Acknowledging the good preparation and manageability of the upcoming production and trade season, SHAFFE has been developing strong policy monitoring and data analysis tools to prepare ahead and be able to react to market fluctuations. As global travel restrictions have prevented SHAFFE's members from participating in trade shows recently and limited their contact with counterparts in Northern Hemisphere markets, there is a gap that needs to be filled to allow its partners to prepare for the coming year ahead. Therefore, SHAFFE decided to create a global forum that will allow Northern Hemisphere partners to gain essential knowledge about what to expect from their Southern Hemisphere partners in 2021 and beyond. SHAFFE has been gathering enormous knowledge on Southern Hemisphere fruit production and trade trends. The congress is designed to share this knowledge and allow Northern Hemisphere partners to better assess the upcoming year ahead — but also for Southern Hemisphere traders to learn more on the latest state of play!
For this congress, SHAFFE is emphasizing two main elements. First, the United Nations campaign for the International Year of Fruits and Vegetables comes at an especially important time — as never has there been more awareness for the value and benefits of fruit consumption than now under the current pandemic. The congress will connect the dots of this campaign with those who secure the supply of fruits every day. SHAFFE is therefore more than proud to welcome FAO Deputy Director General Beth Bechdol as our opening speaker for the conference!
A second key part will be the outlook on the upcoming production trends given by our experts from the different Southern Hemisphere trade associations, such as Alan Pollard from New Zealand Apple and Pears, Nathan Hancock from Citrus Australia, Carlos Maria Fraschini from Upefruy Uruguay, Ricardo Polis from ProCitrus Peru, Ignacio Caballero Toretti from the Chilean Fruit Exporters Association, Federico Baya from the Argentinian Blueberry Committee and Prof. Ferdi Meyer from South Africa's Bureau for Food and Agricultural Policy. Our newly elected SHAFFE president Charif Christian Carvajal will share market intelligence as well as upcoming trends for this year. The meeting will be closed by our Vice-President Marta Bentancur with some key conclusions.
SHAFFE will further be ready on March 25, 2021, to present the Southern Hemisphere's latest trade figures and production outlook for 2021!
Find more information via www.shaffe.net [6].
Register via the QR code attached.
Participation is free!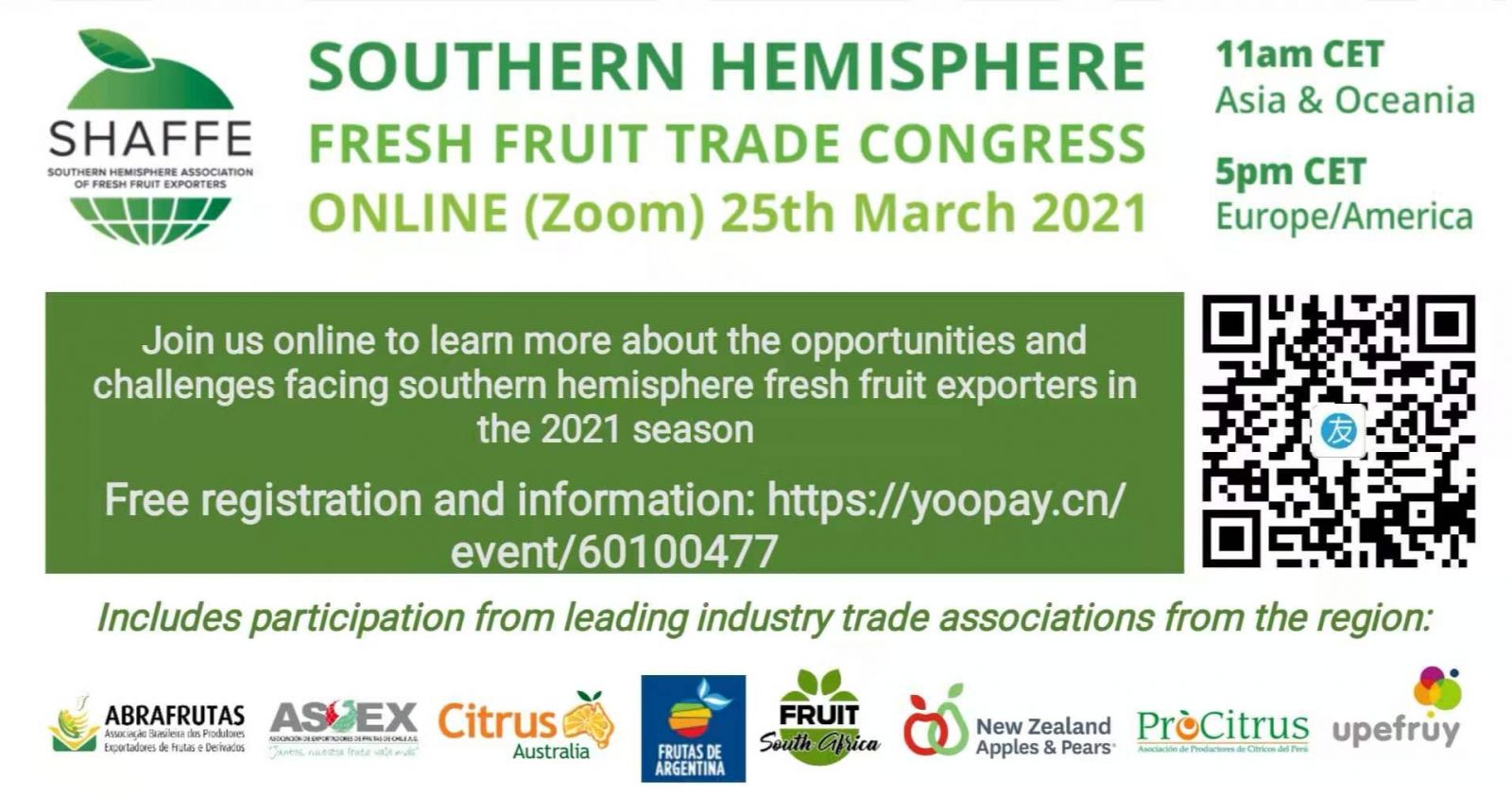 Images: SHAFFE