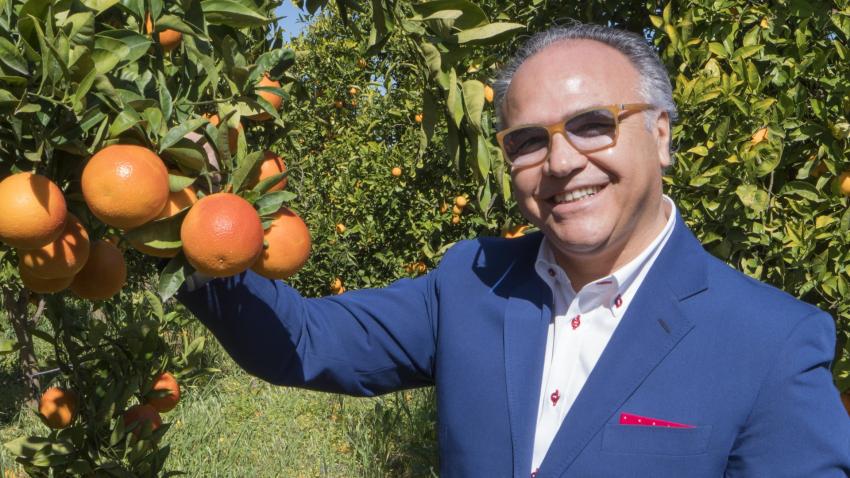 Oranfrizer CEO Nello Alba at one of his blood orange orchards.
The Unifrutti Group [3], one of the world's leading players in fruit production, marketing and distribution, has acquired Oranfrizer [4], a key producer of high-quality Italian blood oranges. "Oranfrizer represents an important step in our continued growth and adds an internationally recognized asset to our portfolio," said Unifrutti Group CEO Marco Venturelli.
The deal, which gives the Unifrutti Group a 92% stake in Oranfrizer, was signed by Venturelli and Oranfrizer CEO Nello Alba on Oct. 28 and represents a major step for both enterprises. The deal was supported by investment from the Carlyle Group, an investor that has been working with the Unifrutti Group since 2019.
For the Unifrutti Group, the deal represents a strongly sought-after expansion of its international portfolio. The group had a consolidated turnover of almost €700 million in 2019, producing directly on 14,000 hectares of farms predominantly located in Chile, Argentina, Costa Rica, the Philippines, South Africa and Italy. Its current export targets include Japan, China, India, Saudi Arabia and numerous European countries. According to Venturelli, the Unifrutti Group sees the deal as an "opportunity to consolidate our global leadership position in the high-quality fresh fruit sector." He added that "we are continuing to develop our presence in most international markets with a focus on rapidly expanding markets in Europe, China and Japan."
Oranfrizer is a group of companies owned by the Alba family that currently represents Sicily's largest orange supply chain and is known for its high-quality and distinctive cultivars, notably blood oranges originating from the Plain of Catania. The group includes Oranfrizer Ltd., Oranfrizer Juice Ltd. and the Carmito farm. Oranfrizer has had a solid presence in the Italian market for nearly 60 years and has also established footholds in the U.K. and Scandinavia. The group has an expected turnover of €55 million in 2020, including revenue from both fresh fruit and juice.
Oranfrizer was also the first exporter of Italian blood oranges to China, making its successful market debut in 2019 [5] with a shipment of Tarocco and Moro blood oranges. The group has since stepped up marketing in China [6] to position its blood oranges as a premium fruit, emphasizing the natural growing conditions and unique geography of the Mediterranean island where they are produced. The acquisition deal is expected to help strengthen Oranfrizer's presence in existing international markets as well as opening new avenues.
A condition of the deal is that Nello Alba will retain his role as CEO of Oranfrizer, ensuring continuity in the Alba family's management of the farms and close links with the land. "Our family is honored to join the Unifrutti Group, one of the major international players in the global fruit and vegetable market," said Alba. "Unifrutti and Oranfrizer share the common goal of overseeing the segment of quality production, processes and products, with particular attention to the issues of environmental sustainability."
In addition to Oranfrizer's existing blood orange export channels, the Unifrutti Group is set to further strengthen its China trade connections by starting to export Chilean citrus to China this season. The first shipments of Chilean citrus [7] recently started to reach Chinese consumers following market access being granted in 2019 [8] and will mainly include lemons, oranges, clementines and grapefruit.
Image: Oranfrizer