Although September and October are the harvest season for kiwifruit in China, the market is currently looking bleak, with prices for the previously popular varieties of Cui Xiang and Xu Xiang now averaging one Chinese yuan ($0.15) less than last year.
According to data from the Huajing Production Research Institute (华经产业研究院), China's kiwifruit production area has been expanding rapidly, reaching 4.36 million mu (718,000 acres) by the end of 2019 with a total production volume of 3 million tons. The resulting surplus has caused purchase prices in major growing areas to continuously fall. In 2014, the prices of green-fleshed, yellow-fleshed and red-fleshed kiwifruit from the field reached 5.4 yuan ($0.81) per kilogram, 8.6 yuan ($1.28) per kilogram and 12.9 yuan ($1.92) per kilogram, respectively. In contrast, by 2019 prices had fallen to 3.2 yuan ($0.48) per kilogram, 3.8 yuan ($0.57) per kilogram and 6.4 yuan ($0.95) per kilogram, corresponding to decreases of 40.7%, 55.6% and 50.6%, respectively.
Production volume is not the only deciding factor, as major differences can also be observed between varieties. For example, in Zhouzhi County of Shaanxi province [3], which has China's largest kiwifruit production area, prices on Sept. 29 were 4.6 yuan ($0.69) per kilogram for Zhonghua, 10.1 yuan ($1.51) per kilogram for Hayward, 11.5 yuan ($1.72) per kilogram for Cui Xiang and 10.2 yuan ($1.52) per kilogram for Xu Xiang. Meanwhile, prices for red-fleshed and Rui Yu kiwifruit reached 16 yuan ($2.39) per kilogram and 20 yuan ($2.98) per kilogram, respectively.
Zhouzhi County has a total kiwifruit growing area of 432,000 mu (69,700 acres), of which 44% is devoted to the Hayward variety, 27% to the Cui Xiang and Xu Xiang varieties, 21% to the Qin Mei and Yate varieties, and 8% to other cultivars.
China has always been the number-one producer of kiwifruit, and production has monotonically increased even further in recent years. However, imported kiwifruit frequently attract the attention of mid- to high-end consumers owing to their often superior flavor and texture. Thus, kiwifruit imports into China have been increasing in terms of both volume and value over the past several years; in 2019, the import volume reached 128,700 tons with a total value of $455 million, corresponding to year-on-year increases of 13.6% and 10.7%, respectively.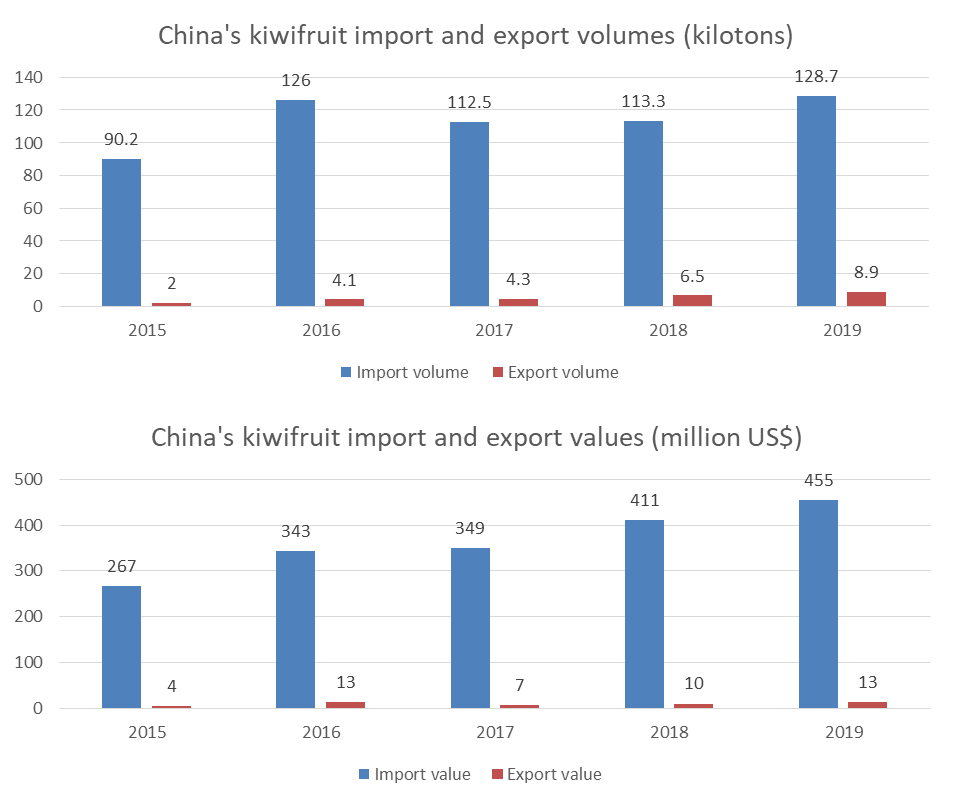 The differences in fruit texture and quality originate from a combination of technology and techniques. Most Chinese-grown kiwifruit are produced on independent family farms, the majority of which grow varieties such as Qin Mei and Yate. These farms often lack experience in selective breeding and are unable to upgrade their growing technologies. Meanwhile, the fragmented nature of the kiwifruit industry means that it has been difficult to standardize management, leading to significant quality variations. Furthermore, the supply chain of getting fruit from farms to consumers is long and complex, which can adversely affect fruit quality.
In regard to this year's price drop, it is also necessary to consider the impact of the COVID-19 pandemic, with many consumers being less willing to spend money owing to more unstable incomes. Moreover, many farmers have little storage capacity and were thus eager to sell their products quickly, which also drove prices downward. Around the end of July, numerous farmers started prematurely harvesting unripe kiwifruit for sale. Although they were initially able to get a higher price, the poor fruit quality directly impacted consumer trust, further reducing market prices and greatly diminishing the reputation of certain growing regions among consumers. Coming into late September with the approaching double holiday [4] of Mid-Autumn Festival and National Week, kiwifruit prices witnessed a slight increase, albeit nothing especially dramatic.
Images: Pixabay (main image), © 2020 Produce Report (body image)
This article was translated from Chinese. Read the original article [5].