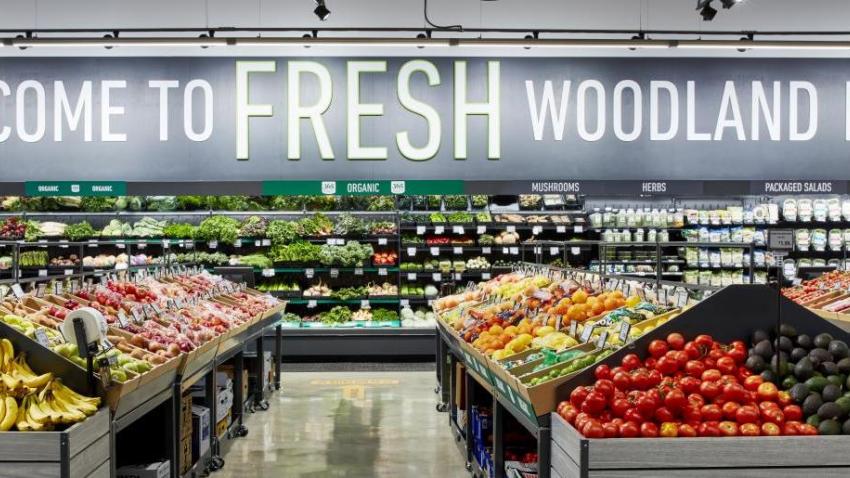 Three years after acquiring Whole Foods, Amazon [3] is once again poised to disrupt the retail scene with the recent opening of its first high-tech Amazon Fresh supermarket. The new store is located in the Woodland Hills neighborhood of Los Angeles and covers an area of approximately 35,000 square feet. The store is initially open to some customers by invitation, with opening hours from 7 a.m. to 10 p.m.
The new Amazon Fresh stores are not a part of the Whole Foods brand and are also distinct from the self-serve Amazon Go supermarkets already operating in various U.S. cities. Amazon Fresh combines self-serve technology with premium goods and highly personalized service with the aim of offering a trifecta of "bests": the best product selection, technology and shopping experience.
Product selection
Amazon Fresh's selection of products includes premium local and imported brands, such as meat and seafood. The chain is also launching Amazon's own exclusive brands Fresh and Cursive, including offerings such as Fresh's natural hormone-free chickens at 99 cents a pound as well as several red and white wines under the Cursive brand. Local products include Groundworks coffee and Röckenwagner bakery goods. Other offerings include Duke's mayonnaise from South Carolina and Ellenos yogurt from Seattle. A team of in-store cooks will be on site to provide fresh food every day, including freshly baked bread, made-to-order pizzas, rotisserie chicken and hot sandwiches.
Technology
Amazon Fresh does not have 100% self-serve checkouts but rather presents shoppers with several choices. As well as traditional checkout lanes (with payment via cash, credit, SNAP, etc.), the new stores will also offer the Amazon Dash Cart service and Alexa integration, enabling customers to easily view shopping lists and locate items on shelves. When using the Dash Cart service, shoppers simply need to place their items into the cart and use the Fresh QR code to log in to the Amazon app, then they can exit through the Dash Cart lane to automatically complete the payment. The cart uses a combination of computer vision algorithms and sensors to recognize the items placed into it.
Amazon Fresh also offers same-day home delivery and in-store pickup. Customers can arrange these services by visiting the in-store customer service desk or taking their purchase to a dedicated pick-up parking zone. Amazon believes that U.S. consumers want to purchase fresh goods online and receive them via delivery or in-store pickup. These two services are free for Amazon Prime members.
Low prices
Amazon Fresh aims to focus on satisfying customers' needs, without asking them to pay higher prices. On the contrary, customers will find a selection of well-priced options. For example, a three-pound bag of onions comes in at $1.69, while a 10-box variety pack of Quaker Oats costs $2.50. In addition, customers who use an Amazon Prime Rewards Visa or an Amazon Prime store card at checkout receive 5% back on their purchases.
Expansion
Amazon Fresh is set to open more new stores in Los Angeles and Chicago. Recent data show that online shopping is still dominating as the pandemic situation continues to evolve. In the second quarter of this year, Amazon's net sales climbed 40% to $88.9 billion, compared to 2019's second-quarter figure of $63.4 billion. One month after those figures were announced, the Amazon Fresh concept was launched.
During that period, Amazon increased its delivery capacity by more than 160% and doubled its number of pickup locations to provide support for online sales. Amazon's sales in the second quarter doubled compared to the same period last year.
By comparison, sales at Amazon's physical stores fell by 13% to $3.77 billion, compared to $43.3 billion in the second quarter of 2019. This drop may be partially attributable to how Amazon reported the sales figures from its physical stores. Unlike other retailers, the sales figures reported from Amazon's physical stores only include purchases made by customers while physically visiting the store. At Whole Foods, purchases made online (for delivery or curbside pickup) are included in the online sales figures. This is different from the way sales data is handled by other retailers such as Kroger, Walmart and Albertsons.
According to media reports, Amazon was ranked second in the PG 100, Progressive Grocer's list of North America's top 100 retailers of food and consumables. Amazon is planning to open more new fresh produce retail stores in Los Angeles and Philadelphia. Whole Foods, which is headquartered in Austin, Texas, was ranked number 24 in the PG 100.
During the pandemic, Amazon Fresh is implementing similar safety measures to other supermarkets: all staff members undergo daily temperature checks, and all customers and staff are required to wear masks.
Image: Amazon Fresh
This article was translated from Chinese. Read the original article [4].