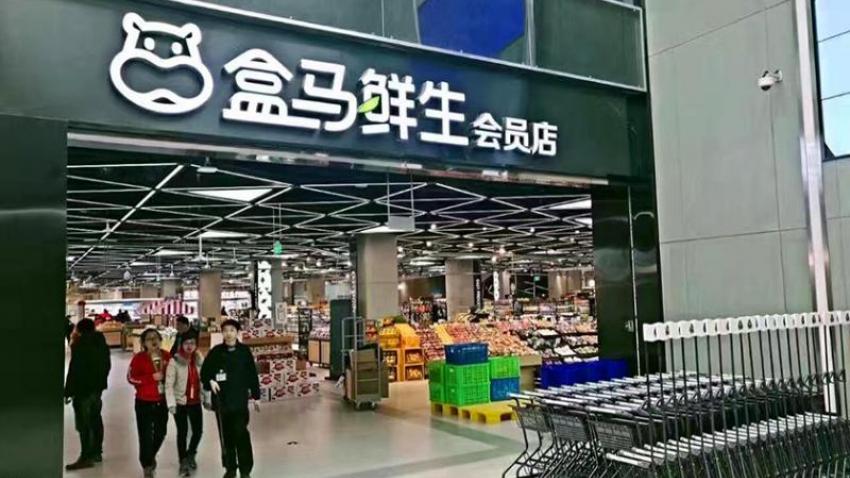 Alibaba's Hema Fresh supermarket brand recently completed construction on its first Hema Village [3] in the Shanghai area — a digital agriculture base that will produce Cuiguan pears. The facility is located on Chongming Island, near the coast to the north of Shanghai's urban center. This project represents the first step toward realizing the development strategy outlined by Hema in collaboration with the Shanghai Municipal Government. The Cuiguan pears produced there in the future will directly supply Hema Fresh's online and offline supermarket platform.
Cuiguan pears are characterized by their thin skins, small cores, juiciness and sweet taste. They typically hit the market between approximately July and August each year. This year in particular, many growers of this pear variety have reportedly been inundated with advance orders and inquiries. This spike in interest can be attributed to a wordplay in Chinese on the name "Cuiguan pears," which conveys the sentiment "may the coronavirus be gone soon." Some growers have had their produce pre-ordered right through until next year and have even been receiving inquiries from overseas buyers.
According to Sina.com, Alibaba's new Cuiguan pear digital agriculture base is equipped with an array of high-tech solutions, including drones, remote orchard surveillance robots, an integrated irrigation and fertilizing system, digital sensors and more. It also benefits from several new digital systems created with the help of Alibaba Cloud and the Chongming District Committee of Agriculture and Rural Affairs, including a traceability system, a farm management system and an Internet of Things cloud platform.
A number of Hema Villages have already been established throughout China and base their production on orders from Hema's platform. Each village grows, processes and sells different types of produce according to the unique geography and resources of the village's location.
Li Feng, the director of the new village, predicts that once the pears ripen the harvest will yield a value of 225,000 yuan per hectare. The pears, grown according to the Hema Village's standardized methods, will directly supply Hema Fresh's large offline retail stores as well as its online flagship store. From the farmers' perspective, this "grown-to-order" model takes any worries about sales out of the equation.
Alibaba's Cuiguan pear digital agriculture base is the first of its kind to be built in Shanghai's Chongming district. The district is one of Shanghai's major sources of fresh produce, supplying one-seventh of the city's vegetables. Many of Hema's growing operations are also concentrated in this area.
In April this year, Hou Yi, vice president of Alibaba and president of the Hema business group, announced plans [3] to build a number of new Hema Villages in the town of Hangtou in Shanghai's Pudong district.
This new digital agriculture model looks set to spread across Shanghai's agricultural areas, changing production methods and the way of life of growers throughout these regions. With these developments well underway, Shanghai is rapidly becoming a frontrunner in China's digital agriculture industry.
This article was translated from Chinese. Read the original article [4].