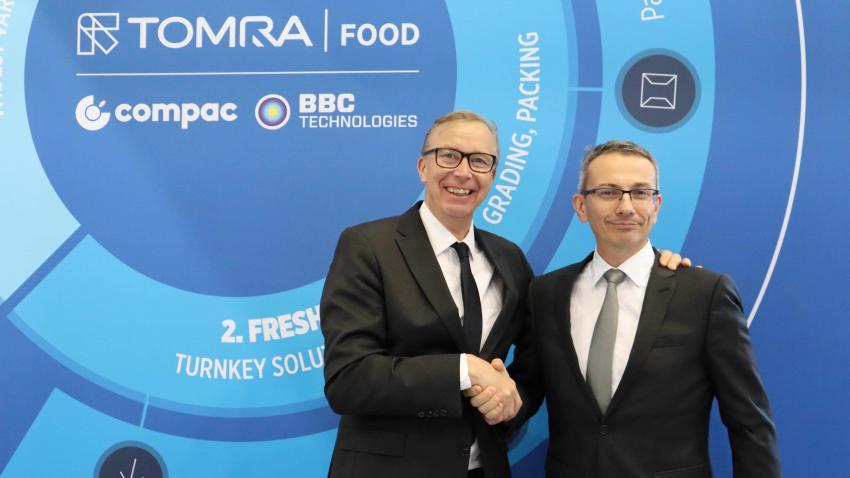 This year's edition of Fruit Logistica [3] on Feb. 5–7 attracted over 72,000 trade visitors to Berlin from around the world to make connections, reach deals and learn about recent developments in the produce sector. Among the 3,300 exhibitors was the Norwegian multinational Tomra [4], which used the prominent international event of Fruit Logistica to showcase the innovative new technologies of its three food sorting and grading brands, Tomra Food [5], Compac [6] and BBC Technologies [7].
Tomra 5B sorting machine
At the event, Tomra Food, a leading manufacturer of sensor-based sorting solutions for the food sector, publicly revealed for the first time its upgraded Tomra 5B infeed belt sorting machine. This system was developed to remove even the smallest foreign materials and imperfect pieces from lines of fruits or vegetables according to predefined criteria, thereby ensuring food safety while minimizing the unnecessary disposal of useable produce. The Tomra 5B system, which is available in several sizes and operates at a belt speed of 2–5 meters per second, is suitable for use with fruit, potatoes and fresh-cut produce and is claimed to possess unprecedented precision and control, affording improved yield and profitability.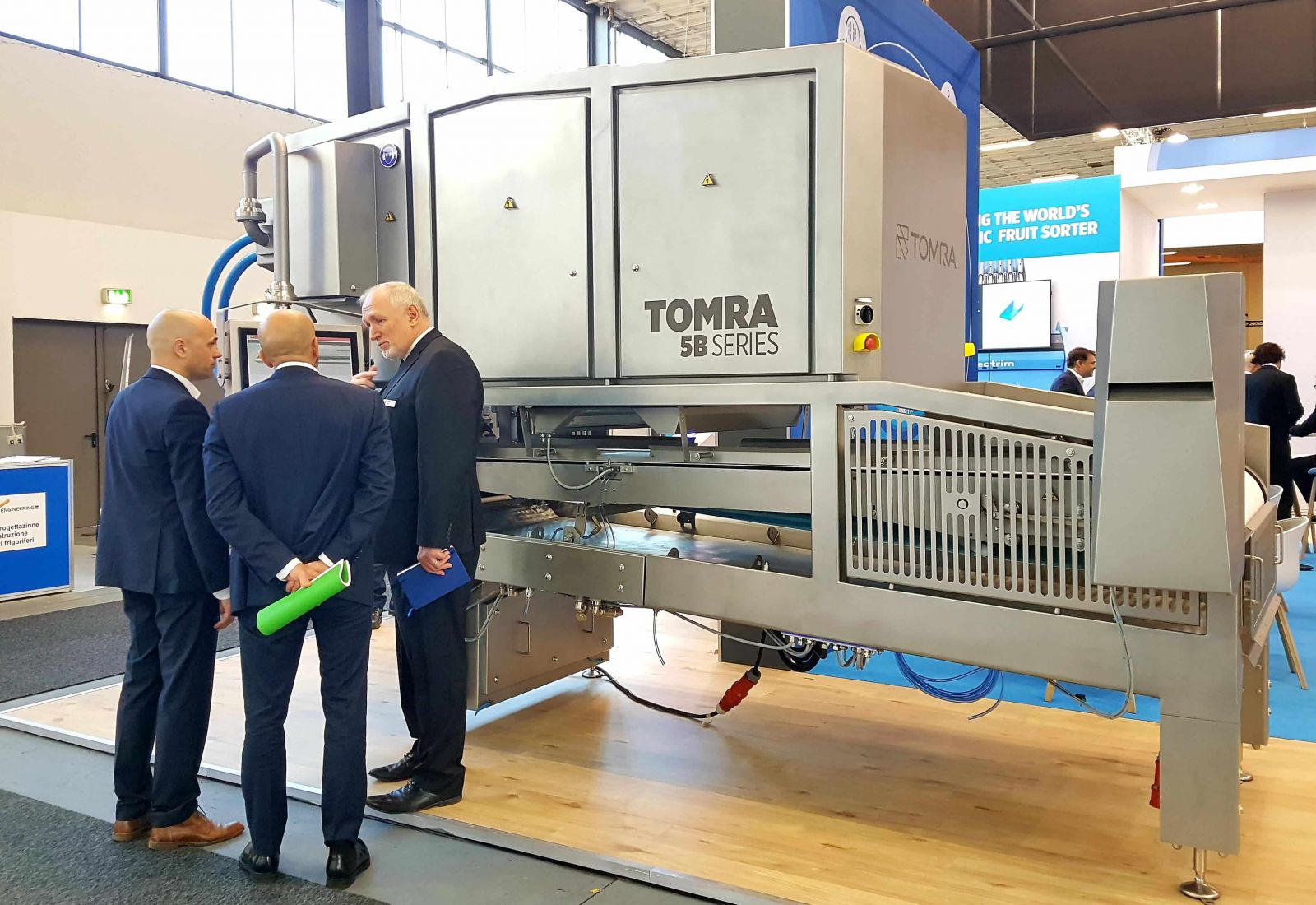 As the produce items move along the belt, multiple on-belt and off-belt cameras and a laser are employed to acquire a 360° view of each piece of produce and detect defects down to 1 mm in size. Jets of high-speed air are then utilized to reject items from the packing line for disposal or further grading. The upgraded system is reportedly equipped with several new features to optimize and refine the sorting process depending on the client's requirements and produce item.
According to Jeffry Steemans, product manager for this system, "The new Tomra 5B sorting machine gives operators unprecedented levels of flexibility by offering a broad range of settings which are easy to control. In addition to ensuring food quality and safety, the Tomra 5B minimizes food waste to improve yield and further increases profitability through the precision of its quality settings."
Compac's next-generation sorting platform and UltraView inspection module
Compac, a leading provider of post-harvest solutions to the fresh produce industry, also unveiled its next-generation sorting platform at the event. This platform is based on Compac's industry-leading Multi-Lane Sorter system and incorporates additional technical improvements for superior food hygiene and safety. The new platform is reportedly able to sort a broad range of soft fruit with exceptional accuracy, gentle handling and high throughput. The system was designed to be future-proof in the event of tighter food safety legislation and all components that come into contact with produce are fabricated from food-grade stainless steel or injection-molded plastics, providing optimal resistance to both fruit juice and other potentially corrosive substances such as cleaning agents. The quick-release nature of many of the system's components also reportedly facilitates deep cleaning and permits the cross-belt to be thoroughly cleaned in as little as 15 minutes without specialist skills, thereby boosting productivity and minimizing downtime.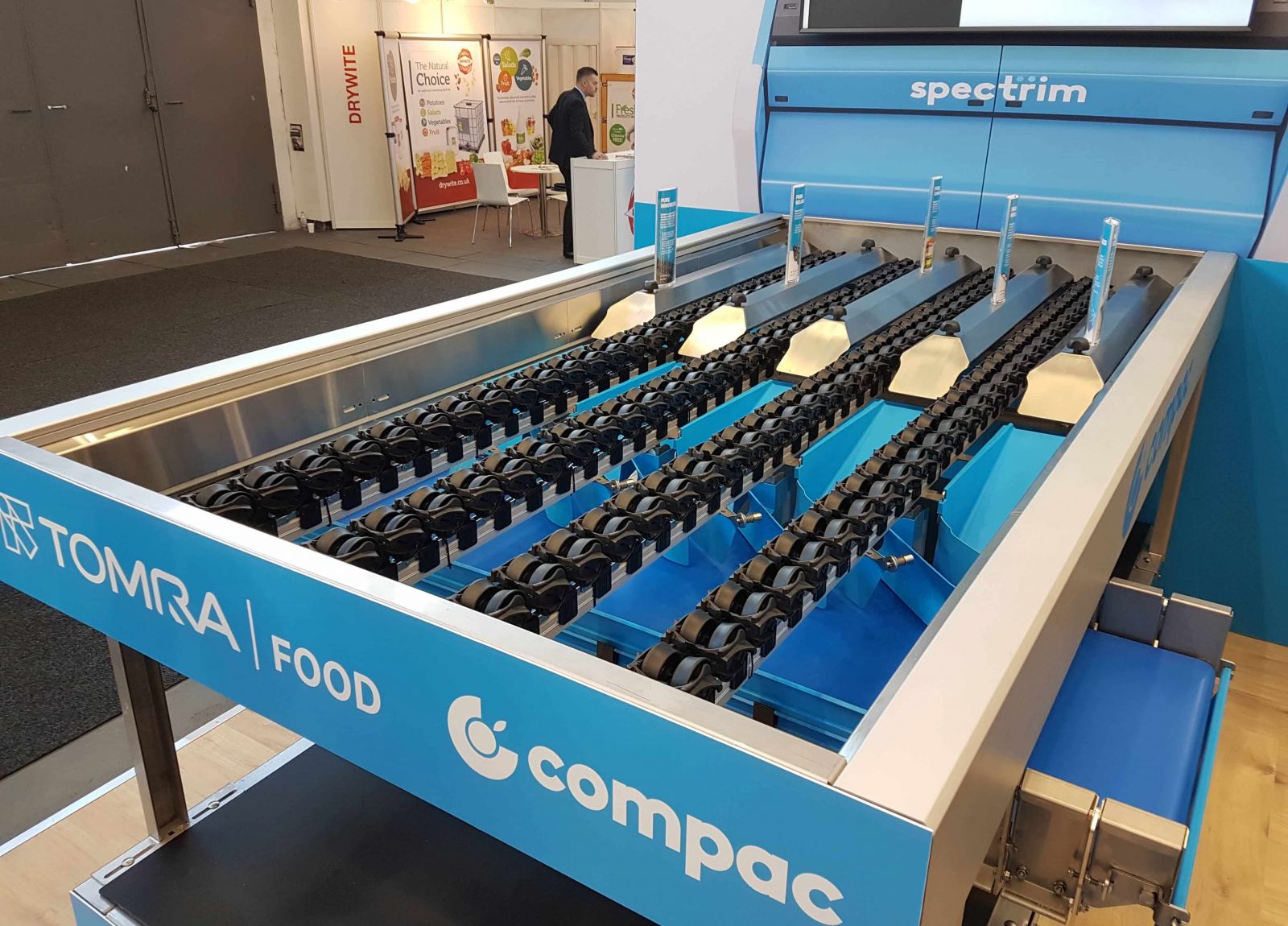 In addition, Compac exhibited its UltraView inspection module, which was launched in late 2019. This module is reported to take the performance of Spectrim, the brand's powerful optical sorting platform, to the next level by using high-resolution multispectral cameras and LED illumination to identify difficult-to-detect defects located in inaccessible areas of pieces of fruit. The UltraView module purportedly increases packing line efficiency and brings packing houses one step closer to a fully automated packing line.
BBC Technologies' CURO-8 filling system and LUCAi artificial intelligence software
BBC Technologies, which was acquired by Tomra Food in 2018 [8] and specializes in turnkey solutions for sorting, optimizing and packing small fruit, also took the opportunity to present its CURO-8 fill-by-weight system, a new addition to its CURO line of filling systems that possesses eight filling stations. Developed in response to client demand, this system reportedly offers packing houses a cost-effective option with a small footprint. The system was designed for use with blueberries, cherries and small tomatoes and is reportedly capable of packing 125-gram packs of blueberries at up to 110 packs per minute while being sufficiently gentle to avoid fruit damage and eliminating overweight packs.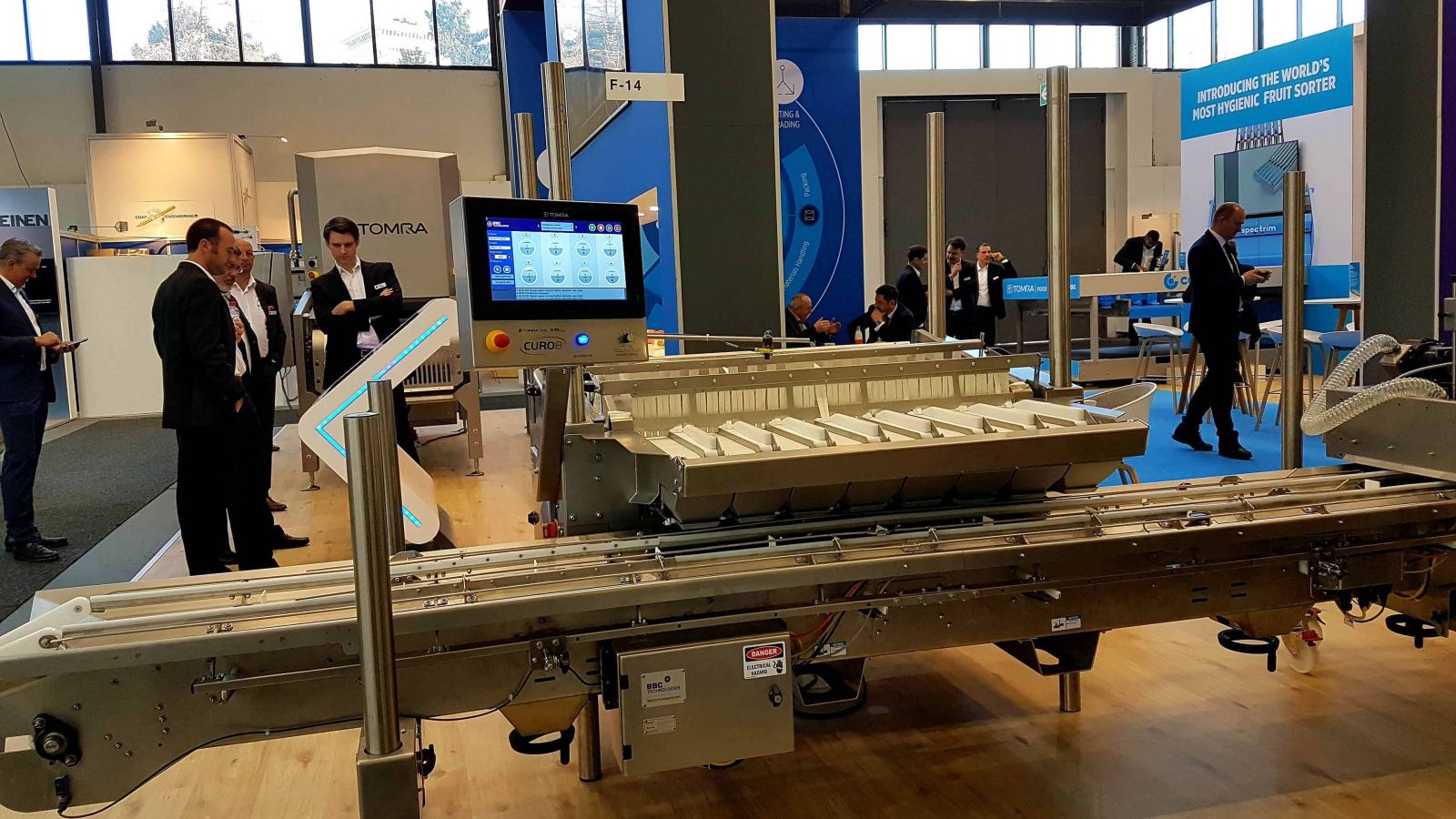 The company also used the event to showcase its LUCAi artificial intelligence software, which is capable of processing up to 2,400 images per second to classify each individual piece of fruit and pass this information to the sorting machine. By exploiting wavelengths not visible to the human eye, the LUCAi system is reportedly sensitive to subtle defects in fruit including bruising, dehydration and early anthracnose.
According to Michel Picandet, head of Tomra Food, "The Tomra 5B sorting machine, the next-generation sorting platform and CURO8 filling system will help food producers and packhouses enhance their efficiency and profitability at the same time as ensuring the highest standards of food quality and safety. These are important new additions to Tomra Food's product line, which offers sorters and graders of many different types and sizes."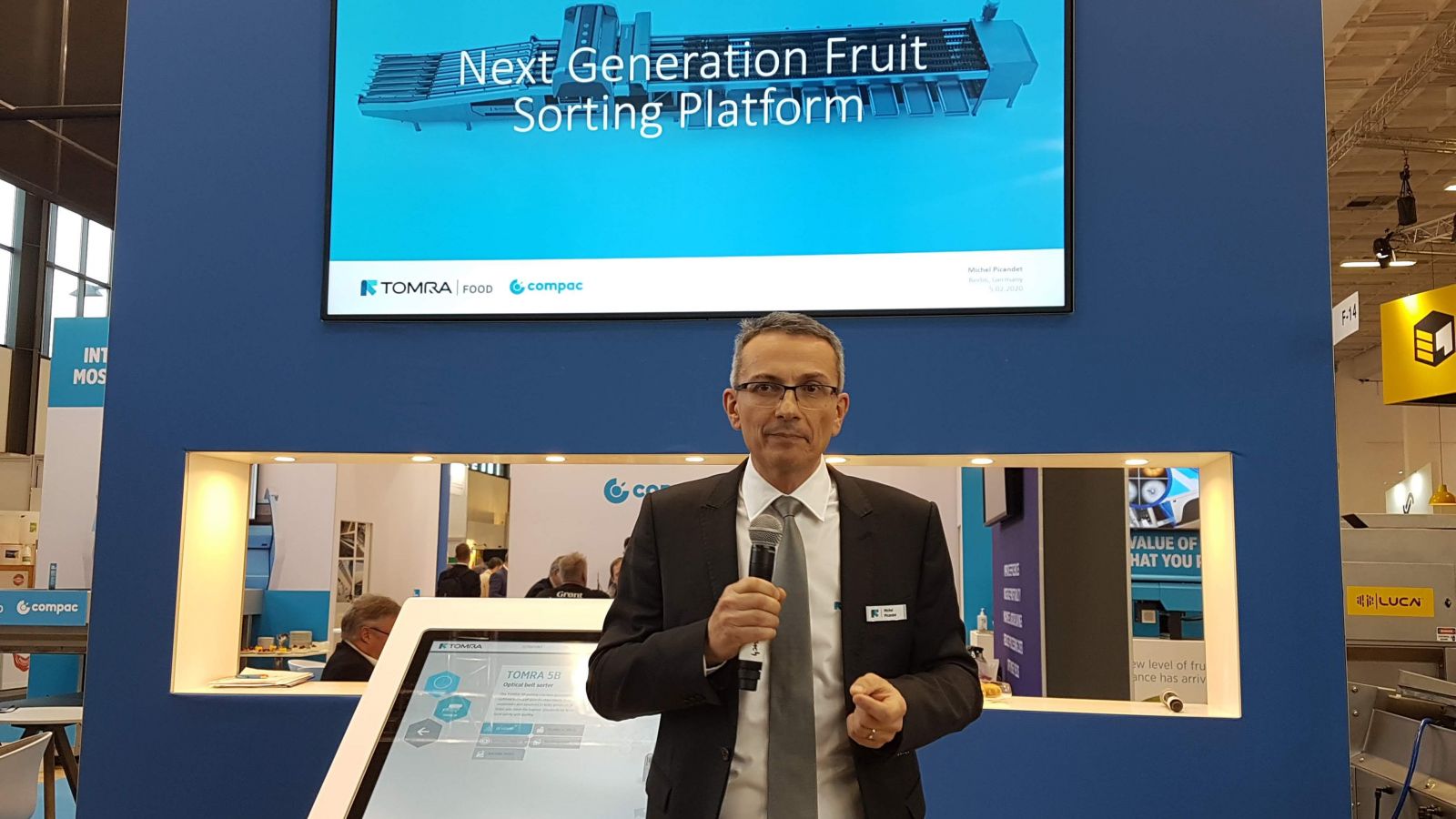 Images: Tomra
Source: Tomra Food Showcases New and Innovative Technologies at the World's Leading Fresh Produce Event [9]