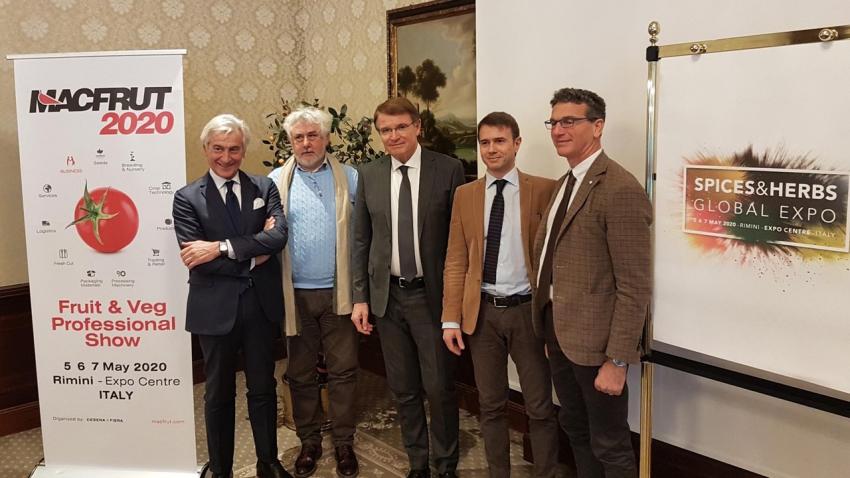 This content has been published as provided by its author. It has only been modified from its original version to follow Produce Report editorial guidelines and for necessary website formatting.
Cesena, Jan. 27, 2020 – For the first time in Europe, Macfrut [3], the trade fair for the fruit and vegetable sector, to be held on May 5–7 in Rimini, Italy, will host an exhibition on spices and officinal and aromatic herbs, a fast-growing global market worth over $6 billion.
For its 2020 edition, Macfrut is expanding its boundaries and will host the Spices & Herbs Global Expo, an exhibition entirely dedicated to these products. It is a unique event in Europe as far as exhibitions are concerned: in fact, for the first time, it will focus on these product categories, which are now of significant interest to the global market. Globally, it is an extremely dynamic sector worth over $6 billion for spices alone, of which the organic segment is worth $1 billion and is growing steadily. In addition, officinal and aromatic herbs are an extremely interesting market for Italy, where 6,200 companies are involved in the production of 25 million kilograms of produce with more than 24,000 hectares of cultivated land, which have more than tripled between 2013 and 2016 alone.
Spices & Herbs Global Expo Exhibition
This is how Renzo Piraccini, president of Macfrut, describes the latest addition to the 2020 edition of Macfrut: "Spices & Herbs Global Expo is one of the hallmarks of Macfrut 2020, a multiyear project involving the entire supply chain. This exhibition is the first in Europe, with exhibitors coming from Africa, Asia and South America. There is not much talk about this sector, but it has great growth potential as demonstrated in recent years. This is why, during the exhibition, we will launch an Observatory to provide a detailed picture of the situation at a national and international level."
Basically, it is a new exhibition hall entirely dedicated to the world of spices and officinal and aromatic herbs, a global meeting point for producers, technicians, researchers, traders and processors. Based on a supply chain approach, in keeping with the specific features of Macfrut, a major section will be dedicated to the mechanization of production and processing operations.
There will also be a program of events and international guests, offering a unique opportunity for exhibitors and visitors to expand their knowledge and develop a global network of contacts.
The exhibition will consist of three areas. First of all, spices – a highly dynamic sector, thanks to the increasing popularity of international ethnic cuisine in Europe and the demand for health and well-being throughout the West. Many spices are actual superfoods, and demand is growing strongly: this is the case with products such as turmeric and ginger, while others are used instead of salt to flavor dishes. This area is set up in collaboration with Cannamela, a market leader in the field of spices and aromatic herbs.
The second area is dedicated to officinal herbs and is set up together with Fippo (Italian Federation of Medicinal Plant Producers) and Assoerbe. This sector includes a wide and diverse range of plant species, rich in biologically active principles, ranging from medicinal plants to aromatic and perfume plants. Finally, aromatic herbs, which already take up a large area at Macfrut, will now have an even more central role thanks to the exhibition. This area will be set up in collaboration with Unaproa (the National Union of Fruit and Vegetable, Citrus and Nut Producers' Organizations).
Ismea Observatory
To highlight the importance of this focus area, Macfrut and Ismea will launch an Observatory on spices and officinal herbs with the aim of providing up-to-date information on the economy and structure of the sector, both at a national and international level, with the aim of identifying the main players and current trends. Specifically, the following aspects of the sector will be monitored: the development of officinal plant production areas and output at an international and national level, farms in Italy and in Europe, global and European trade flows, and Italian foreign trade, which will focus on important issues each year.
Most of the exhibitors will come from outside of Italy. Participants from Indonesia and Sri Lanka have also recently registered.
Image: Macfrut