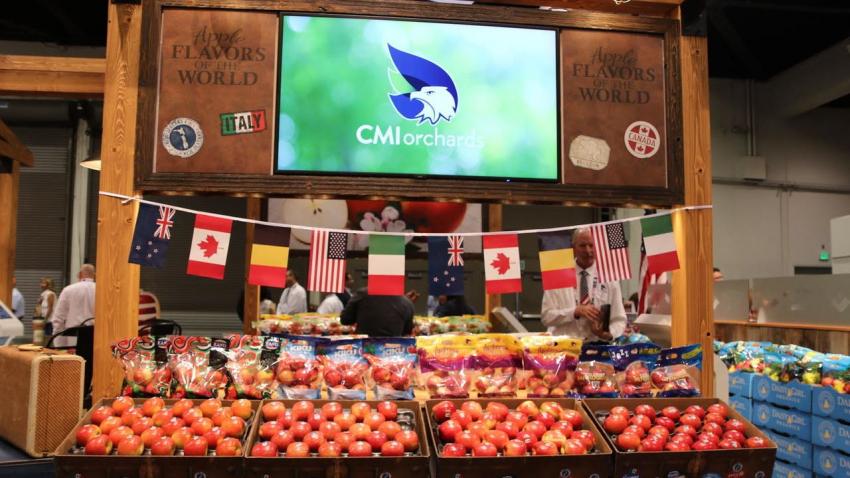 CMI Orchards [3] is expanding the range of apples [4] it offers, with hopes that fresh flavors will bring fresh customers. CMI – based in Wenatchee, Washington – grows its produce in river valleys across the southern and central portions of the state of Washington. However, the company also sells branded apples that originate from numerous countries, including some from New Zealand and Canada, in an effort to differentiate itself as a grower and seller of high-quality apples from around the world.
A self-described leader in the branded apple category, CMI grows branded apple varieties that account for 84% of the total U.S. sales volume in this category. The company distributes the three top-selling branded apples in the U.S.: Envy, Ambrosia and Jazz, which together represent 72% of domestic branded apple sales. These are known to be very flavorful varieties enjoyed by U.S. consumers. CMI grows its apples on approximately 14,000 acres of land, 35% of which is used for branded products, according to George Harter, vice president of marketing at CMI. Other branded offerings CMI features include Kanzi, KIKU, Smitten and Pacific Rose, many of which are produced by organic methods as well as conventional ones.
According to the Washington Apple Commission, Washington State exports about 30% of its annual apple production to approximately 60 countries. Mainland China, Taiwan and India are among the top 10 destinations for Washington apples, and the introduction of additional varieties by orchards such as CMI could help expand the number of markets for Washington's produce.
Envy
CMI and select growers from around the world sell this sweet, crispy and red-fleshed fruit, which is the best-selling branded variety in the U.S. Envy [5] was created by employing plant-breeding methods to cross Braeburn with Royal Gala apples, taking full advantage of the ideal growing conditions in this variety's birthplace, New Zealand.
Ambrosia Upgrade
CMI was the first U.S. grower of Ambrosia apples, which originated in Canada, although the patent has now expired for exclusive growing rights and other orchards around the country have started to compete with CMI to grow this beloved variety. In 2018, CMI began to sell its specific Ambrosia apples as Ambrosia Gold to differentiate its product on the market, because, according to Harter, "We have perfected the growing process. We know how to grow it, exactly when to pick it when the sweet honey flavor is at its peak, and how to store it. These seem like simple things but it's quite a science that took the McDougall family decades to perfect."
In short, CMI believes that its Ambrosia Gold is the best version of the Ambrosia apple, given the decades of experience the company's workers have amassed in growing and selling the brand.
A Patriotic Program
Although it is focused on growing and selling global apple varieties, CMI has also launched a program to benefit its customers in the U.S. Under the American Dream program, a portion of each sale from CMI is donated to military or veteran's causes, including the Wounded Warrior Project, scholarships for veteran families and support for events for homeless veterans. Each retailer can select the specific military or veteran-focused program to which to donate funds, making it a customizable promotional opportunity.
"We provide them funding based on how much they buy, and they're able to contribute back to military and veteran causes that are important to them, nationally, or right home in their local communities," said Harter. The program applies to the core conventional apple varieties such as Gala, Honeycrisp and Fuji, rather than the branded apples.
Image: © 2019 Produce Report