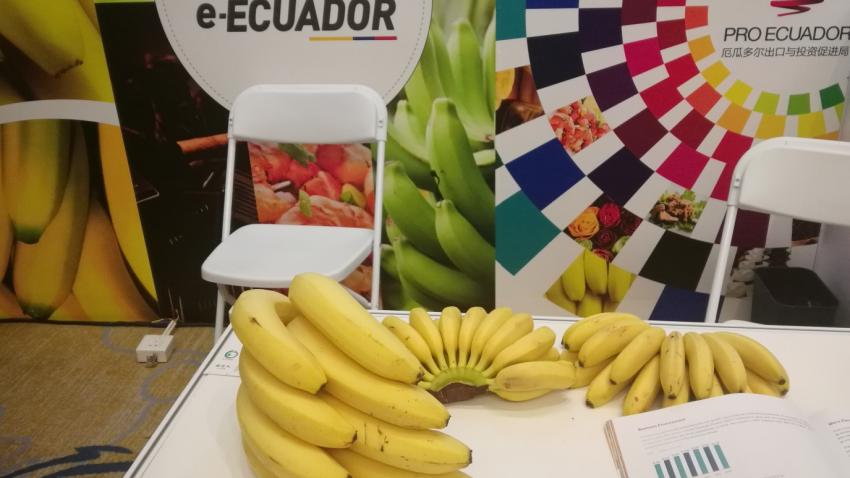 Ecuadorian bananas enjoy a glowing reputation on the international market owing to their distinctive quality and are known for their well-shaped fruit, sweet taste, soft texture, long shelf life and overall excellence. Ecuador first started exporting bananas to China in the 1980s and 1990s, and this fruit [3] has long been a favorite with Chinese consumers. At the recent China International Fruit and Vegetable Fair [4] in Beijing, the Commercial Office of the Ecuadorian Embassy in China was in attendance to exhibit Ecuadorian bananas and emperor bananas to visitors. Produce Report was on site to learn more about the current state of the banana growing and export trade in Ecuador.
Ecuador is the world's largest banana exporter, representing 35% of the total global banana trade. Bananas are also a critical export item for Ecuador itself, accounting for 15% of the country's total export volume. According to reports, Ecuador's total banana exports in 2018 reached a volume of 6.26 million tons and an export value of approximately 3 billion USD, corresponding to a 5% increase over the previous year. The first half of 2019 saw continued growth in Ecuador's banana export volume, which reached a total of 3.45 million tons, a 3.4% increase compared with the same period last year. Ecuador's traditional major export markets are Russia and the European Union, the latter of which remains Ecuador's largest fruit export market today. In 2019, 34% of the bananas produced in Ecuador were exported to countries in the European Union, and this figure is predicted to increase to 38% in 2019.
Bananas are a mainstay of China–Ecuador bilateral trade and have been one of Ecuador's top exports to China for a number of years. In 2018, Ecuador was one of China's two main sources of banana imports with a total import volume of 240,000 tons, second only to the Philippines [5]. Produce Report was able to sample the Ecuadorian bananas exhibited at China FVF—they displayed even-colored skins, had an excellent flavor and texture, and were very sweet with no greasiness. According to the representatives staffing the exhibit, the factors behind this outstanding quality include Ecuador's climate, soil and growing technology.
Ecuador's climate is uniquely suited for growing bananas. Located at the equator, the country has a tropical climate with a stable temperature, long sunlight hours and abundant rainfall, yet almost no typhoon threat along the coast. These geographical advantages are coupled with technological expertise developed over more than a century of growing bananas. As a result of these factors, Ecuador has largely escaped pest and disease damage, including the Panama disease that has ravaged banana populations in numerous other countries. Ecuador produces bananas throughout the year, with a reliable flavor and quality and good tolerance to storage. Ecuador currently has 162,234 hectares of land dedicated to banana cultivation, divided over 4,473 farms.
Although China is not yet one of Ecuador's main banana export markets, it is clear that Ecuador places substantial importance on the development of the Chinese market. However, owing to the distance involved, it takes a relatively long time for Ecuadorian bananas to reach China, with sea freight shipments typically taking approximately 30 days to arrive. Customs duties also have an effect on Ecuador's export costs. Despite these factors, Ecuadorian bananas have still managed to gain a foothold in the market by virtue of their superior quality and flavor. Statistics suggest that by 2020, China's average fruit consumption per capita will have reached 60 kilograms per year, of which 60% will be imported [6]. Consequently, Ecuador can expect a substantial increase in banana export volume to China in the coming years. As a result of this growth potential, China is now seen as Ecuador's most important fruit export market.
Images: © 2019 Produce Report (main image), China FVF (body image)
This article was translated from Chinese. Read the original article. [7]