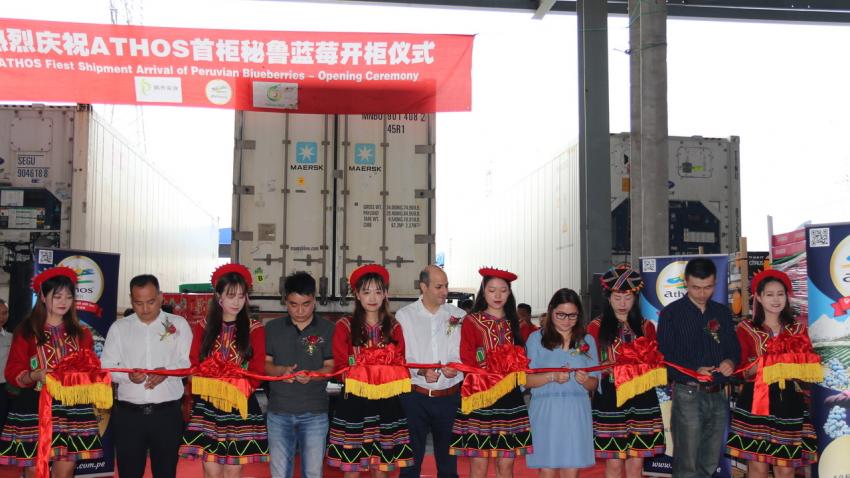 Ribbon cutting ceremony with traditional Peruvian costumes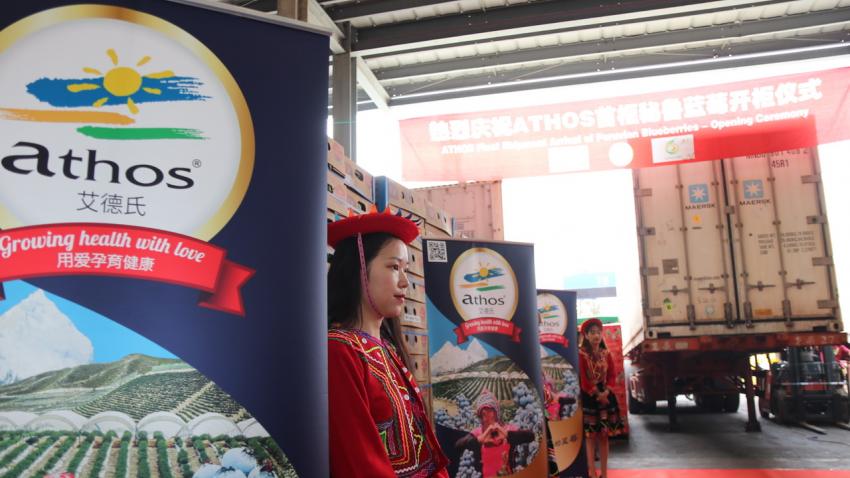 Opening ceremony celebrating the first shipment of Athos Peruvian blueberries to China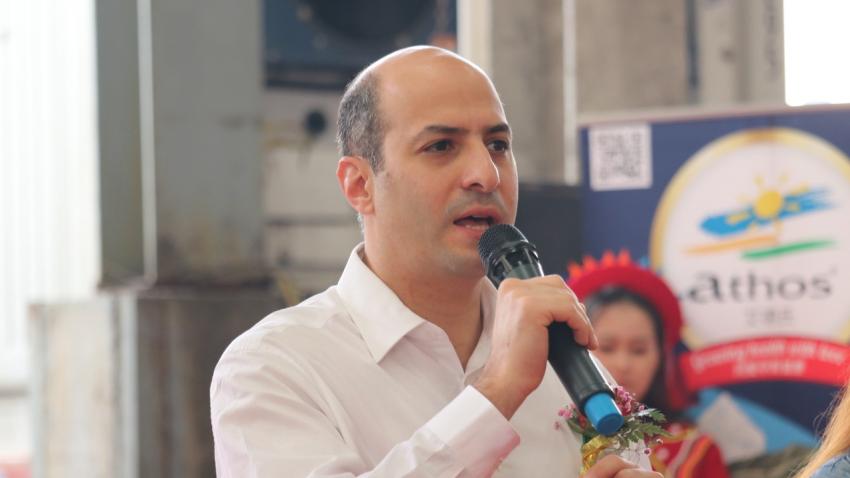 Aziz El Sous, commercial manager at Athos, delivers a speech at the opening ceremony
Consumers and traders sample Athos Emerald blueberries at Shanghai's Huizhan Market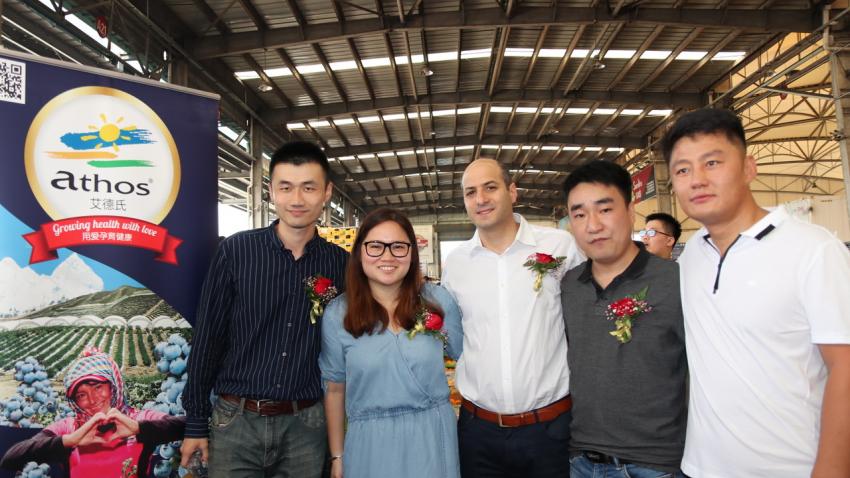 (left to right) – Zhennan Bian of Gofruit Import and Export Co., Ltd.
Xiuling Zhu of Grupo Athos
Aziz El Sous of Grupo Athos
Jianqiang Zhang of Shanghai Pengsheng Industrial Co., Ltd.
Di Peng of Shanghai Pengsheng Industrial Co., Ltd.
In the morning of Sunday, September 15, the Peruvian agricultural company Grupo Athos [3], together with its Chinese partner Shanghai Pengsheng Industrial Co., Ltd., welcomed their first sea shipment of Peruvian blueberries to mainland China at Shanghai's Huizhan Fruit and Vegetable Market. Produce Report attended the opening ceremony, which featured performers in traditional Peruvian costumes and tastings of Athos blueberries, and spoke afterwards with Athos's Commercial Manager, Aziz El Sous, about the Peruvian company, its Southern Highbush blueberries and their plans for the Chinese market.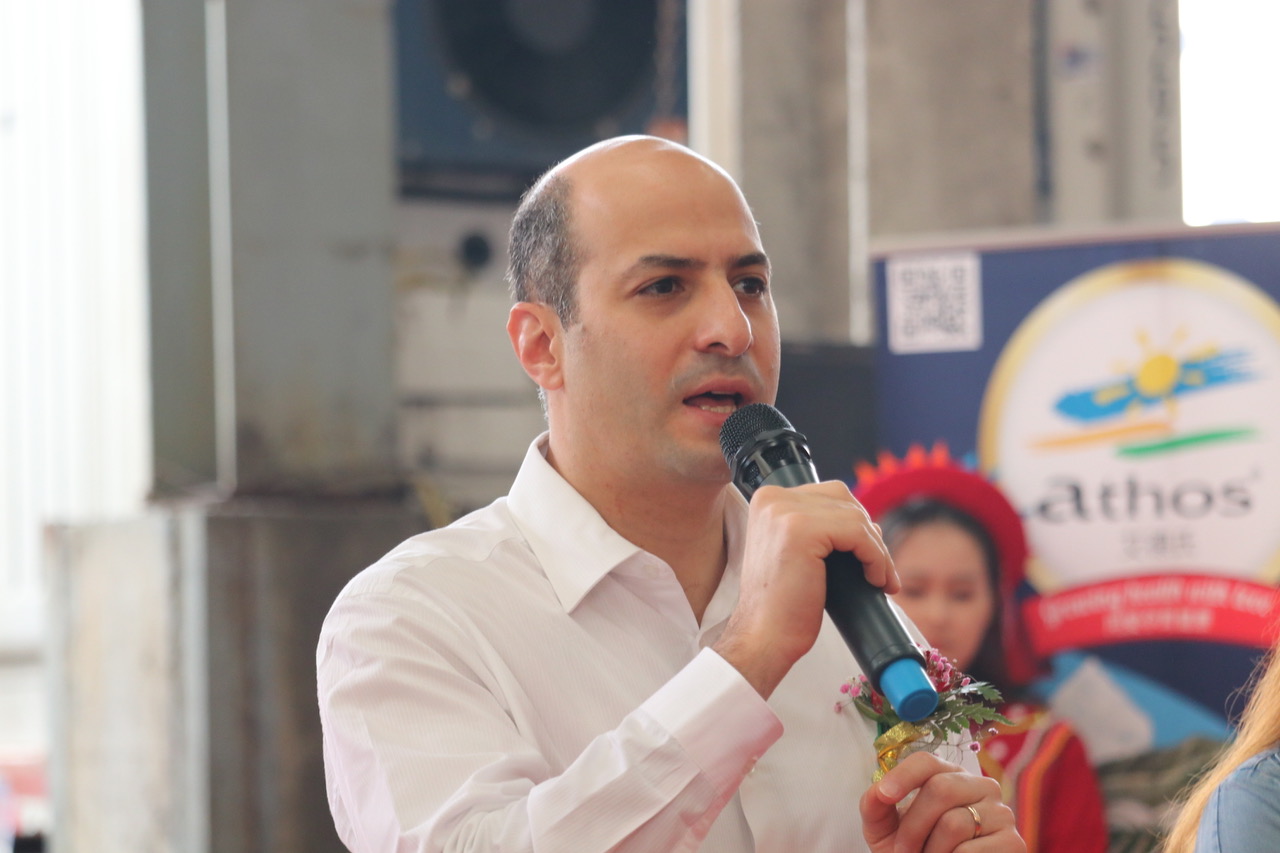 According to El Sous, Athos chose the Chinese name of its company (艾德氏, or ài dé shì) to reflect the values the company was built on: integrity, honesty and corporate social responsibility. "Our goal is not only to share with consumers a high-quality product but also to give back to the community by providing good jobs to the people of our local Ancash region in Peru." This is reflected in Athos's business model, which is a full service, farm-to-table structure – Athos not only grows the blueberries but also packs, controls for quality, exports and markets the product to overseas markets. As a result, Athos is able to ensure that the quality of the product is well suited to each region their blueberries are shipped to, whether it be Europe, North America or China.
Athos's main variety of blueberry is Emerald, which is grown in Peru's Andes mountains at over 2,200 meters above sea level and is characterized by a high Brix content of over 13° and a medium-to-large berry size. This makes Emerald ideal for the Chinese market and helps to dispel prevailing perceptions among Chinese consumers of Peruvian blueberries as being very sour. "Our Emerald variety of blueberries is our attempt to cater to the demanding Chinese palate for blueberries. By developing a sweeter, larger blueberry specifically for the Chinese market, we have been able to successfully adapt our product to Chinese preferences and hope to change the current perceptions of Peruvian blueberries among Chinese consumers."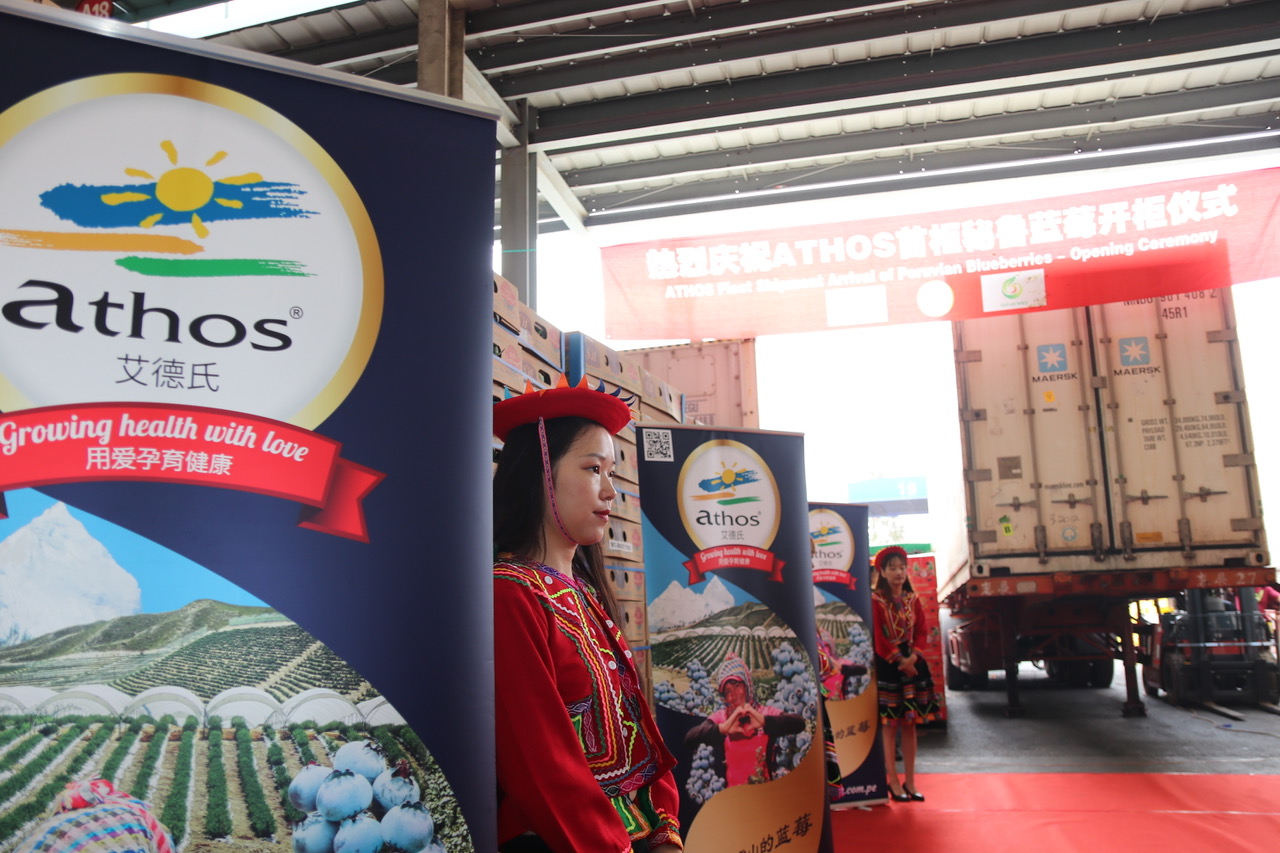 Athos has been exporting to China for three years now, which El Sous said had taught the company much about the Chinese market, such as the importance of investing in branding and marketing, providing consumers with a consistently firm and quality blueberry, and the value placed on honesty and transparency by Chinese consumers. When it started shipping to China in 2017, Athos only had 40 hectares for blueberries and shipped 20 containers to China. This year, Athos has over 300 hectares dedicated to growing blueberries and is expected to ship 100 containers to China. El Sous told Produce Report that for 2020, Athos plans to double these figures to harvest 600 hectares and ship over 200 containers to China. However, El Sous stressed that the company was not sacrificing quality for quantity. "One of our challenges was consumer expectations: Chinese consumers demand only the very best in terms of product quality. We learned this very quickly and have been improving our quality assurance controls and harvesting processing times to ensure that only a superior quality product makes its way to China."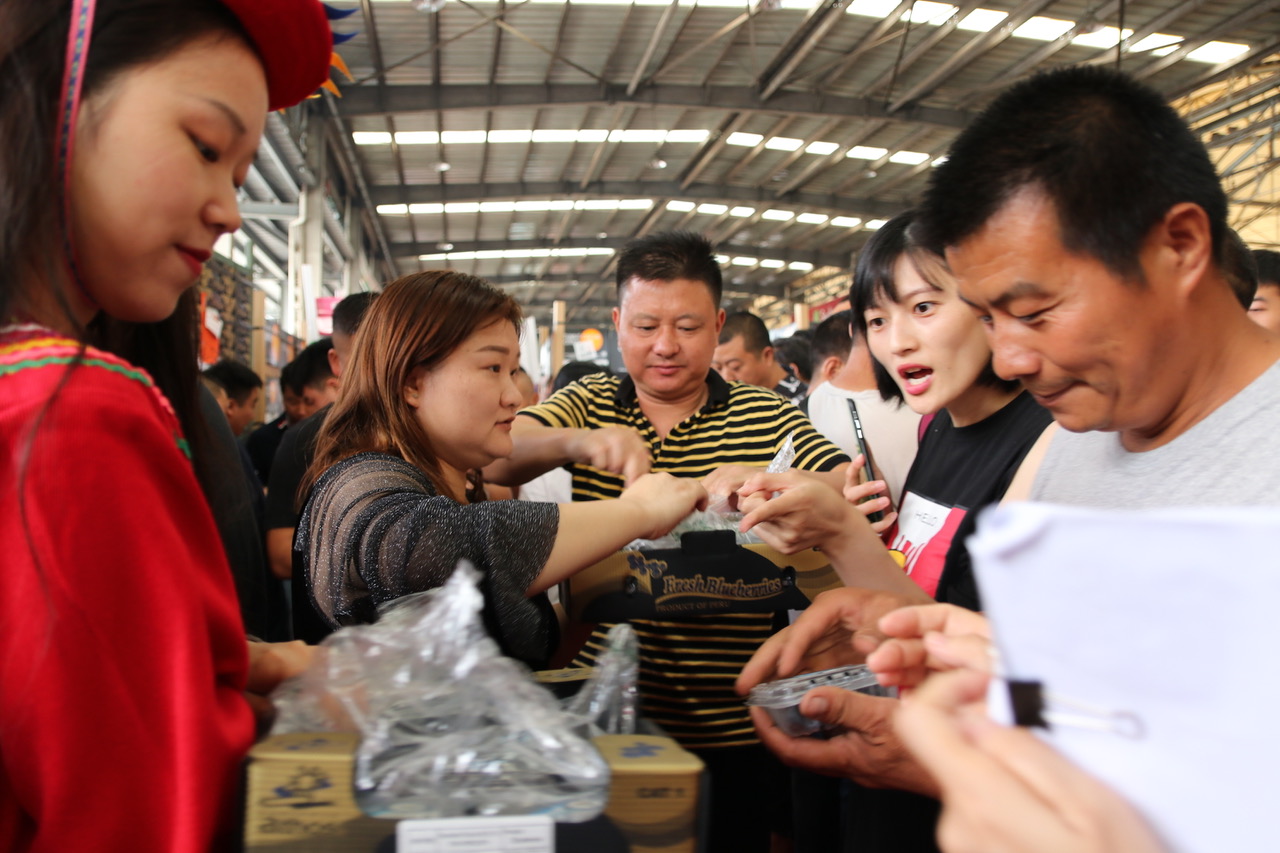 Peru itself is the world's second largest grower [4] of blueberries and the second largest exporter of blueberries to China. This is aided by the fact that the growing season for Peruvian blueberries, August to December, fits perfectly with the off-season of domestic Chinese blueberries. One of Athos's most significant advantages over its competitors in Peru is its operations in Peru's highlands. As the largest company operating in Peru's highlands, Athos's blueberries benefit from the daily temperature fluctuations that characterize this region of Peru. A 15-degree temperature difference between night and day aids in the production of blueberries and endows them with a higher Brix content, superior quality and improved firmness.
This firmness is also an important factor for preserving product quality during transport. With a transit time of 30 days to China compared with 21 days for European markets, Emerald blueberries are harvested and immediately packed and shipped to China. In addition to their firmness, Emerald blueberries enjoy a longer shelf life and can undergo the 30-day transit with little-to-no decrease in product quality because Athos ships all of its produce in modified-atmosphere bags to extend product shelf life and utilizes advanced packing-house technologies to grade fruit by size and tailor to the Chinese market.
El Sous also pointed to their Chinese partner of two years, Shanghai Pengsheng Industrial Co., Ltd., as another reason for Athos's success in China. "Pengsheng has a stellar reputation in the China market and extensive knowledge in trading and marketing blueberries. That is why we chose to partner with them in bringing fresh highland blueberries from the snowy mountains of Peru to the people of China."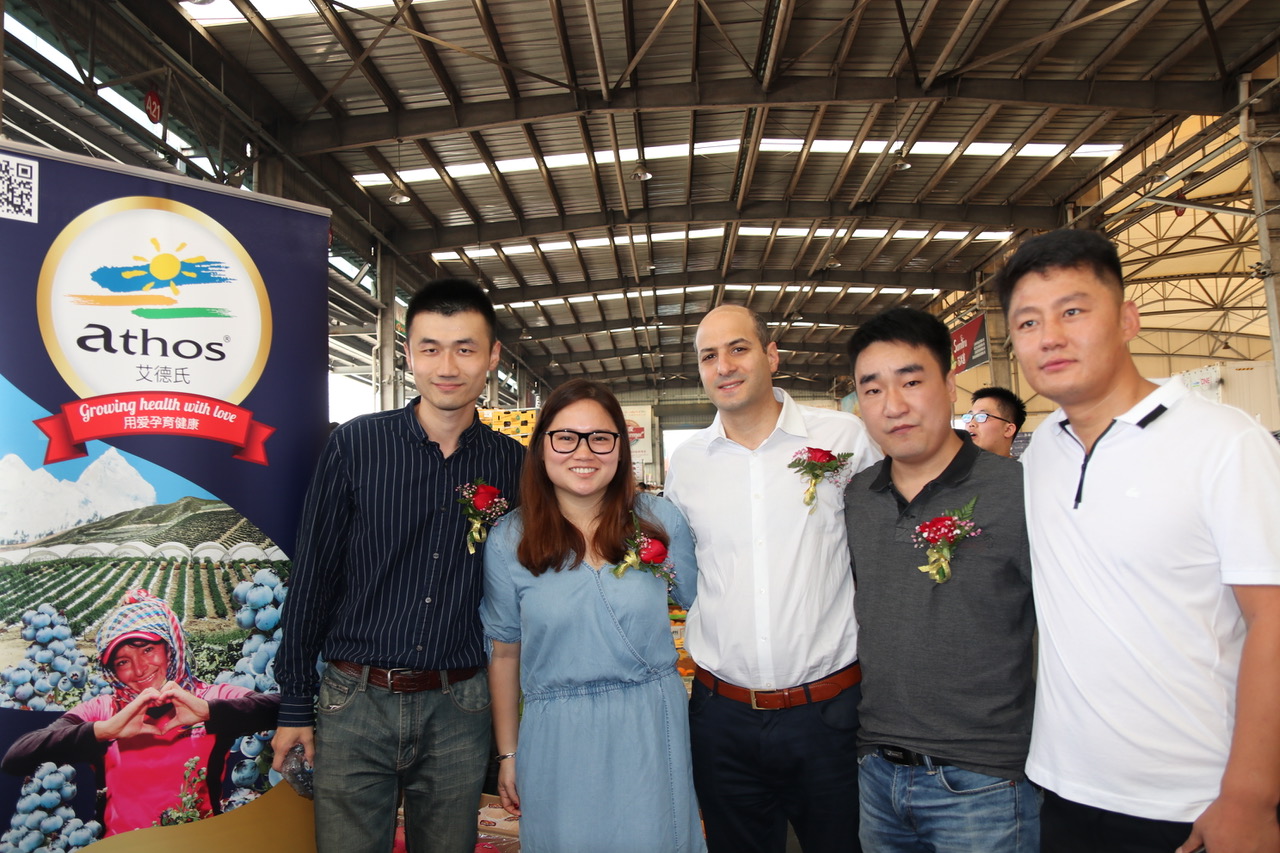 Images: © [2019] Produce Report