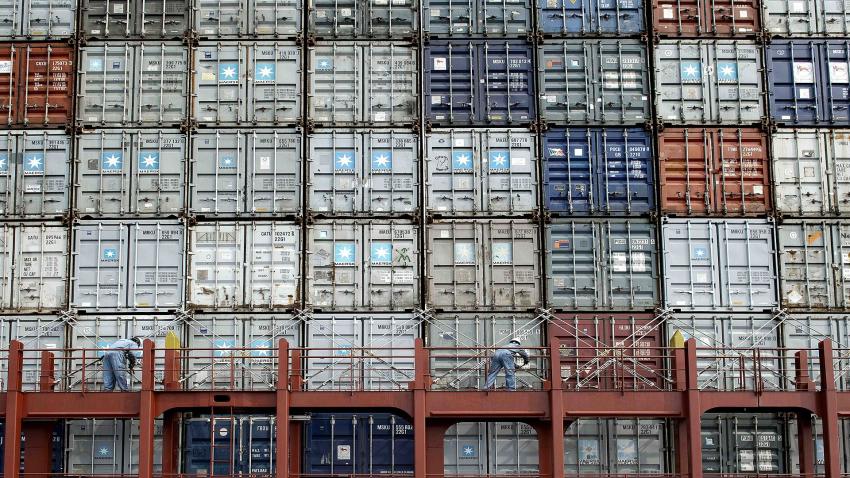 China's Ministry of Agriculture and Rural Affairs on August 1 released detailed data on the import and export of agricultural products into the mainland for the first half of the year. The data showed a modest overall decrease in exports and increase in imports, year-over-year (YOY). In the case of fruit, the discrepancy was much stronger, with a large decrease in exports and continuing surge in imports.
According to the statistics from the Ministry of Agriculture, China's total trade in agricultural products in the first half (H1) of 2019, was worth $108.7 billion, a year-on-year increase of 1.4%. Among this figure, the value of China's agricultural products exports was $36.8 billion, a YOY fall of 2.5%. Imports stood at $71.8 billion, a YOY increase of 3.5%. China's H1 2019 trade deficit in agricultural products was $35 billion, increasing by 10.6%, YOY.
China's exports of fruits dropped 21.3% in value YOY to $2.47 billion. Meanwhile, imports rose 27.4% YOY to $5.98 billion—although the pace of growth in import value slowed somewhat from an increase of 35.5% over the same period from 2017 to 2018. China's H1 trade deficit in fruit rose to $3.51 billion, a 30% increase over the same period last year.
China's top five imported fruit categories by value during the first half of 2019 were durian, cherries, grapes, bananas and citrus, while the top three exports were citrus, apples and pears.
China H1 2019 Fruit Import Details
Durian
China imported 358,000 tons of durian in H1 2019, with a value of $963 million—taking over the top spot from cherries. The volume and value figures increased YOY by 54.2% and 53.1%, respectively. Thailand accounted for over 98% of China's durian imports.
Cherries
Cherry imports to China in H1 2019 slipped slightly from a year earlier to 133,000 tons with a value of $917 million, respective YOY drops of 6.1% and 3.8%. Imports of Chilean cherries were valued at $873 million, a slight YOY drop of 0.96%. US cherry imports, meanwhile, tumbled to 1,685 tons with a value of $14.2 million, respective slides of 65.2% and 67.6%. (The Chinese tariff on US cherries has risen from 10% to 50% over the course of the ongoing US-China trade dispute.) The first half of this year also saw the first ever imports of Argentinian and Turkish cherries to China, although in small volumes.
Grapes
Imports of fresh grapes to China in H1 2019 were up in volume by 13.6% YOY at 247,000 tons and up in value by 15% at $625 million. Chile remains China's largest table grape import supplier, with a volume of 107,000 tons accounting for 39.6% of China's imports. But Peru saw a strong YOY volume growth of 52.1% to 6,340 tons, enough to overtake Australia as the number two supplier of grapes to China by volume.
Bananas
Imports of bananas in H1 2019 sustained an increasing trend. China imported just over a million tons of bananas with a value of $608 million, YOY rises of 46.2% in volume and 44.4% in value. The Philippines is China's largest supplier of imported bananas, supplying 563,000 tons over the first half of the year. Ecuador and Vietnam also had big increases in exports of bananas to China. Imports of bananas from Ecuador rose 137% YOY to 219,000 tons, while imports from Vietnam rose 150% YOY to 163,000 tons.
Citrus
China's imports of citrus in H1 2019 rose 30% by volume to 281,000 tons and 3.5% by value to $253 million—a notable weakening in price. In the citrus category, the biggest item by volume was Egyptian oranges, with imports of 172,000 tons worth $114 million—respective YOY rises of 92.3% and 76.4%. Imports to China of US oranges, meanwhile, dropped YOY 52.6% by volume and 55.7% by value. South African grapefruit imports performed very well in China, rising 64.2% by volume to 16,700 tons and by value 47.1% to just over $17 million.
China H1 2019 Fruit Export Details
Citrus
In the first half of 2019, citrus overtook apples as China's top fruit export category by volume. Exports of citrus were up YOY by 1.12% to 376,000 tons volume-wise, and up 0.88% by value to $505 million. The citrus type with the largest volume was mandarins, with 263,000 tons of exports accounting for 69.9% of the total. China's highest value citrus export during this period was lemons, with a value of $1,945 per ton. The lowest value citrus export was pomelo, with a value of $815 per ton.
Apples
China's apple exports fell substantially in H1 2019 compared to a year earlier: the export volume was down 47.7% to 329,000 tons, with value dropping 40.9% to $423 million. The major reason for the drop in exports was low production during the 2018 season, which led to tight supply and high prices within China.
Pears
Exports of pears dropped YOY 43.1% by volume to 141,000 tons and 33.1% by value to $183 million in the first half of the year. As with apples, exports were constrained by low domestic production last season and a resulting tight supply. Indonesia, Vietnam and Russia were the main destinations for Chinese pears.
It is likely China's current trend of falling fruit exports and rapidly expanding fruit imports will carry through the second half of the year. Long term prospects for the growth of China's fresh fruit imports look good. Middle class consumers have started to become habituated to consuming high quality imported fruit throughout the year. Furthermore, China's "Belt and Road Initiative" and continued negotiation of free trade treaties and import phytosanitary protocols with other countries will improve infrastructure links and reduce tariffs—opening up new sources of imported fruit supply over coming years.
Image: Maersk Line via Wikimedia Commons [3]
This article is a translated, edited version of an article that originally appeared in Chinese and can be viewed here [4].