This content has been modified from its original version. It has been edited for content and style, as well as to follow Produce Report editorial guidelines and for necessary website formatting.
Member companies of CSO Italy [3] will exhibit their high-quality fruit exports at Asia Fruit Logistica 2019 as part of a joint pavillion that will serve as the Asia debut of the "The European Art of Taste" project. The European Art of Taste is financed by the European Union and by the companies associated with CSO Italy: Origine Group [4], Kingfruit, Joinfruit, Mazzoni, Oranfrizer, and RK Growers. The 188m2 pavilion at hall 3B stand F20 will showcase high-end products and companies that produce fruit and vegetables in Italy.
The European Art of Taste Project will be active for three years from 2019 to 2021. With a total budget of 3.6 million Euros, the project will undertake significant communications activities in Hong Kong, China, Taiwan and Japan.
The Asia Fruit Logistica exhibition is an ideal springboard for the content of the project in Asia, and it will see the presence of the top managers of the Italian companies that will take part, as well as the distribution of specialised informational materials during the exhibition, and the organization of an evening event especially for the media.
The exhibition area will offer the opportunity to welcome customers with a sampling of Made in Italy gourmet products prepared for the occasion by the Hong Kong-based Italian catering firm Sapori di Maggio and Chef Marco Maggio.
Italy boasts a long-standing tradition as a leading producer in the fruit and vegetable sector in Europe, and it is appreciated around the world for the quality of its products, which are grown according to strict regulations in order to ensure their safety and healthfulness. For over 30 years, the production of Italian fruit and vegetables has been carried out according to integrated production regulations, which have become a model for Europe.
Kiwis and red oranges are the most important Italian fruit exported to Asia. These products, which are of extraordinary quality and carry health benefits that have been confirmed by numerous scientific studies, are available on the market from November to May. As for kiwis, Italy has produced over 400,000 tons (CSO Italy data) though the productive potential can reach an overall figure of 600,000 tons, and ranks second in the world after China.
Origine Group is the consortium set up three years ago as a result of the strategic alliance among nine leading companies in the production and marketing of fresh fruits and vegetables, with a total turnover of over 1 billion Euros and a production of over 1 million tons. These companies have combined their resources to provide top-quality products to Asian markets.
In particular, Origine Group specializes in high-quality kiwis under the brand Sweeki [5], but can also provide a wide range of products, starting from pears, with the brands Made in Blu and Fruitaly.
With Sweeki, Origine Group sells in the markets of China, Hong Kong, Malaysia, Indonesia, Singapore, South Korea and Taiwan. In the last year Origine Group has exported 4,000 tons of kiwis, with a strategy aimed at a progressive growth in the Asian markets.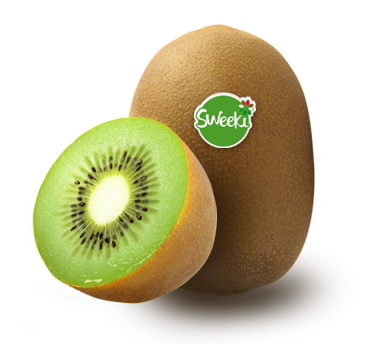 Origine Group aims to be one of the few actors on the international kiwi market with sufficient volume, quality and marketing to be a preferred partner for Asian retailers, as well as for the major operators in the wholesale markets. In particular, Origin Group sells the kiwis of its members, which ensure the total traceability of the product and a quality characterized by excellent aesthetic characteristics, a high sugar content and a high content of dry substance.
Recently, Italy has produced over 400,000 tons of kiwis (CSO Italy data) though the productive potential can reach an overall figure of 600,000 tons, and ranks second in the world after China. Italian kiwifruit are available on Asian markets in from November to May.
Origine Group's growth in Asia is based on simple and clear guidelines: being present on the market on an ongoing basis, maintaining a high and constant quality of the product, investing in promotion and providing added services to our customers to give consumers a real value experience.