The World of Fresh Ideas [4] is a fresh produce industry seminar event that takes place annually in Berlin the day before the start of the Fruit Logistica [5] trade exhibition. The conference is organized by members of Fruitnet Media and Messe Berlin, and curated by Fruitnet's editorial team.
Wayne Prowse Principal and Senior Analyst of Australian firm Fresh Intelligence Consulting [6] made two appearances on stage at the 2019 edition of the World of Fresh Ideas. The first was to offer an overview of global Avocado trends.
According to the data presented by Prowse, global avocado production in 2017 was 5.9 million tons. Global production has on average been rising 7.5% each year over the past seven years, starting from under 4 million tons in 2010. Prowse noted that 34% of global avocado production is traded, whereas the figure is around 10% for many other fruits.
The 8-year compounded annual growth rate in imports for East Asia of 17% means that the region is currently on pace to eventually catch up to and surpass the US/Canada (16% 8-year CAGR) and Europe (14%) in avocado import volume. And East Asia's market seems to be accelerating, with Year-on-Year (YOY) growth in avocado imports of 41% in 2018.
In terms of avocado exporting countries, Mexico is still way out ahead of the pack, with over a million tons of avocado exports in 2018. However, while Mexico's exports grew by 21% YOY in 2018, other exporting countries like Peru, Chile, South Africa and Kenya are growing even more quickly. South Africa alone, saw YOY export growth of 105% in 2018. Chile's exports of avocados notable dropped by 22% in 2018 compared to 2017, with an eight-year compounded growth rate of just 3%.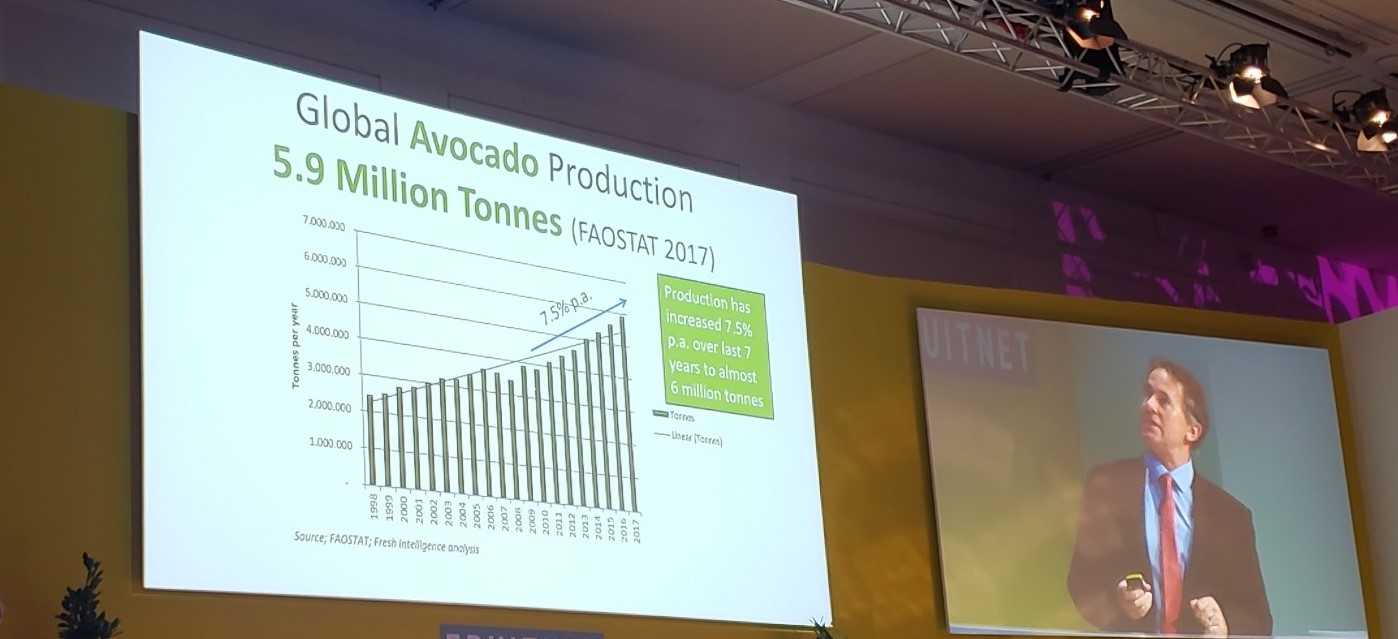 In a subsequent talk about the oft-overlooked "exotic" fruits persimmons and pomegranates, Prowse noted that these fruits are more difficult to analyze because they are often classified as "other fresh fruit" in statistical databases. Prowse came up with some facts of interest to Produce Report's audience back in China about these fruits. For both persimmons and pomegranates, China is estimated to be world's largest producer.
China accounts for a whopping 72% of the estimated global persimmon production of 5.75 million tons. But only 10% of the global persimmon production is exported, and China exports less than 100,000 tons of persimmons, making it only the third largest exporter of persimmons globally. Spain—which produces 88% of Europe's total persimmon output of 456,000 tons—is the world's top exporter of persimmons. Spanish exports mostly go to other European countries, but are, "also reaching out as far as Asia, the Middle East and across to North America."
Russia is the world's largest importer of persimmons, with much of that supply coming from number-two exporter Azerbaijan, and number-four exporter Uzbekistan.
China also produces a sizeable share of the world's pomegranate crop. Prowse said that China produces 35% of the global total of nearly 4.5 million tons—though he cautions that pomegranates are, "quite a challenge. There's no food and agricultural statistics on pomegranates directly, so I'm pulling together quite a few different data sources," to come up with the statistics he presented.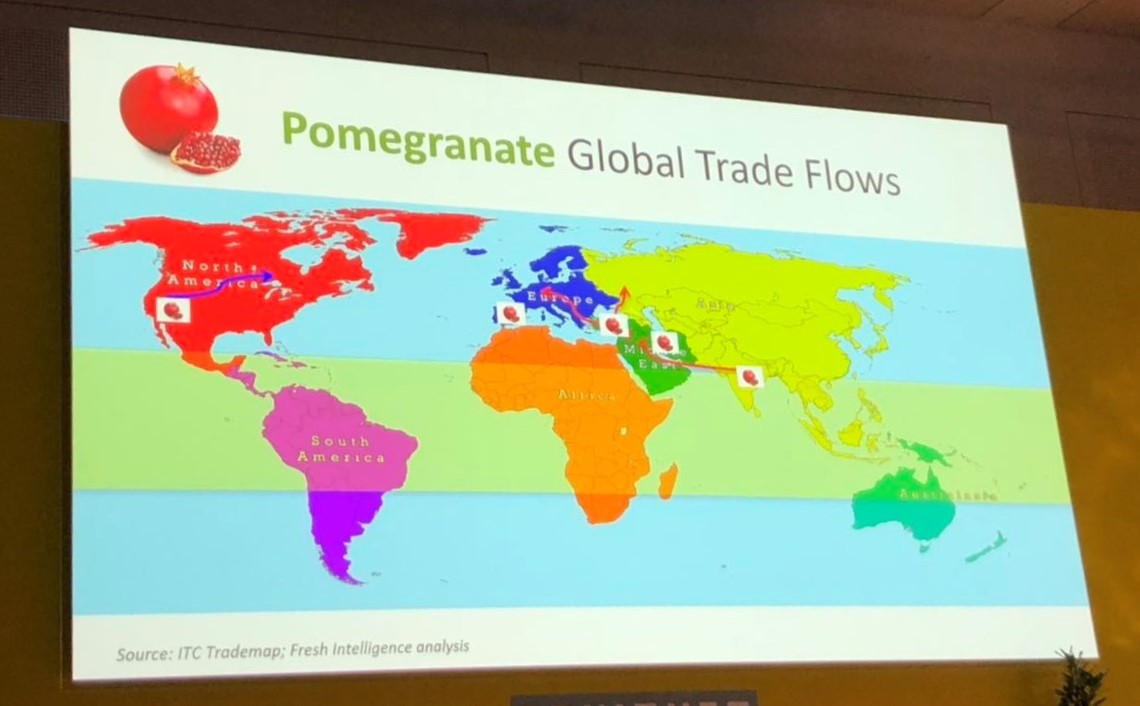 Again, although China is the largest producer of pomegranates, it is not the largest exporter. Turkey is the largest exporter by a wide margin.
The major import markets for pomegranates are the Middle East, Europe and Russia. The Middle East and Russian markets have grown strongly in recent years, with four-year compounded annual growth rates of 20 and 30% respectively. European imports were down 3% over the same period.