Submitted by Roy G [2] on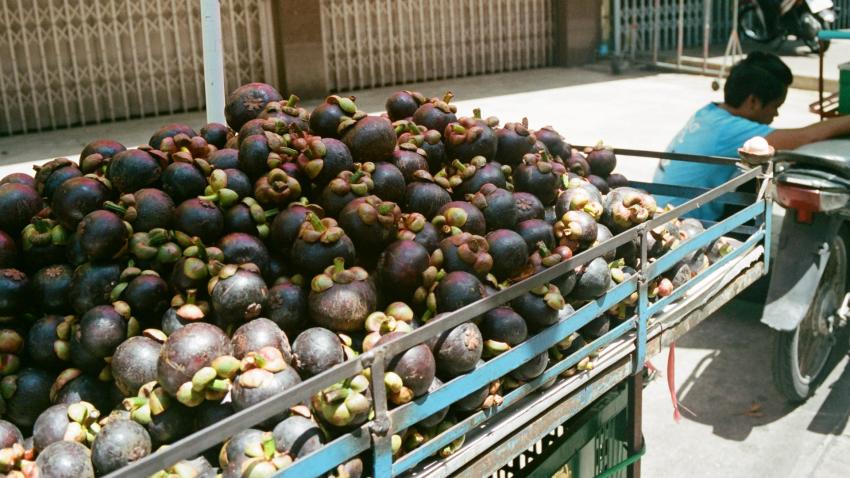 June is the peak season for mangosteens in Thailand. This year, increased volume in the Chinese market has led to a significant drop in prices.
Thailand's Ministry of Agriculture expects the country's total mangosteen production in 2022 to reach 378,400 metric tons [3], up 38% from last year, when production was hit hard by bad weather and quality control issues. With a better season this year, the market is well supplied and prices have fallen.
From the end of May to the middle of June, the mangosteen volume at the Jiaxing Fruit Market in Zhejiang was consistently high, with the price dependent on quality. Beginning around June 20, the south of China was affected by prolonged periods of high temperatures and precipitation. With fewer deliveries and a slower turnover of stock, there was a drop in quality, and the price of mangosteens in the surrounding markets began to decline.
On June 25, the price of 5A/6A mangosteens at the Jiaxing Fruit Market was 17.65–21.18 Chinese yuan ($2.63–3.16) per kilogram, while the price of 3A mangosteens dropped to 11.76–16.47 yuan ($1.76–2.46) per kilogram and 4A mangosteens were priced at 14.12–18.82 yuan ($2.11–2.81) per kilogram. Compared with one month ago, these prices are 15–30% lower.
At this time of year, most of the mangosteens available on the Chinese market originate from eastern Thailand. From August to October, southern Thailand will become the main supply area.
Image: Unsplash
This article was translated from Chinese. Read the original article [4].