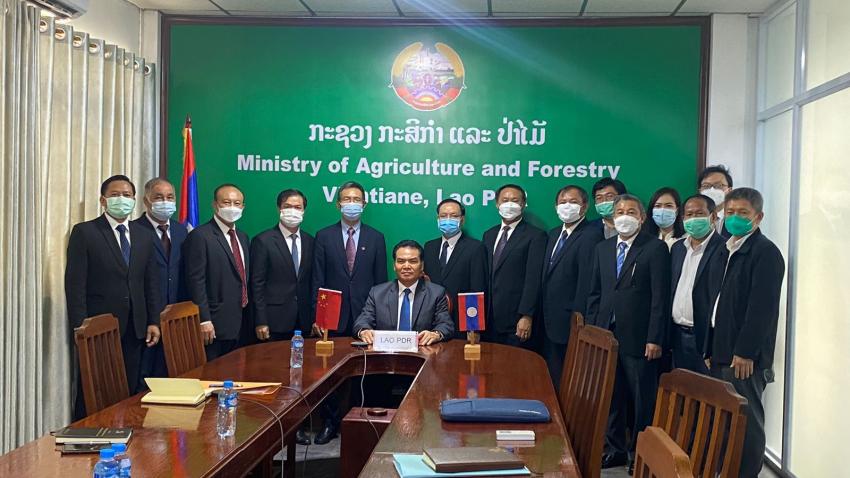 On Sept. 13, Vice Minister of China's General Administration of Customs Wang Lingjun and the Laotian Minister of Agriculture and Forestry Dr. Phet Phomphiphak signed into effect a new inspection and quarantine protocol granting Laotian passion fruit market access to China.
According to the Laotian Ministry of Agriculture and Forestry, China accounts for 80% of Laotian agricultural exports, making it the ASEAN country's largest export market. With the signing of the most recent protocol, eight Laotian agricultural products are now permitted to enter China, namely, rice, corn, bananas [3], watermelons [4], cassavas, sweet potatoes, fresh beans and passion fruit. Plans to secure China market access for other Laotian fruits, including durians, longans, dragon fruit, jackfruit and oranges are also reportedly in the works.
China began large-scale cultivation of its own passion fruit in 2012. Today, over 700,000 mu (46,700 hectares) of land in China is dedicated to passion fruit production, with an annual output in excess of 600,000 metric tons. Chinese passion fruit are primarily grown along the country's southeast coast and in southwestern regions, with Guangxi province accounting for approximately 50% of total production.
Fresh fruit represents 80% of China's passion fruit sales, most of which now take place through e-commerce channels. In June 2019, passion fruit sales constituted 13.9% of Tmall's total fruit sales, according to the company's own data, with this fruit ranking third in the fruit category in terms of country-wide sales volume.
With the rapid development of the beverage and new-style tea market, demand for passion fruit has grown. China's passion fruit trade is currently dominated by imports of passion fruit juice, about 90% of which is sourced from Vietnam. Other countries, including Thailand and Ecuador, also export passion fruit juice to China in smaller quantities.
Image: Ministry of Commerce
This article was translated from Chinese. Read the original article [5].