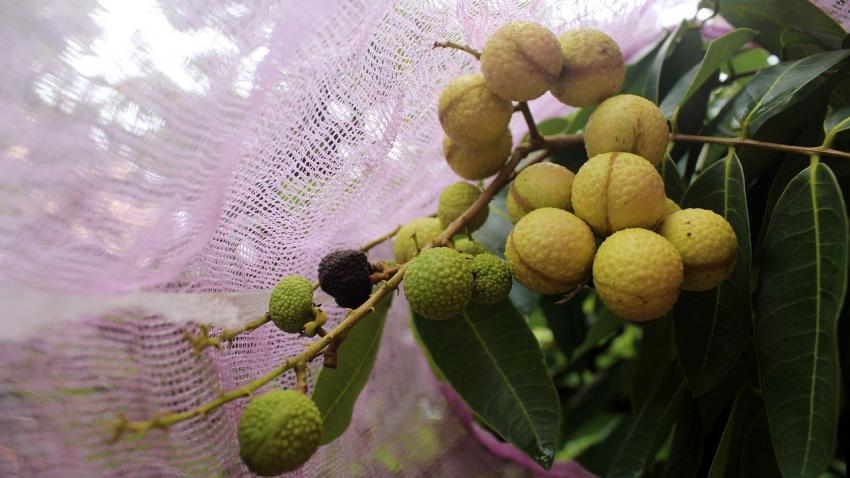 According to a report from the Thai Zhonghua Daily, Thailand's Deputy Prime Minister and Minister of Commerce Jurin Laksanawisit announced on Aug. 18 that the safety issues surrounding the import of Thai longans and durians [3] into China had been resolved. Although Chinese authorities will be implementing stricter safety testing throughout the import chain, they have not banned the entry of Thai fruit.
Safety concerns had emerged in the days leading up to the announcement, with mealybugs being detected on several batches of imported Thai longans. On Aug. 13, Chinese authorities announced a ban on longan imports [4] from 66 Thai companies that had been exporting the fruit. One day later, on Aug. 14, a routine coronavirus RNA test conducted on a package of imported Thai durians in China's Jiangxi province came back positive. The news raised concerns among Thai authorities that Thai durians may also be subject to a ban.
After several days of talks, Thai Minister of Commerce Jurin Laksanawisit announced on Aug. 18 that the issue had been resolved satisfactorily. Chinese authorities approved the revised pest control measures proposed by the Thai government, and as of Aug. 17 they have allowed the 50 Thai longan packaging facilities with the lowest rates of pest contamination to resume exporting longans to China. If the revised measures prove effective, the remaining 16 Thai longan packaging facilities will also be allowed to continue exporting the fruit. As for durians, China has not yet announced a ban on the import of durians from Thailand, nor has it issued a warning to any of Thailand's durian exporters. Although China has not forbidden the import of Thai fruit, Chinese authorities will be strengthening coronavirus spot testing measures conducted on imported foodstuffs, particularly fruit.
Although China's temporary ban on the import of Thai longans only lasted four days, the Thai Ministry of Agriculture and Cooperatives, as well as industry stakeholders, are taking the issue very seriously. Authorities in neighboring Vietnam [5] have also been paying close attention throughout the incident.
According to Hoang Trung, director general of the Plant Protection Department of Vietnam's Ministry of Agriculture and Rural Development, mealybug is a common agricultural pest in Vietnam and can have a negative impact on the production and sales of numerous fruit items, including longans and dragon fruit. He encouraged all regions to adopt feasible and effective pest control measures and especially urged those growing areas that have already been granted export codes to implement strict land management strategies to ensure that exported fruit do not carry any of the harmful organisms that Chinese customs authorities are on alert for (such as mealybugs and fruit flies). Hoang also advised that any growing regions discovering a serious outbreak of these pests should pre-emptively suspend exports to China.
Image: Pixabay
This article was translated from Chinese. Read the original article [6].