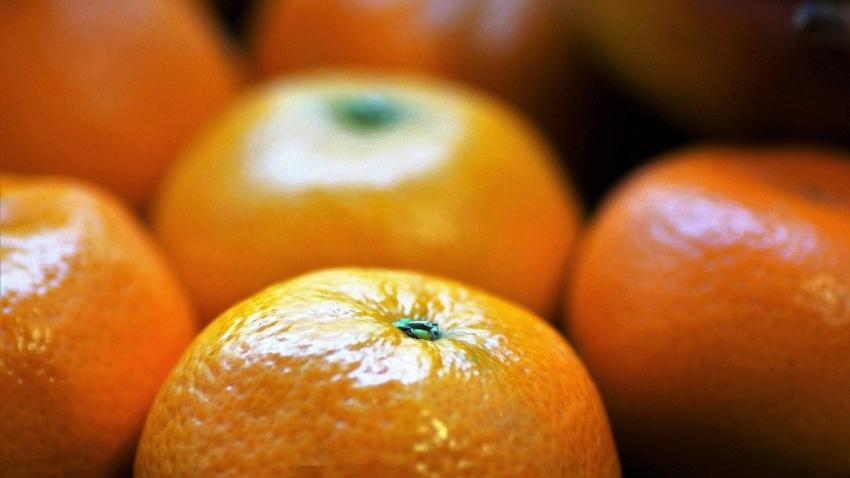 On Oct. 20, a batch of mandarin oranges weighing 43 tons and worth approximately $48,000 from Zhejiang Yongfeng Fresh Fruit Professional Cooperative (浙江永丰鲜果专业合作社) passed customs inspection in Taizhou and was packaged for export. This represents the first batch of mandarins to be exported from Linhai this year.
Linhai mandarins are a specialty of Zhejiang province and also enjoy geographical indication protection. They have frequently been exported to countries such as Canada and Russia over the past several years, and this year the export volume is projected to rise by 15% with a slight increase in prices. On average, the fruits can be sold for two Chinese yuan ($0.30) each, and pricing and production have not been substantially affected by the COVID-19 pandemic.
According to our sources, five mandarin orchards in the Linhai administrative region have registered for overseas shipments this year, covering a total area of over 6,000 mu (approximately 1,000 acres). This year's export volume to Canada alone is expected to reach 55 shipping containers totaling 1,400 tons of fruit worth $1.3 million. Customs authorities at Taizhou took measures to expedite the first shipment on Oct. 20 while still ensuring that all testing and safety requirements were met.
Linhai is well known for its seedless mandarin oranges, and the city has been highly regarded for its superior mandarin oranges in general throughout much of Chinese history. The Chinese government started heavily investing in improving the production of Linhai mandarins in the late 1990s; after two decades of work, the total production area has now reached almost 20,000 mu (3,300 acres) with a yearly output of 300,000 tons, the highest in Zhejiang province. Wenzhou mandarins account for 99% of production, 70% of which belongs to the early-ripening Gongchuan subvariety.
Late October through mid-November is the best time to harvest Linhai mandarins, as this is when the skin of the fruits takes on a bright golden-orange color and the flesh reaches its sweetest point with only slight acidity. The region's temperate climate, fertile soil and plentiful water for irrigation create a unique environment perfect for producing high-quality mandarins. At the 1999 Mingte Youxin Agricultural Commodities Trade Show in Shanghai, Linhai mandarins were praised as "the benchmark standard for Chinese citrus [3]."
Image: Pixabay
This article is based on a Chinese article. Read the original article [4].