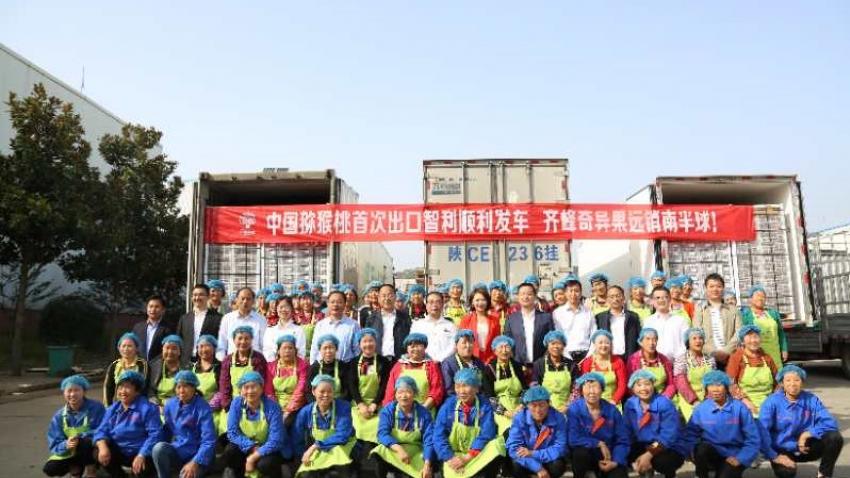 On Sept. 23, the first shipment of Chinese-grown kiwifruit [3] destined for Chile set out from Mei County in Shaanxi province, marking the first step for Chinese kiwifruit entering the South American market. According to information from China's General Administration of Customs, China and Chile signed phytosanitary and other export agreements last December. This March, Shaanxi Qifeng Fruit Industry Co. Ltd. [4] was the first exporter to obtain export approval for its Chinese-grown kiwifruit. To learn more about these recent developments, Produce Report interviewed Lu Wenbo, the company's foreign trade manager.
According to Lu, this first batch of kiwifruit, comprising 40 tons in total, all came from Qifeng Fruit. Lu also informed Produce Report that the company has already signed export contracts for 1,000 tons of kiwifruit this season. The company intends to begin shipping immediately and expects shipments to be complete by early May of next year. This first batch of kiwifruit consists entirely of the Hayward variety, although the company also plans to ship the Xu Xiang variety to Chile in the future. The fruits will be maintained in cold storage for the entirety of their journey from the orchards to Chile's San Antonio port and are expected to arrive in markets in Santiago and neighboring cities around Nov. 5.
Lu believes that Chinese kiwifruit are the perfect complement to Chilean kiwifruit, given the counter-seasonal growing seasons of March to October in Chile and August through May in China. Chinese kiwifruit will thus arrive in Chile just as Chile's domestic supply is running out, presenting an excellent market opportunity. China also has the advantage of growing a much more diverse range of kiwifruit varieties than other countries. As one of China's primary kiwifruit production regions, Mei County has already surpassed all of New Zealand in terms of both growing area and production volume. Reports indicate that the growing area in Mei County has now reached 300,000 mu (49,000 acres), while the value of kiwifruit exports to Chile this year is expected to hit $10 million. The recent start of exports of kiwifruit from Mei County not only marks the beginning of this produce item's expansion to overseas markets but will also further increase the county's name recognition.
Qifeng Fruit reportedly intends to sell a wide selection of high-end kiwifruit varieties in Chile in the future, including the Xu Xiang, Cui Xiang and Qifeng #1 cultivars. The company also plans to continue selling domestically during the Chinese off-season between late May and early August by importing Chilean fruits [5], thereby ensuring a continuous year-round supply. According to Lu, this program has already been put in motion.
Image: Shaanxi Qifeng Fruit Industry Co. Ltd.
This article was translated from Chinese. Read the original article [6].