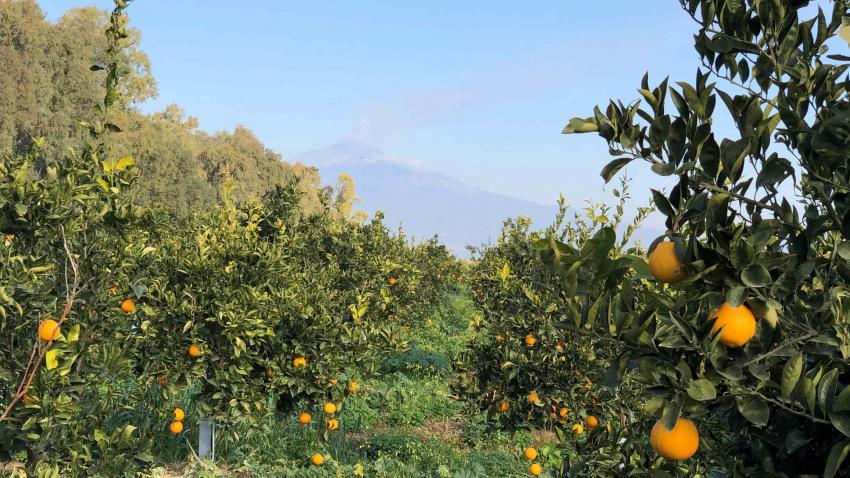 A view of Oranfrizer's Carmito orchard.
Following a successful foray [3] into the Chinese market last year, Oranfrizer [4], Italy's leading grower of premium blood oranges, stepped up its campaign to position its produce on the Chinese market. In January 2020 as part of the EU- and CSO [5]-funded European Art of Taste [6] project, the company held its first meeting of the year with food journalists and bloggers. The event underscored the growing interest of Chinese consumers in this relatively new and still not fully understood fruit.
To help bridge this knowledge gap, the journalists attending the event were subsequently invited to Sicily to witness firsthand the citrus groves and the serendipitous conditions that set Sicilian blood oranges in a class of their own. Produce Report accepted the invitation to see for itself what makes these blood oranges tick and find out why the Mediterranean Sea's largest island holds the status of a culinary and fresh produce Mecca.
Separated from mainland Italy by a three-kilometer strait, the island of Sicily is renowned for its distinctive tastes and bountiful produce, from vineyards of rare autochthonous grapes that only grow on the volcanic slopes of Mount Etna and produce dazzling wines to the mountain's fresh goat cheese that fills the cannoli pastries in the cafes and restaurants of Catania and Ragusa, and of course the island's famed blood oranges. Like so many other local crops that have found their niche over the millennia (Sicily was the food basket of the Roman Empire and Magna Greece before it), Sicilian blood oranges can only be successfully grown in a circumscribed geographical area. The area in question is the Plain of Catania, a strip of land sandwiched between Mount Etna, Europe's largest active volcano with a height of 3,326 m, and the east coast of the island. The role of Mount Etna in creating the perfect conditions for blood oranges is twofold: the smoldering volcano increases the fertility of the soil, while cold air from the snowcapped peak causes the temperature to drop dramatically after sundown.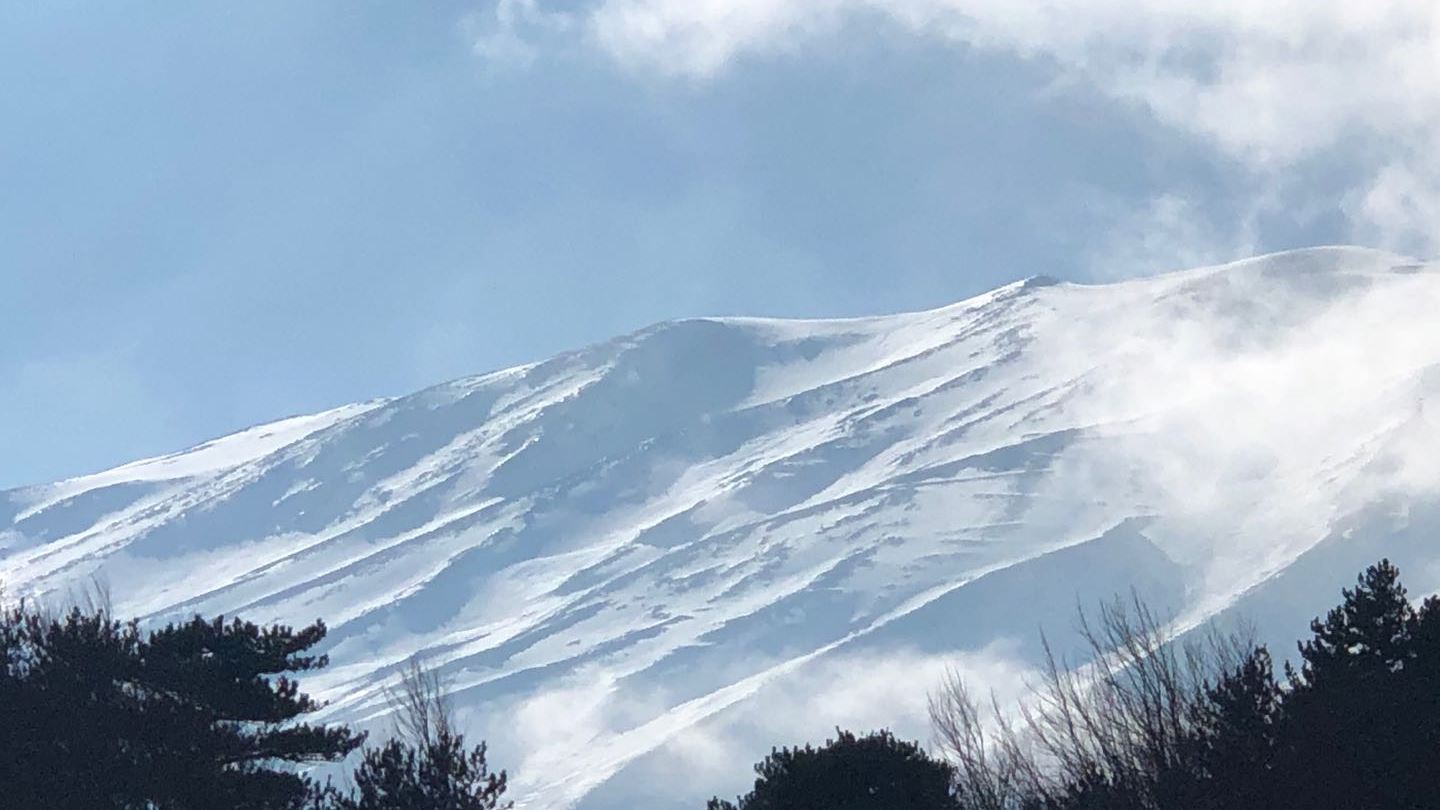 During the tour of the Carmito orchard, Produce Report saw how the side of the Tarocco oranges facing the sun takes on a brilliant red hue, as the oranges are heated during the day and then cool down to near freezing overnight. It is this temperature variation that activates the anthocyanins to form the characteristic red pigmentation both on the rind of the fruit and in the underlying flesh. As Egele Zapparrata, Oranfrizer's head of marketing communication, explained, "The coloration is a gradual process that starts from the outside, because that is where the orange is coldest. On winter days the average temperature is around 15 degrees Celsius, but at night-time this drops to between 4 and −2 degrees Celsius."
In addition to the more famous Tarocco blood oranges with their tender flesh, ultrahigh vitamin C content and distinctive bittersweet flavor, the orchard also produces Moro oranges. This burgundy-colored fruit has an entirely dark flesh and a pleasant albeit slightly acidic taste. Meanwhile, Sanguinello oranges, which are also grown in Oranfrizer's orchards, possess an intense red and orange rind and red-speckled flesh. Unlike Tarocco oranges, which are moderately juicy, these oranges contain a large amount of juice and have a singular flavor. The harvest season for Tarocco oranges is the longest, from December to May, while that for Moro oranges also starts in December and comes to an end in March. Sanguinello oranges have the shortest season, beginning in March and ending in April.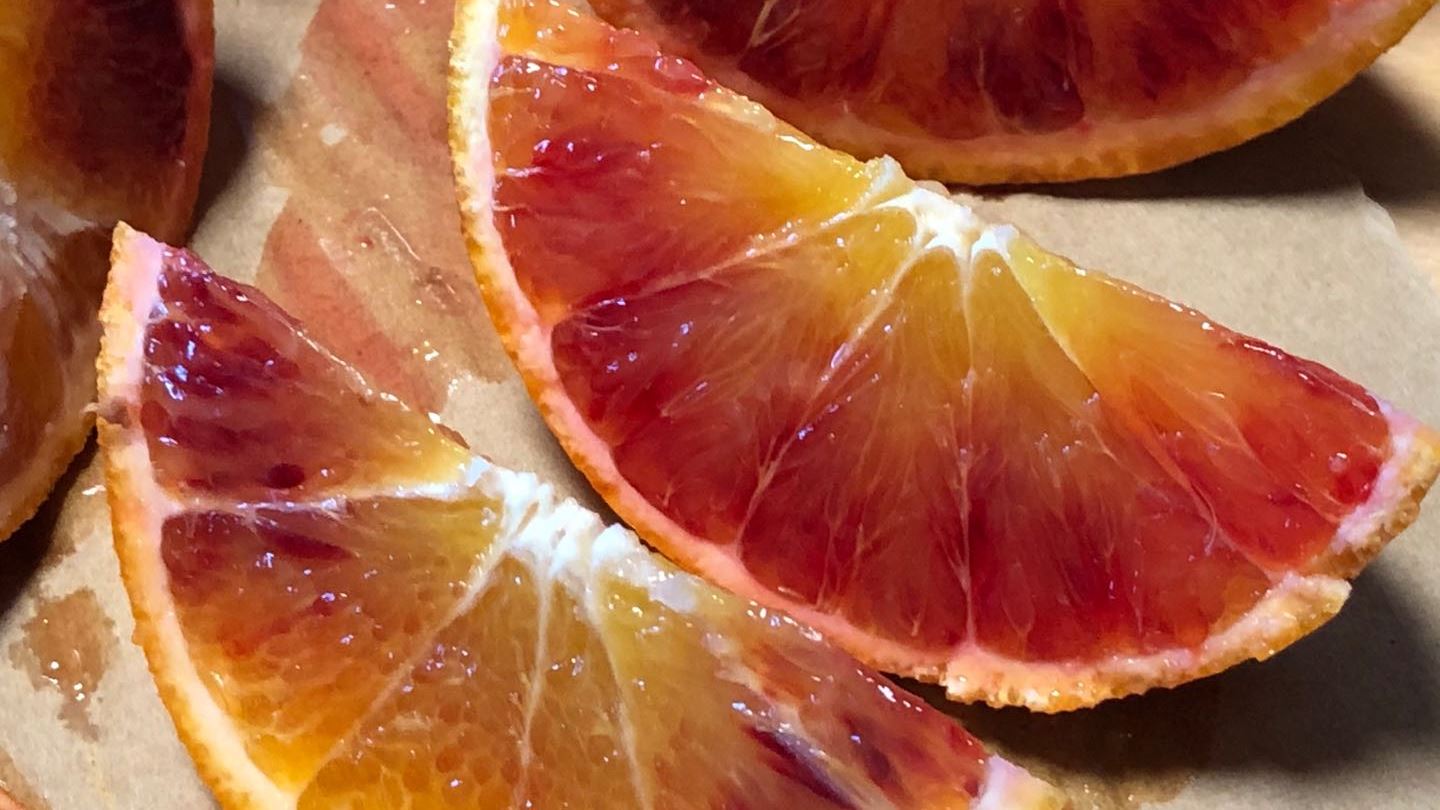 Oranfrizer produces 50,000 tons of fruit annually, with blood oranges accounting for the overwhelming majority of that figure. Of this only 8–9% is exported, mainly in the form of fruit juice to the company's principal foreign markets of Japan, the U.K. and Scandinavia, while it is the domestic market that consumes most of the fresh fruit. "Italy absorbs a lot of fresh fruit, and is quite possibly the best fresh fruit market in the world," said Salvo Laudani, export manager of Oranfrizer, "Italy pays well for our produce and we would like to see this situation replicated in other markets as well."
At present, China accounts for a minimal proportion of the already small export market. In 2019, the company exported [3] approximately 60 tons (three containers) of blood oranges to Shanghai as a trial run. "It was mainly a way of verifying that the logistics were not too complicated and to see if the oranges arrived in good condition," said Laudani, "what's more we organized a series of events to introduce the local press and some large clients to our product." In this sense, last season's China campaign was considered a success; however, there are many challenges to overcome if China is to emerge as the kind of market that Oranfrizer would like it to be.
Foremost among these is the question of shipping. The journey currently takes 35–40 days, and Chinese phytosanitary authorities mandate that each shipment must then undergo a 15-day cold treatment period. For the oranges to arrive in China in pristine condition after such an ordeal, a rigorous selection process is adopted that chooses not only the very best oranges but also those with peels sufficiently thick to withstand such a long period at 1 degree Celsius.
"A lot depends on how the logistics can improve in the future," explained Laudani, "we need to find a way for our produce to arrive more quickly than it did last year." One option that Oranfrizer is looking at, with the assistance of the China–Italy Chamber of Commerce in Milan, is freight. "By train it would take two weeks for our oranges to reach Western China from Milan. So far there have only been trials and as of yet there are no trains that can provide the cold treatment that our products require, but we have been assured that they are coming."
Another challenge that Oranfrizer's export manager points to is the sheer complication of the phytosanitary protocol. "We have to control 16 damaging organisms using integrated pest control management, which has more in common with organic farming than conventional methods. What's more, by March of each year we have to communicate the number of hectares we want to certify for the following season to the Chinese phytosanitary authorities. So you need to try and calculate 11 months in advance what the demand will be."
Despite these difficulties, Oranfrizer is eager to take the next steps in developing its business in China, but this will not mean a drive to increase volumes. Rather, the company is focused on marketing and positioning its blood oranges as a high-level niche product. According to Laudani, "What we want to focus on is quality at the highest level and that the product be considered by opinion makers in the culinary world to be the best product in its category. If at a later stage we need to increase production that won't be a problem."
It seems that marketing and educating consumers about Sicilian blood oranges may be all that is needed, as nature and generations of selection and fine tuning have created a truly peerless product. "Attempts to replicate the taste of Sicily's blood oranges have been made the world over, but without success," Laudani boasts, and as we look down at the Mediterranean Sea from the height of Mount Etna's fuming crater it is not hard to imagine how an island of such extremes would not struggle to create something as unique as the Sicilian blood orange.
Images: © 2020 Produce Report