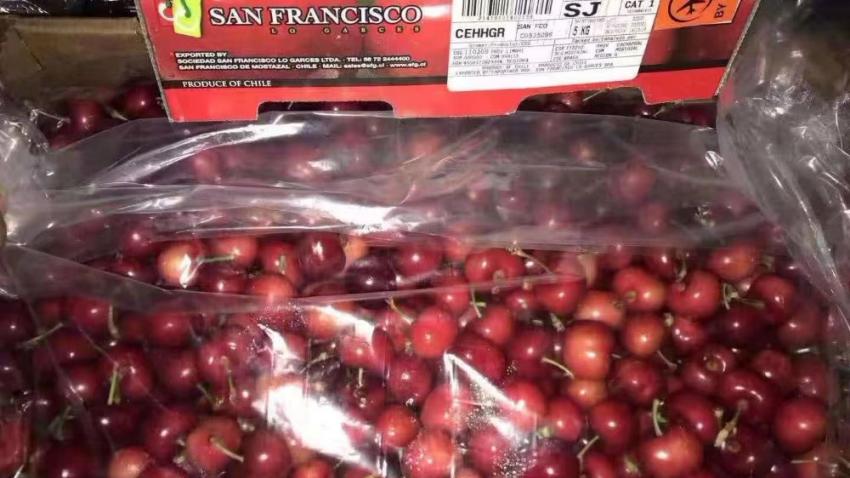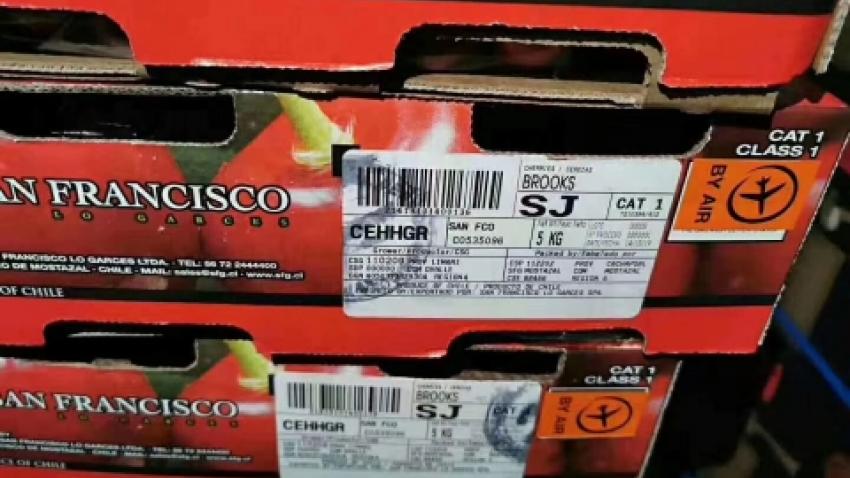 After Shanghai's Huizhan Market recently received its first air shipment of Chilean cherries [3], Guangzhou's Jiangnan Market has followed suit, with its first air shipment landing on Oct. 22.
A spokesperson for Chilean cherry exporter San Francisco lo Garces told Produce Report that on their first release at Jiangnan Market, the cherries sold for 1300 yuan/crate, higher than Shanghai's price of 1250 yuan/crate.
Jiangnan Market's first shipment comprised 120 crates of Chilean cherries of the Brooks variety, mainly of size designation SJ (also called JJ, 28–30 millimeters in diameter). According to feedback from Jiangnan Market, the whole shipment displayed an excellent firm texture and red flesh.
 
Chilean cherries from the Shanghai shipment have been flying onto the shelves of retailers such as Missfresh [4] and Hema [5], and have been flying off again just as quickly—Missfresh has been selling them at 99.90 yuan/box (XL, 250 grams) and have already sold out.
In addition, charter flights transporting Chilean cherry shipments will officially kick off in early November, while sea freight will begin in mid-late November. This will result in a significant increase in the volume of cherries arriving in China. The peak time for Chile's cherry shipping this year will fall around the 50th and 51st week of the season (mid-late December), with exports expected to exceed 8 million boxes/week during that period.
Meanwhile, with Chile's fresh fruit export season still in its early stages, ongoing social unrest in Chile has raised the question of whether cherry shipments will be affected.
Protests concentrated in the capital city of Santiago began on Oct. 7 in response to widespread inequality and high costs of living, triggered by a Santiago Metro fare increase announced in early October.
The situation has further escalated since Oct. 18, with the death toll now reaching 19 and armed forces occupying the streets of Santiago. At present, 15 of Chile's 16 regions have declared a state of emergency. General strikes have been held in over 20 of Chile's ports, including San Antonio and Valparaiso, in support of the protesters.
The Chilean government has stated that it will adopt a series of measures to respond to societal demands and restore order as soon as possible. The Chilean Fruit Exporters Association (ASOEX) has also issued a new statement, announcing that:
"Our ports stopped working for one shift on Monday, October 21, but they are now fully operational, with no impact on the shipment of fresh fruit to our global markets. Ground transportation is also returning to normal, with only minor delays.
We are working with the authorities and key industry stakeholders to ensure that everything continues to operate smoothly, and we will issue more updates if there are further developments.
As always, we remain committed to providing our global markets with a steady, consistent supply of fresh Chilean fruit."
Chinese fruit buyers based in Santiago have reported no immediate concerns for their personal safety, but stated that the closure of many services such as supermarkets, restaurants and gas stations has caused severe queuing.
Some Chile-based Chinese buyers also told Produce Report that though the situation is calmer in cherry-growing areas outside of Santiago, in light of the current instability they are considering relocating to other fruit-supplying countries in the Southern Hemisphere until tensions ease.
 
Images: Jiangnan Market, Guangzhou
This article was translated and collated from two Chinese articles. Read the original articles here [6] and here [7].