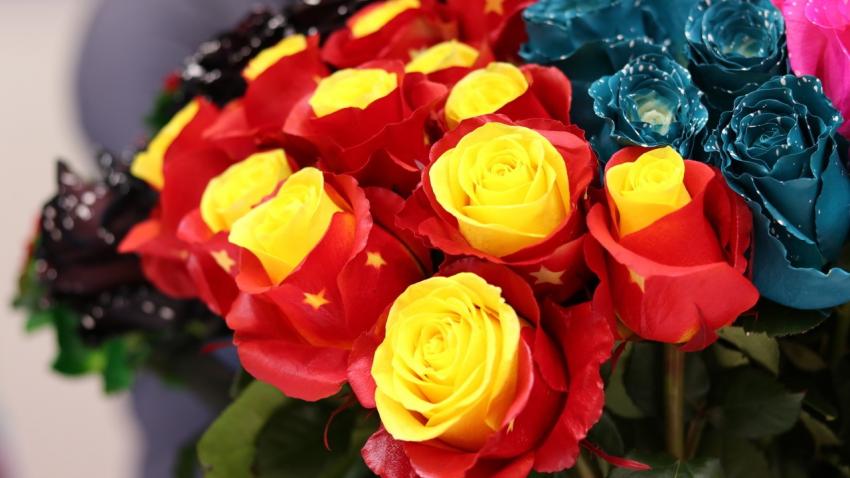 Multicolored roses by Azaya Gardens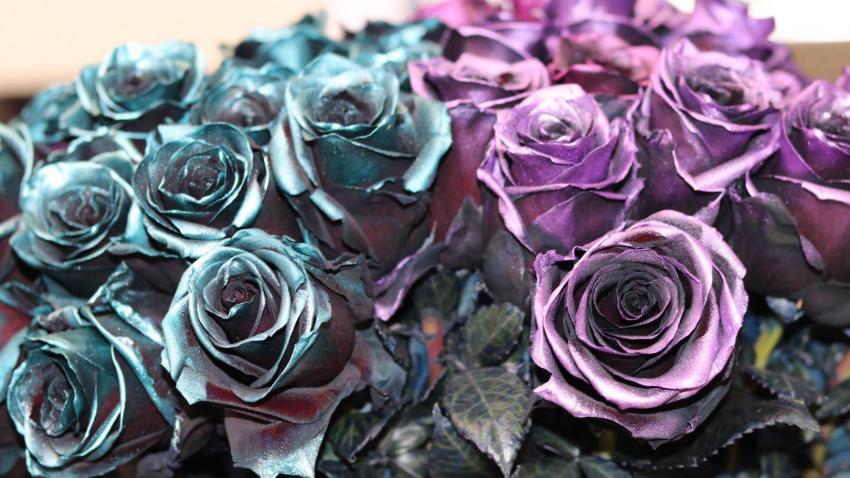 Metallicized roses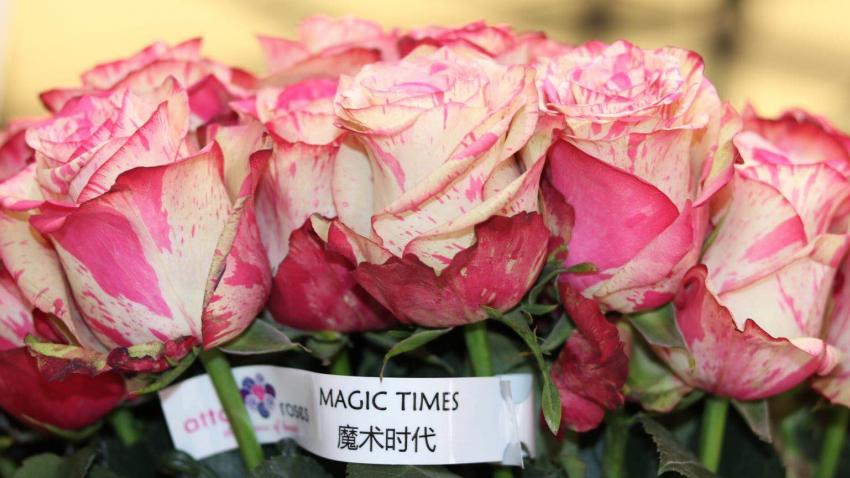 The Magic Times variety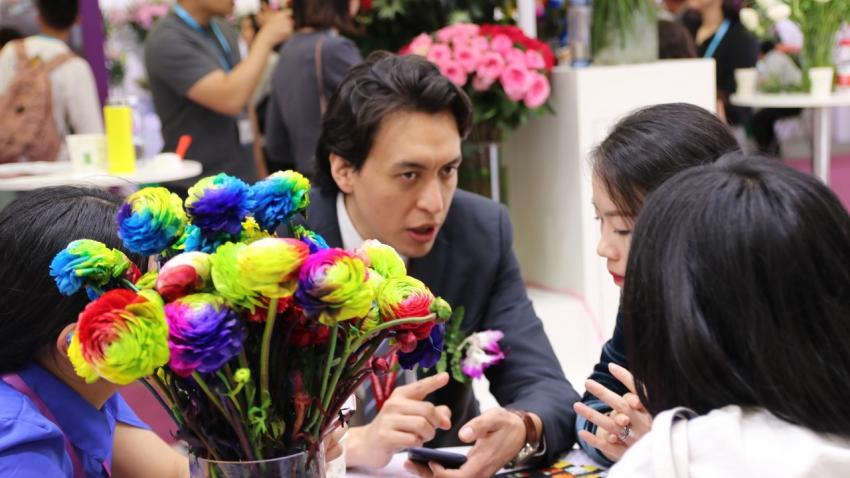 Santiago Yánez, Chief Commercial Officer (in charge) of Ecuador in Shanghai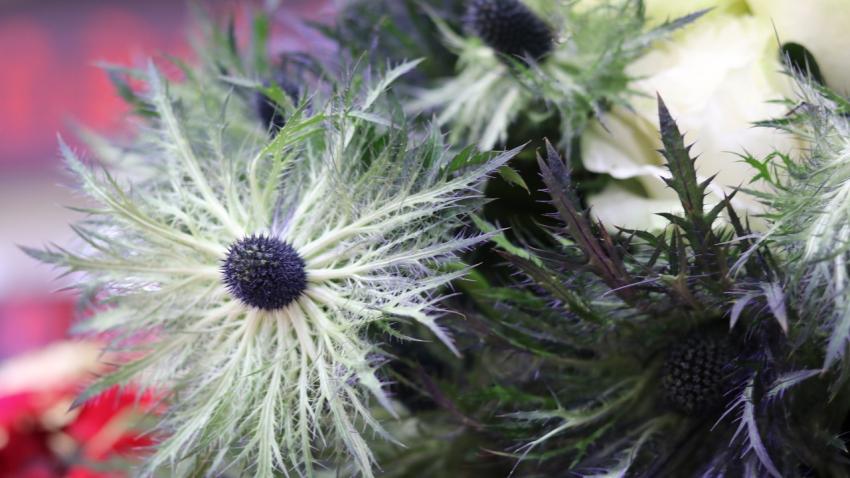 Summer flowers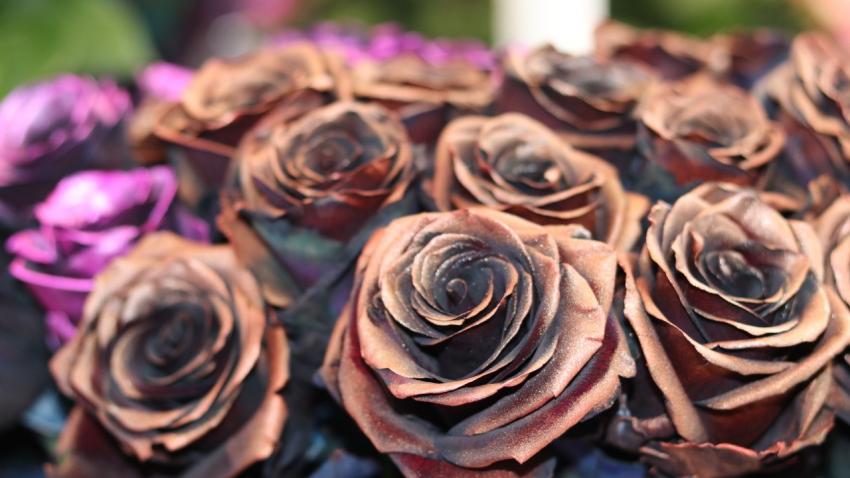 Metallicized roses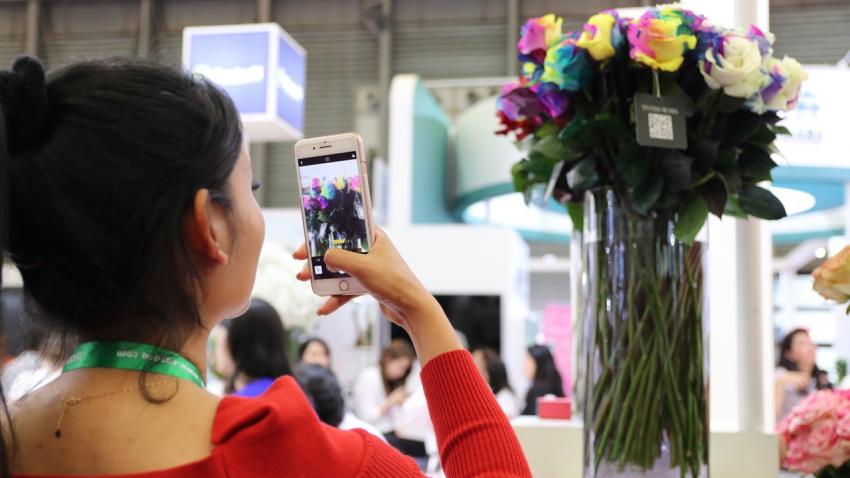 Visitor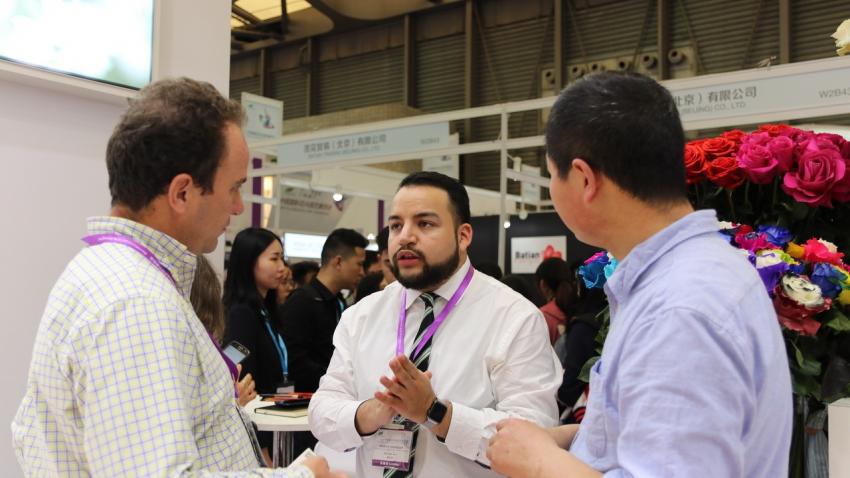 ProEcuador's Santiago Jara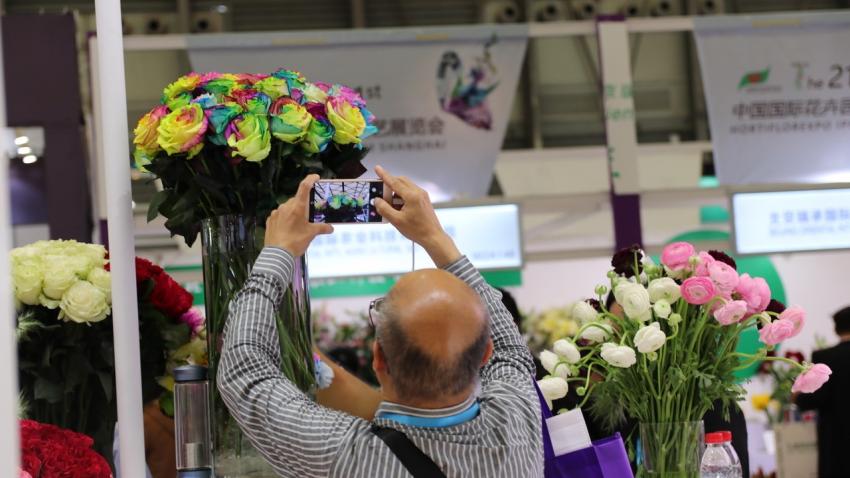 Visitor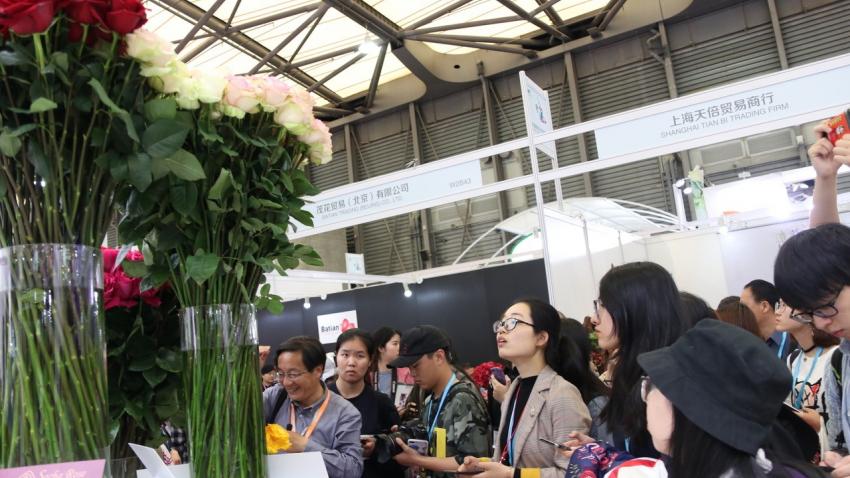 Visitors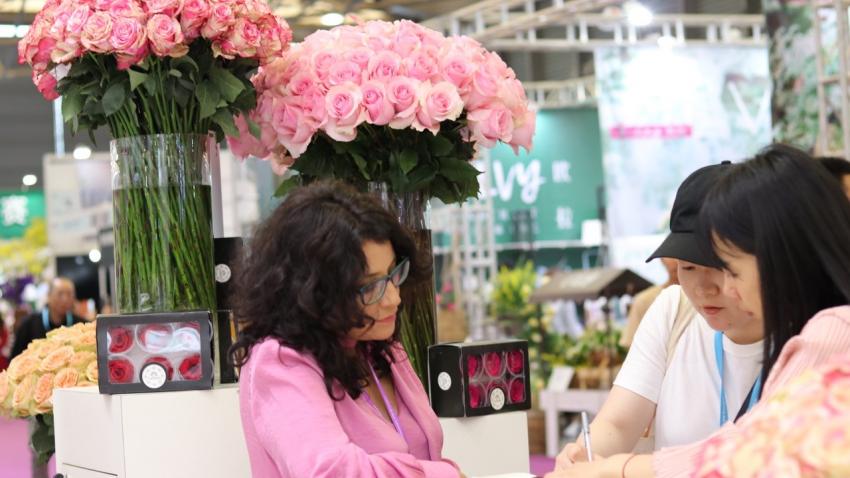 Exhibitor
Exhibitor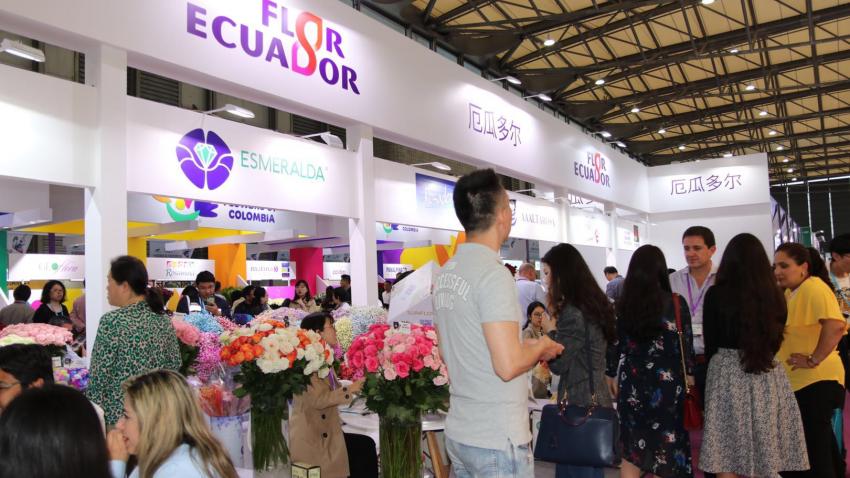 Expoflores pavilion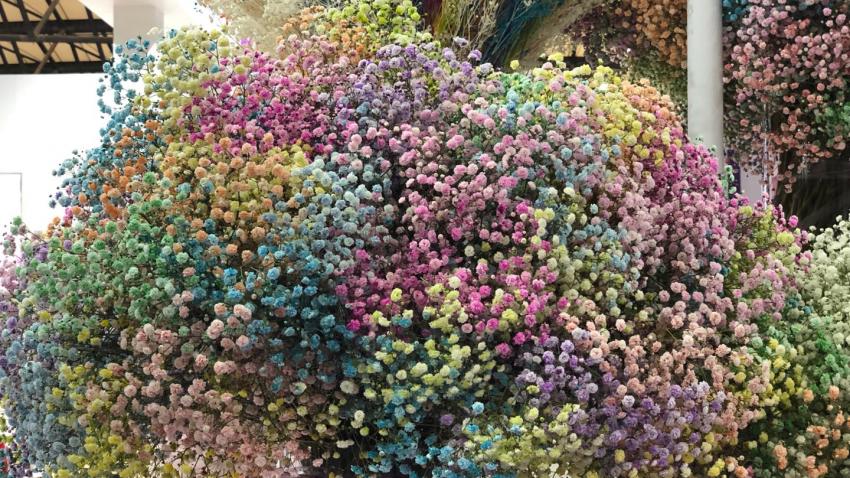 Multicolored gypsophila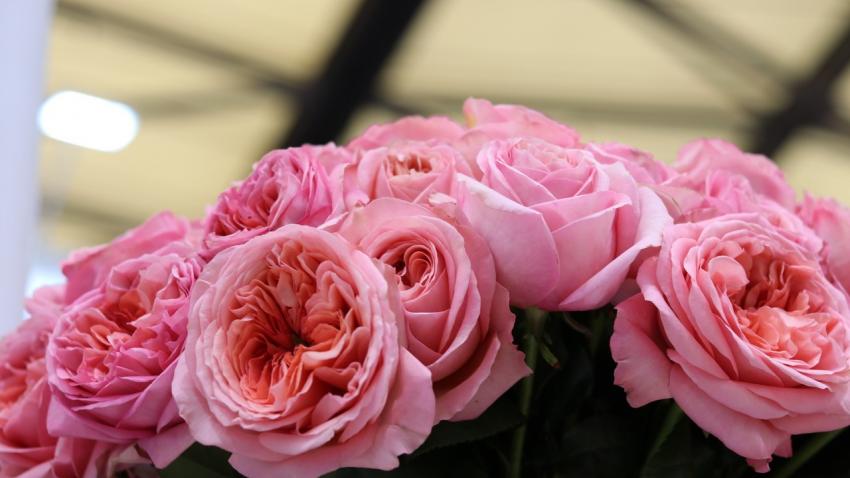 Roses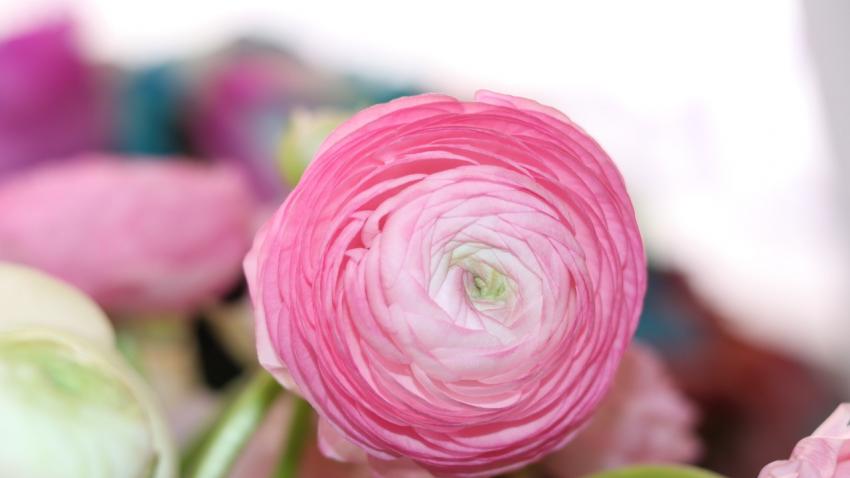 Rose
On April 20, 2019, fresh flower traders, retailers, and enthusiasts from 57 countries and regions flocked to Shanghai's New International Exposition Center to behold the stunning varieties of flowers on display at the 21st annual HORTIFLOREXPO. Ecuador's country pavilion stood out among the show's 800 exhibitors and dazzled visitors with arrangements of unique rose, gypsophila, and summer flower varieties that have made Ecuador China's leading flower supplier for the past 2 years. "Ecuador's flower industry is constantly innovating by creating new varieties and production techniques. We are thrilled to see such excitement among Chinese importers, retailers, and consumers. They love the unique colors, sizes, and shapes of Ecuadorian flowers, and they are applying them in creative ways we have not seen in other countries" said Santiago Yánez, Chief Commercial Officer (in charge) of Ecuador in Shanghai.
Mr. Yánez is not only referring to Ecuador's world-famous roses which are renowned for their large sizes, long stems, and range of colors resulting from the country's high-altitude, equatorial growing conditions. He is also referring to gypsophila, commonly called "baby's breath." In most countries, the modest and delicate-looking gypsophila is typically applied as a filler flower to accompany larger blossoms in bouquets and arrangements. But in recent years, Chinese flower arrangers have recognized the unique beauty of Ecuadorian varieties and begun using gypsophila as the main theme in their arrangements. Ecuadorian gypsophila can now be found in flower shops all over China, as well as most leading fresh flower e-commerce websites. Unlike China's domestically produced gypsophila, the Ecuadorian varieties have firmer stems, longer shelf life, and maintain an attractive appearance even after they have dried.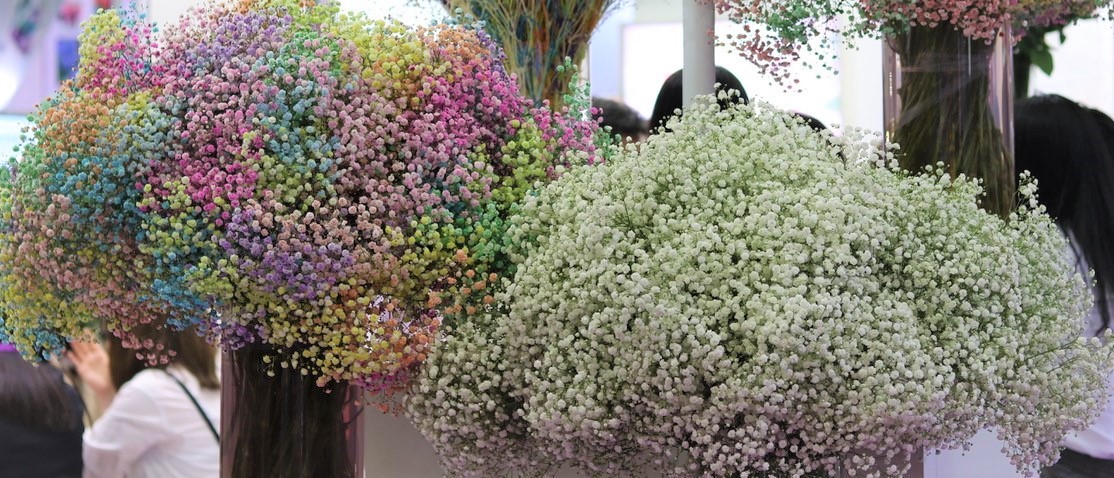 Although Ecuador sent its first flower shipments to China as early as 1994, trade began to soar only more recently in 2014. In that year, the value of Ecuadorian rose imports into China surpassed $1 million for the first time, and they have steadily increased each year to reach $3.8 million in 2018. However, it is gypsophila that is responsible for the more recent explosive growth in China's flower imports from Ecuador. In 2015, China's imports of gypsophila from Ecuador were valued at only $187,000. In just 3 years, that number grew by nearly 3,500% to reach $6.7 million in 2018. And the trend appears to be continuing: in just the first two months of 2019, China's imports of Ecuadorian gypsophila had already reached nearly $1.5 million.
While gypsophila has been leading the growth in China's recent flower imports from Ecuador, roses remain the most popular flower in the world and account for 75% of Ecuador's total flower production. Ecuadorian roses are produced at high altitudes of over 2,000 meters in rich volcanic soil of the Andes mountains. These locations maintain consistently moderate temperatures of approximately 14⁰C, as well as receive 12 hours of daily sunlight year-round – conditions that are largely responsible for the high quality and unique characteristics of the country's more than 400 rose varieties including their depth of color, stem length, and long average vase life of 15 days.
However, in addition to these naturally advantageous growing conditions, Ecuador's flower industry has also been developing techniques to produce rose varieties with new and exciting colors and textures. Among these innovations on display at the HORTIFLOREXPO Ecuador pavilion were the Pandora variety for which the company Agrinag received exclusive production rights for 6 years (with 2 years remaining), and the Magic Times variety by Attar Roses.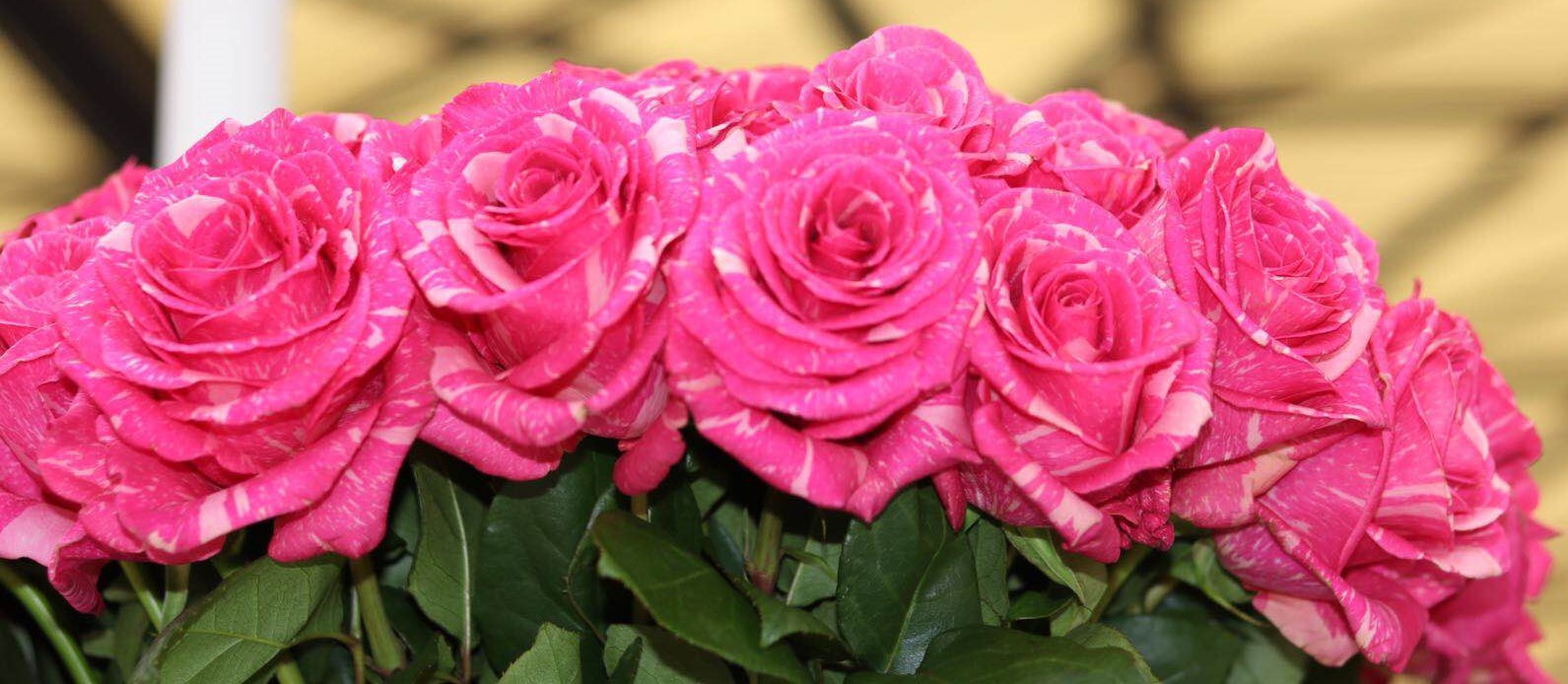 Ecuador's flower producers have further developed techniques to produce multicolored and metallicized rose varieties using special methods of dye and paint application. In the multi-step process, each dye must be added separately and absorbed by the petals for 1-2 days, while the metallicized effect is achieved by both dye absorption and further spray application of paint. These varieties have proven extremely popular and were largely developed in response to the preferences of Asian markets for unique and intense colors.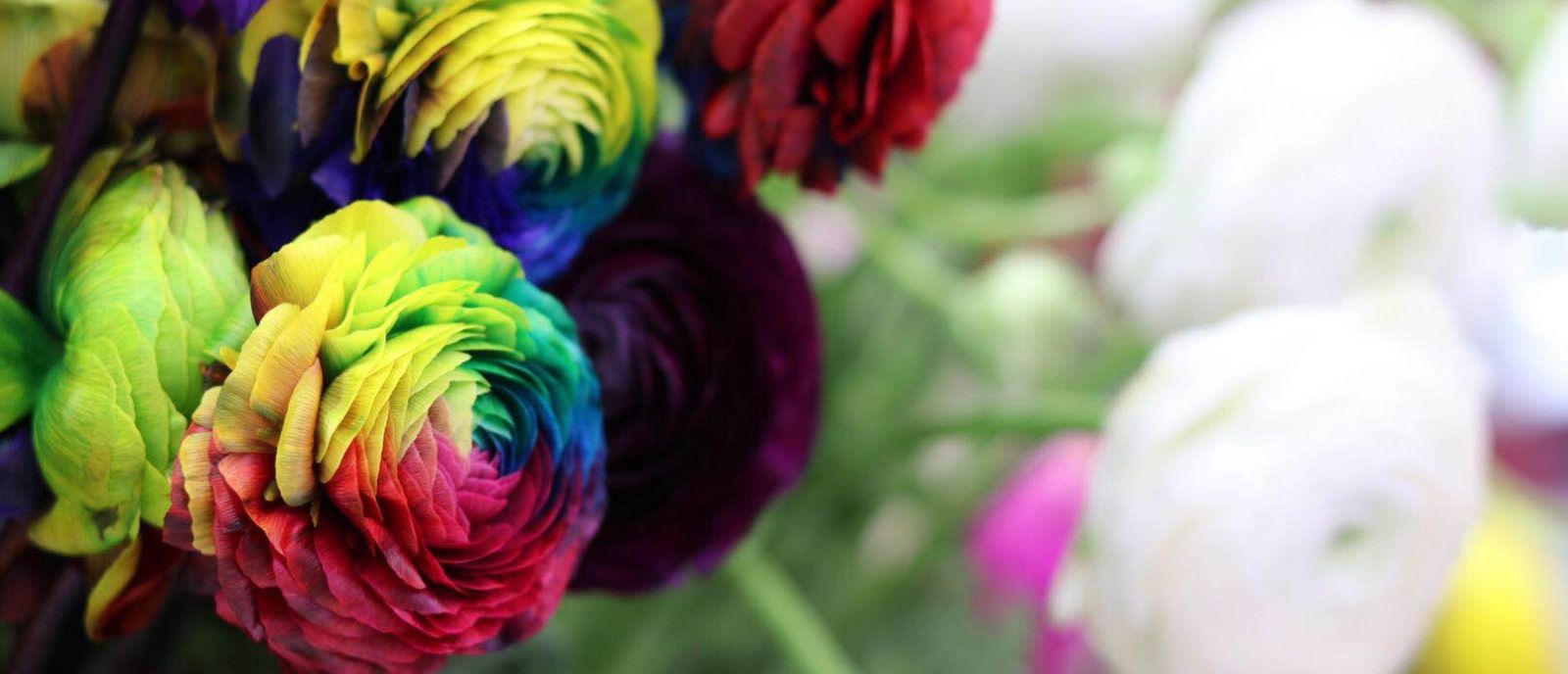 These new techniques are not only being applied to roses, but also to other flowers such as gypsophila and summer flowers. Second only to roses in export volume, Ecuador is home to more hectarage of year-round gypsophila production than any other country in the world. The consistent 12 hours of daily sunlight also plays an important role in the high quality and value of Ecuador's gypsophila exports. While naturally white or pink in color, it is the more intensely colored varieties that have been taking China by storm in recent years. Visitors to the Ecuador pavilion could see some of the most recently developed and innovative gypsophila varieties available.
In 2017, Ecuador surpassed Thailand to become China's leading flower supplier by value. In 2018, it retained that position as 177 Ecuadorian companies exported a total of $18.6 million worth of flowers to China giving Ecuador a 29% share of China's imported flower market. These exporters have benefitted significantly from the support of Ecuador which has had a country pavilion at HORTIFLOREXPO each year since 2014, and from the support of ProEcuador which provides constant trade assistance for Ecuadorian companies conducting business with China.
This year, 8 Ecuadorian exporters traveled to China to exhibit in the country pavilion and meet with potential Chinese buyers. These companies include premium flower suppliers Agrinag [3], Florisol & Co. [4], Agrogana [5], Flower Village [6], Azaya Gardens [7], Sacha Rose [8], Attar Roses [9], and Violeta Flowers [10]. Additionally, the Ecuador Flower Association, Expoflores, hosted a separate pavilion with 12 exhibitors, and approximately 5 more Ecuadorian exporters exhibited at the show independently. "ProEcuador, Expoflores, and all the other private companies are working together for the development of our flower exports to China," explained Mr. Yánez.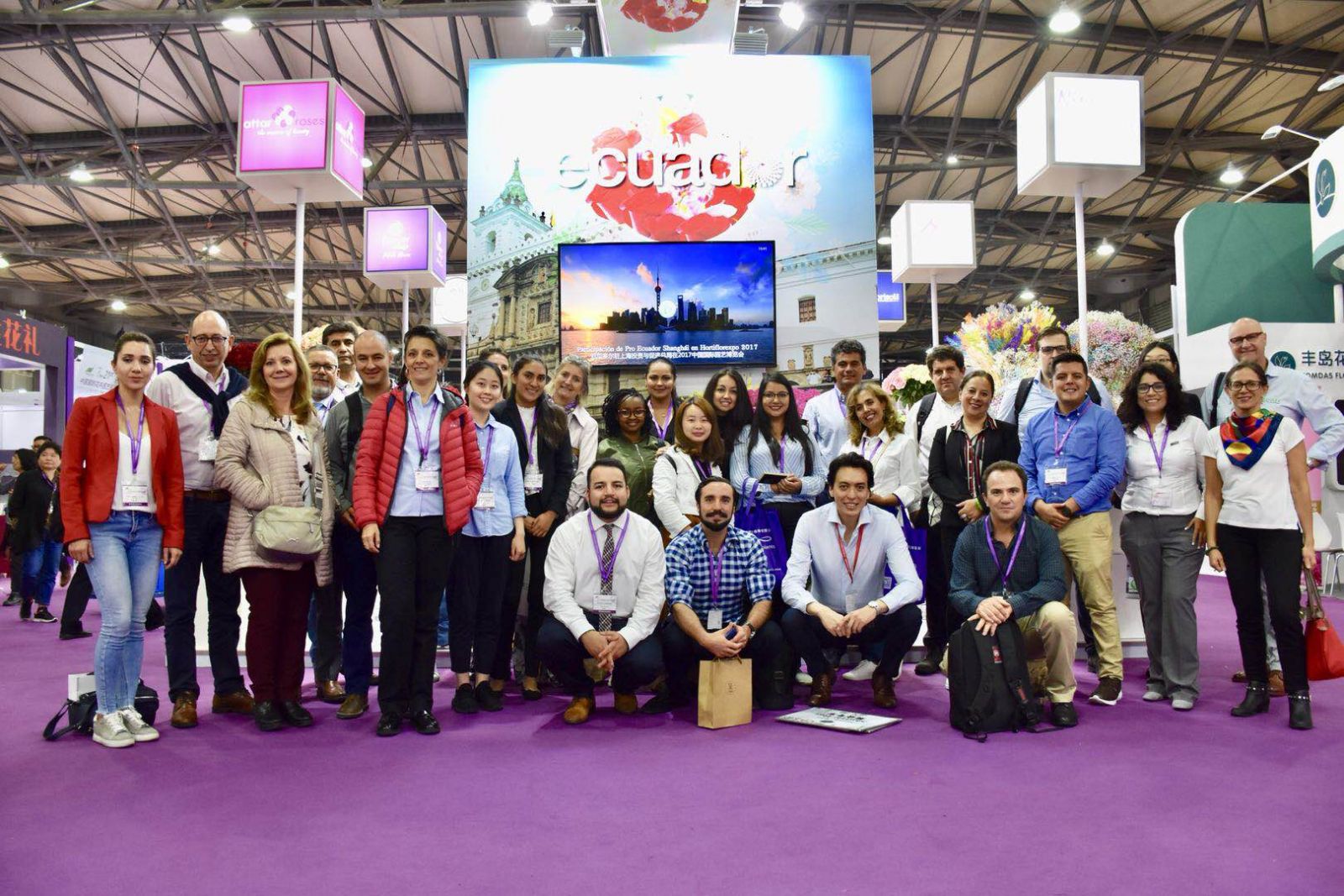 Ecuador is the third largest flower exporter in the world by volume after the Netherlands and Colombia. Its primary export markets in 2018 were the United States(43%), Russia(16.2%), Netherlands(8.7%), Italy(3.8%), and Spain(3.3%). Although China was not among the top 5 export markets in 2018, as a labor-intensive sector requiring an average of 11.8 workers per cultivated hectare, the recent rapid growth in flower exports to China has also had a positive impact on Ecuador's rural economic development. The main types of flowers currently being exported to China include (in order of importance): gypsophila, roses, summer flowers, and preserved roses.
ProEcuador operates as part of the Ministry of Production, International Trade, Investment, and Fisheries to promote the exports and investments of Ecuador.
HORTIFLOREXPO is China's leading annual trade show for the horticulture, floriculture, and garden industries with the location alternating each year between Shanghai and Beijing. It is organized by the China Flower Association and managed by the Shanghai Intex Exhibition company in Shanghai, and the China Great Wall Exhibition company in Beijing. Messe Essen GmbH is the international co-organizer, and the show is supported by China's Ministry of Agriculture and State Forestry Administration.
Source:
Photos: MZMC and ProEcuador